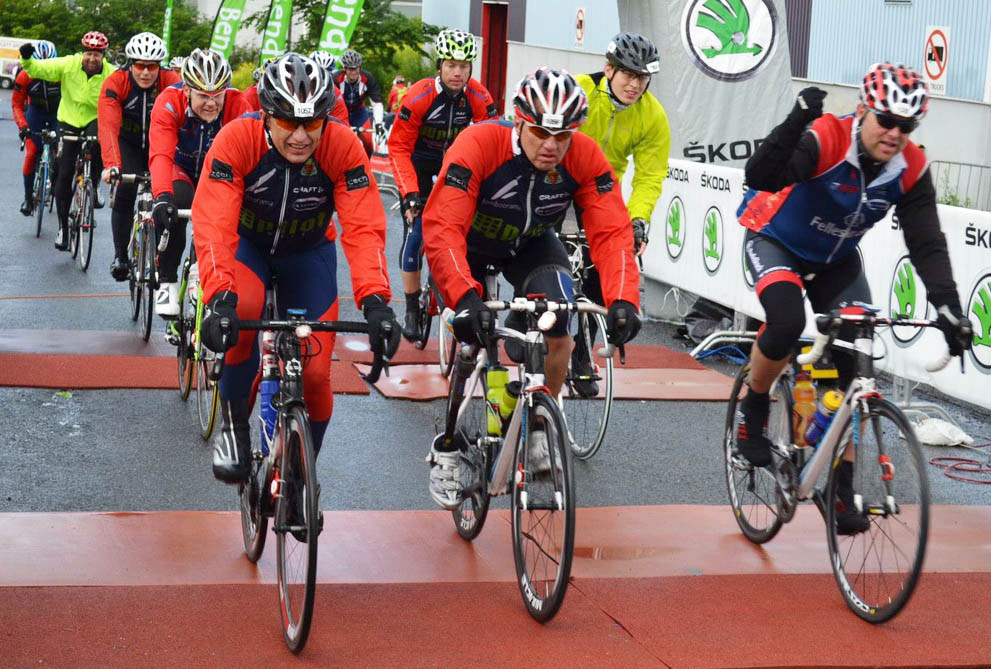 Just before the finish in Oslo this June, after cycling from Lillehammer. Tor Aalberg in the middle of the picture. Photo: Lill-Therese Nygård Aalberg.
He cycled a lot, more than most people, before he had his thigh amputated – and he has cycled a lot afterwards, still more than most people.
Now in June, 57-year-old Tor Aalberg was to be found among the cyclists in the approximately 190 km long Styrkeprøven race from Lillehammer to Oslo.
"I do not think it was very far, I think I had a great trip. A little headwind from Minnesund and in, but otherwise it was a great trip ", says Tor.
The longest is longer…
Not very far… Lillehammer – Oslo is only the third longest of the five distances that the participants in the annual Strength Test can choose from, and Tor is very aware – based on his own experience – that the longest is longer:
It runs from Trondheim to Oslo; it is about 540 km long; it was completed by Tor nine times, no less, before in 2007, in his work as a formwork carpenter, he was exposed to the accident that led to the thigh amputation.
And then, as if nine times was not enough, he cycled Trondheim – Oslo again in 2012, now with a prosthesis on the right pedal (see Livsglede no. 2 and 3, 2012).
After that trip, he thought that enough is enough, later he has stuck to shorter rides, and he explains it by saying that long hauls like Trondheim – Oslo can be punished in the long run in the form of wear and tear, something he would rather avoid.
An active Momentum member
The Trondheim man Tor has previously sat on Momentum's main board, now he is the leader and peer contact in Momentum Midt-Norge.
He says that he normally trains on a bicycle three times a week during the summer, and that during the winter he does spinning and cycling in the gym.
Yes, and then he participates in one or two races. And it is in recent years that it has become a habit that he and his wife and two other couples annually have a stay in Mallorca – and that the men then like to cover some distances by bike on the Spanish island, with the result that Tor signs with 40 miles behind him on two wheels there in May this year.
Competitors with two legs
Purely sportingly, he did more than one cycling before the amputation, later he has concentrated on cycling. "I've found that's what works for me."
A Strength Test race like the one he completed this month – together with a Trondheim group of 13 other men and five women with whom he often trains – it is largely about healthy participants, including many who have no relationship to amputated people and their prostheses, with the result that Tor attracts some attention.
"Many people stop and look at me and ask how it is possible to ride a prosthesis. There are many questions, there are many who are curious ", says Tor, who plans to go to Lofoten in July, to cycle a 230 km long ride.
Cycling naturally means that Tor can be seen as a man in good physical shape. "If you are in good physical shape, you can tolerate more in everyday life," he says. "You endure more, you endure more."
«A leisure trip»
According to Tor, Lillehammer – Oslo this June meant a couple of food station stops, there was no goal to get to the finish line first, but many other participants were overtaken along the way, the Trondheim gang did not come to Oslo last. "All of us nineteen came to the finish line, that was the goal of the trip."
Thor was clocked in at six hours and 52 minutes. "A leisure trip, I call it."
fd / hhr
If you're wondering how you might be able to ride with a prosthesis, check out the video below!