Now YOU get the opportunity to go on
Momentum AmpCamp Tenerife 4.-11. February
The tour is fully booked!
It is possible to put yourself on a waiting list if someone were to cancel!
PDF invitation can be found here.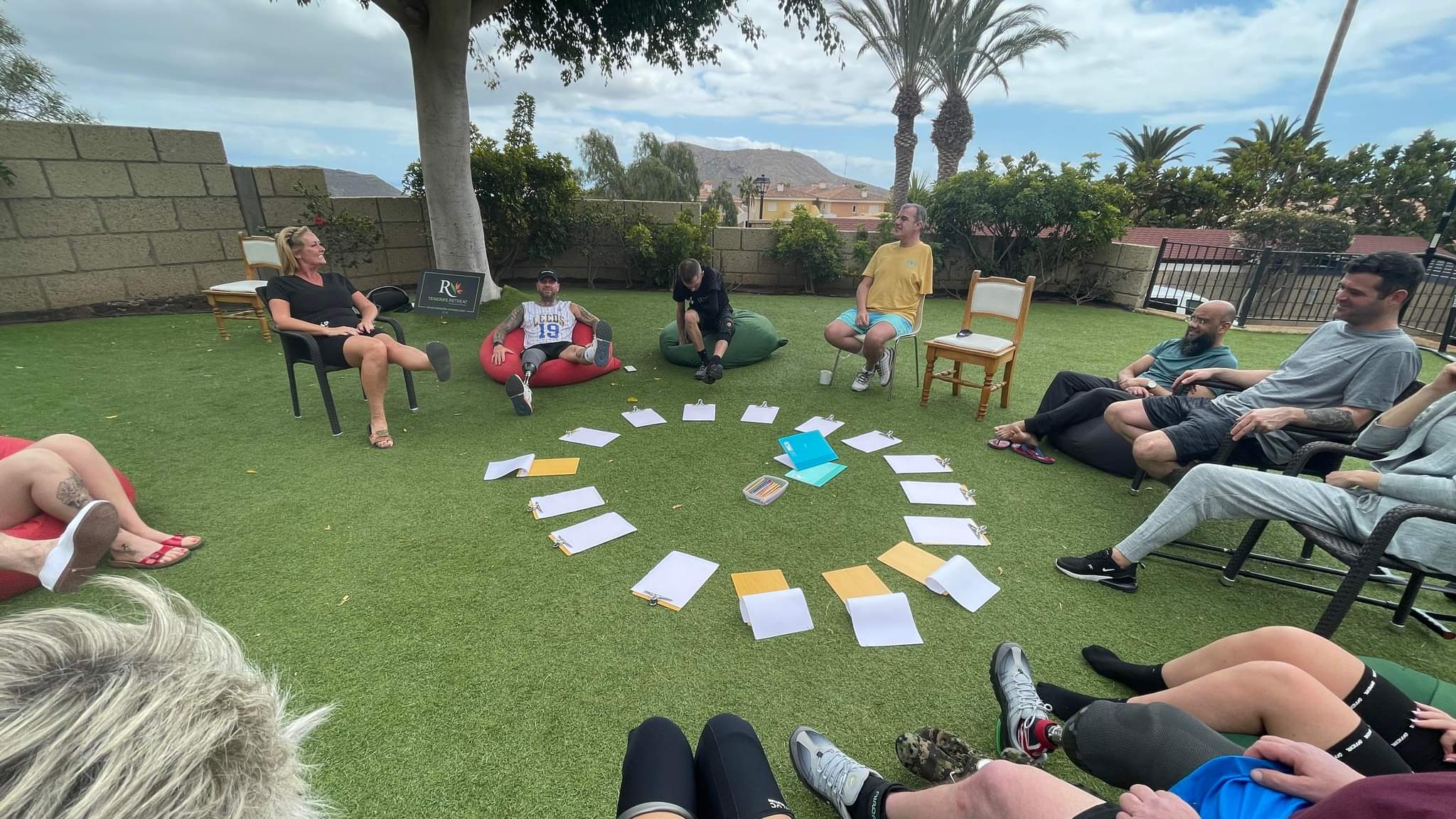 Momentum invites you to a week of training, unity and unique experiences in beautiful surroundings on Tenerife!
We provide opportunities for self-development and new self-insight.
The trip is 4. – 11 February 2023
This is a journey for amputees, dysmelists and orthosis users.
If you need an assistant on the trip, this must be applied for as there are limited places in the villa where we will stay.
Registration takes place upon application, those who get a place will receive feedback after the registration deadline has expired.
We only have 16 places available, so if you do not get a place this time, there will be more opportunities for participation later. Limited number of seats makes and that participants have to share rooms.
Registration deadline for the trips is set for 20.08.2022.
Registration form can be found here.
We know there are short registration deadlines, but it is also to get the cheapest airline tickets.
Pr. dd the flight tickets are 2,500, – – 4,500, – depending on which airport you travel from and whether you travel via other airports or directly.
The participation fee for members is 5,000, – which covers flights to / from Tenerife, accommodation, food, transport to and from the airport, and everything that happens on the trip of training and activities.
Registration is the volume! Should you be prevented from traveling, the full participation fee will be invoiced (11,800, -) and you must have this covered by your own travel insurance.
Instructions on ordering a flight ticket, what you must bring with you, and payment of the participation fee will come upon confirmation of registration after the registration deadline has expired.
In the picture on the left you can see where the villa is in relation to the airport, it is approx. 15 minutes' drive from the airport in Tenerife South. The picture on the right shows the villa.
It is the villa with the kidney-shaped swimming pool, not the one marked DOM Tenerife.
Program – subject to change:
Saturday:
16:00 – CHECK-IN
18:00 – MEET AND GREET
19:00 – WELCOME MEAL
TASK OF THE DAY
GET OUT OF THE COMFORT ZONE AND ACCEPT NEW ADVENTURES
Sunday:
08.00 – BEFORE BREAKFAST
08.30 – FITNESS INTRO
10.00 – BREAKFAST
11.30 – YOGA
13:00 – LUNCH
14:00 – TEAM BUILDING EXERCISES
15:00 – BEACH
18.45 – MEDITATION AT SUNSET
19.30 – DINNER
TASK OF THE DAY
THE ONLY PERSON YOU ARE DECIDED TO BECOME IS THE PERSON YOU DECIDE TO BE
Monday:
07.15 – BEFORE BREAKFAST
08.00 – AMPERCISE
09.00 – BREAKFAST
10.00 – WHALES & DOLPHINES BOAT TRIP
13.30 – LIGHT LUNCH (WHICH SNACK IS AVAILABLE BY BOAT)
14.30 – STRETCHING TECHNIQUES
18:00 – DINNER
20.30 – MEDITATION UNDER THE STARS
TASK OF THE DAY
IF YOU HAVE THE COURSE TO BEGIN, YOU HAVE THE COURSE TO SUCCESS
Tuesday:
08.00 – BREAKFAST
9AM -FITNESS WITH JEMMA
11AM – NATURAL POOLS & ALCALA TRIP WITH PACKAGE
19:00 – SUNSET YOGA WITH WHITE
19.45 – EVENING MEAL
TASK OF THE DAY
CREATE A LIFE THAT FEELS GOOD ON THE INSIDE, NOT JUST ON THE OUTSIDE
Wednesday:
08.00 – BEFORE BREAKFAST
08.30 – AMPERCISE ON THE BEACH
10.30 – BREAKFAST
11AM – RELAX AROUND THE POOL
13:00 – LUNCH
14:00 – AQUA SPA THERMAL EXPERIENCE
18:00 – MOTIVATION HOUR
19:00 – DINNER
TASK OF THE DAY
LIFE ALWAYS GIVES YOU A NEW CHANCE THAT IT WILL BE CALLED TOMORROW
Thursday:
08.00 – BEFORE BREAKFAST
08.30 – AMPERCISE
10AM – BREAKFAST
11AM – BASSENG AMPERCISE
13:00 – LUNCH
14:00 – RELAX AROUND THE POOL
19:00 – DINNER
20:00 – BOWLING
TASK OF THE DAY
BELIEVE IN YOUR OWN MAGIC
Friday:
07.30 – BEFORE BREAKFAST
07.45 – ABADES ABANDONED VILLAGE
10.00 – PICNIC BREAKFAST ON THE BEACH
13:00 – LUNCH
16:00 – AMPERCISE
19:00 – BARBECUE EVENING
20:00 – MEMORIES AND SUMMARY
TASK OF THE DAY
GROW THROUGH WHAT YOU GO THROUGH
Saturday:
08.00 – BEFORE BREAKFAST
8.30 – TRAINING WITH SAVINGS
10AM – BREAKFAST
11AM – GRATEFUL TIME
13:00 – LUNCH
RELAX ABOUT THE POOL AT HOME
TASK OF THE DAY
IT IS THE FRIENDS WE MEET ALONG WITH THE LIFE ROAD THAT HELP US APPRECIATE THE JOURNEY