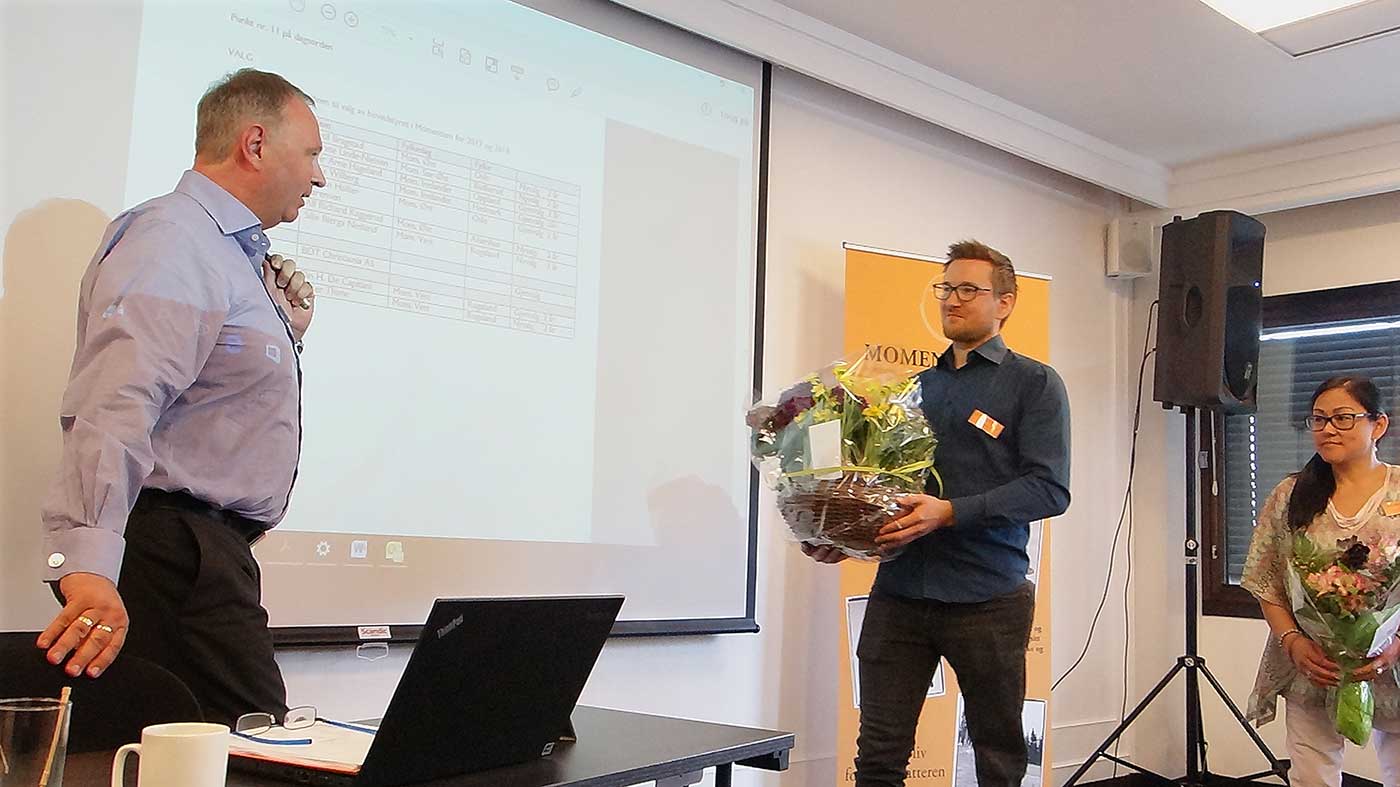 The incoming Kjetil brings flowers to the outgoing Nils-Odd. To the right in the photo, Merete Linde-Nielsen (newly elected as Deputy Chairman of the Board)
(Photo: HH Reinertsen)
A milestone passed:
Kjetil applauded as the new boss
After a few years as deputy leader of Momentum, Kjetil Bragstad has taken a step up the ladder and become the leader of the arm and prosthesis users' association.
---
Text: F. Dahl // Photo: Hans H. Reinertsen
---
It had long been in the cards that this would be the case, because after a couple of decades as Momentum's front figure, Nils-Odd Tønnevold had made it clear that he wanted a replacement. This morning he got it:
During Momentum's 2017 national meeting, held in Oslo, Kjetil was applauded as Nils-Odd's successor, as the new chairman of the board, the new front figure. No protests, many congratulations.
And many thanks and words of praise, of course, to Nils-Odd. With the exception of a couple of years – 2010–2012, when Han Emil Møller-Hansen was chairman of the board – he has been head since Momentum's earliest days.
A still active member
Nils-Odd made it clear that he will continue to be an active Momentum member – he will, for example, remain editor-in-chief of the Momentum magazine Livsglede and continue to play a central role in the association's collaboration with sister associations in other countries, the collaboration he has built up .
If today he was characterized by a little nostalgia? No, not really, he wanted to. "For me, this is completely undramatic, this is about us having built a good team, and about someone taking over the baton," he told Livsglede and Momentum websites' reporters.
Will not pull the load alone
Kjetil – who during service as a soldier in Afghanistan in 2007 lost half his left leg – for his part did not provide comprehensive program statements. But he sent out an ever so small signal that he does not intend to be completely alone in ensuring Momentum's further development. To us reporters, he put it this way:
"I think we need to raise awareness that this is a partnership, that everyone is working together and moving in the same direction, that the regime is not one government."
In silence, but…
The national meeting in Momentum is matter-of-fact, it is not a festive event. See it as an explanation for the change of boss going quietly and calmly. Do not ignore the possibility that someone is thinking of marking the change of boss with a little more touch of thunder and bang – hurray and thanks to Nils-Odd, hurray and welcome to Kjetil – at a suitable time later this year.