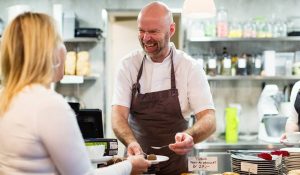 On Friday 09.03.18, Momentum Vest arranged a cooking course with Sjå Inge
10 participants from Momentum enjoyed themselves from 18-23 with cooking, good stories and socializing.
The menu for the evening was as follows:
Inge's delicious fish soup with a light smoky taste. Season with garlic and curry. Served with pesto-baked cod, shrimp and finely chopped vegetables. Freshly baked bread with rosemary and Maldon salt.
Coriander and garlic marinated scampi. Wrap in filo and crispy. Served with homemade sweet chili sauce. Served on a bed of spinach, sprouts and cauliflower puree.
Roasted tenderloin of "Jærokse" served with tarragon-fried mushrooms and
celery root puree. Potatoes with root vegetables. Sauce sauce with red wine and
stone mushroom.
Dark chocolate mousse flavored with Cognac, served in glasses layered with real vanilla cream. Served with caramelized pineapple with chili and pistachios.