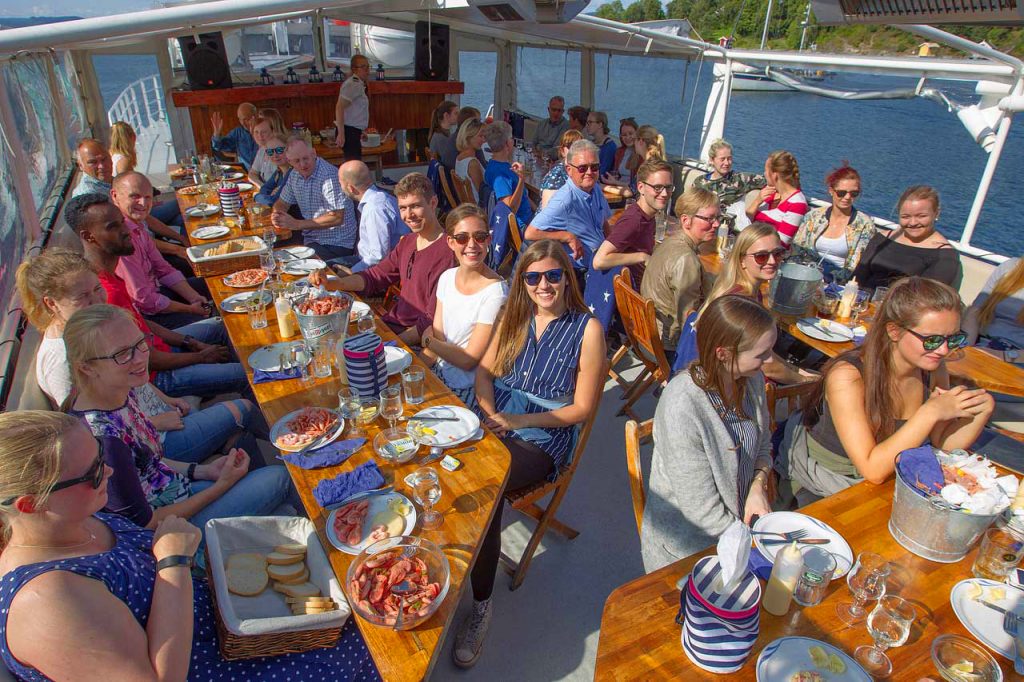 Sun, shrimp and white wine made for a good atmosphere on board when OVL invited orthopedic engineering students and some other connections to a contact-creating boat trip on the Oslo Fjord. Photo: Hans H. Reinertsen.
Vacancies are waiting to be filled by young people who are training to become orthopedic engineers, according to the National Association of Orthopedic Engineering Companies (OVL).
As the association now in late summer hosted a boat trip where orthopedic engineering students were in the majority among the invited, an unmet need for precisely orthopedic engineers was a key topic of conversation.
OVL's general manager, secretary Svein Vidar Ersvær, mentioned the need already when he welcomed on board the contact-creating afternoon trip on the Oslo Fjord:
Ersvær saw it as almost guaranteed that the students after completing their education will find jobs, and he made it clear that he did not take it too hard when he said that
"We need well-qualified, skilled orthopedic engineers."
Newly expanded educational capacity
The fact that orthopedic engineers are in short supply in this country is a phenomenon that is many years old. Orthopedic workshops have struggled to find people for vacancies, something amputees and other categories of workshop customers have noticed in the form of partly long waiting times.
While the orthopedic technical industry welcomes virtually every newly qualified orthopedic engineer, it also welcomes the fact that Oslo and Akershus University College (HiOA), which is responsible for the education of orthopedic engineers in this country, from now on has signs with a greatly expanded capacity for education. of the coveted type of engineers.
Thus, it is in the cards that in a few years' time, more newly qualified orthopedic engineers will enter the job market.
Aging population, more customers…
Whether there will thus be a balance between supply and demand, so that the shortage phenomenon goes down in history for good, remains to be seen:
An aging population and a presumably growing need for orthopedic workshop services may lead to a need for an even greater educational capacity than is currently planned.
Expect more material on the education of orthopedic engineers in the upcoming autumn issue of the Momentum magazine Livsglede.
fd