A slippery winter sidewalk with an angry Momentum board member, Kristin Holter-Sørensen, standing on the ice…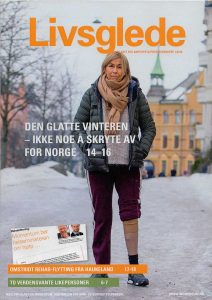 The picture can be found on the front page of this year's first Livsglede, which is now on its way to Momentum members and other recipients.
Snow, ice and ice that make sidewalks and urban spaces otherwise almost impassable for many – disabled and elderly people included – is an old phenomenon in Norway. But the winter that is now in full swing has in that sense been particularly bad.
Fall and emergency room visits
Momentum board member Kristin is one of thousands who during the winter have fallen and hit themselves so hard that the fall has been followed by an emergency room visit.
"My impression is that Oslo is a city for the young and healthy. We who are disabled and have an age are not welcome in Oslo ", says Kristin in the Livsglede edition which is now out of the printing house.
Two new equals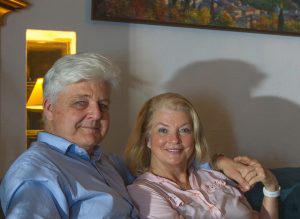 Among the others in the magazine is a close look at Mark Miller, leg amputated on both sides, and his life companion from his youth, Line. The two came to Momentum last year and were quickly found in the association's ranks of equals
English-born Mark and Norwegian-born Line have lived and traveled a lot in the wider world. Thus, they came to Momentum with a nice portion of international ballast – and thus perhaps some exciting approaches to exchanges of experience in the motley Momentum community.
The two make it clear that they have become equals of desire and will, that this is not something they have felt pressured into. Hear what Line says: "We really want more assignments, it would have been fun to have more to do."
Controversial relocation process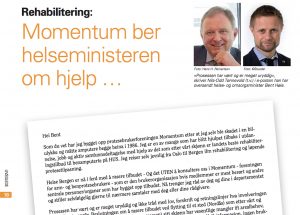 The rehabilitation in Bergen of amputees is in the process of being transferred from Haukeland to Nordås, but – as it appears in the latest Livsglede – not without speculation.
The unrest surrounding the relocation process is mentioned in the leadership position. It is also mentioned in a column written by chief physician Sigrun Solberg, a key person behind the development of the rehabilitation at Haukeland. And by the way:
The unrest has reached the government's table – in the form of an email written by Momentum's Nils-Odd Tønnevold and addressed to Minister of Health and Care Services Bent Høie.