After turning sharply to the right, I have to brake hard towards the railway underpass. Water has washed away some of the substrate and there is a lot of rough stone. Morten also found out. He tumbled into what had now become a small stream. But the mood is still on top!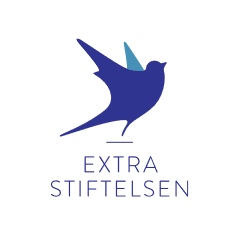 This is the first time Momentum has tried its hand at a bicycle collection. Previously, Hjerkinn Fjellstue has been used as an arena for riding camps. Now they wanted to try something new and received support from the Extra Foundation to test the cycling experience in the mountains. There was no bad investment by the foundation.
Bicycles on two and three wheels
Bicycles come in many varieties. Last year, we received support from the Sparebankstiftelsen DNB for the purchase of some special bicycles for rent. This is managed by Dovrefjell Adventures. For this gathering, Bardum also volunteered with three bicycles and a district manager to guide in use. Morten actually had plans to try riding a two-wheeler, but chose a Scorpion Enduro. I almost feel like stepping on legs when I see that bike! Morten got up to good speed. So good that the ditch was visited. But the rest of the trip he masters the bike perfectly. So the above rollover is attributed to little experience with the bike.
Electric bikes gather group
At the riding camps, there have always been some who for various reasons would not ride. There was no question of participating in the bicycle collection. Because with access to different bikes, everyone felt safe to try. In addition, the electric motor helps considerably. It brings the group together even more. Not everyone was able to finish, but everyone can be proud of themselves. For it is quite a long way to debut with a trip of almost forty miles. It takes a long time to get to know the feeling of cycling.
We used the bike path on Dovrefjell. This must be one of the best decisions made in business development and public health. On our trip we counted over 50 cyclists who came to meet us. And it is still in good condition after a busy summer. But we also see that both weather and traffic are consuming. And then future maintenance becomes important to ensure good accessibility. We also punctured a bicycle because it ran the wheel between two stone slabs and tore a tire. Right enough with a bit narrow wheels. Overall, this road is well adapted for large target groups. The group here would love to return. So now we are betting on the Tour de Dovre in 2020. Maybe you see fewer legs than pedals in that round next year.
Written by Geir Arne Hageland, Funkibator
Photo: Dovrefjell Adventures by Ole Johan Steinvik, Nasjonalparkriket Reiseliv by Erland Kirkebøen Husom, Tatjana Breda-Gulbrandsen