Movement and opportunities on your terms
Orthopedic technology has since 1980 been one of Norway's largest orthopedic technology companies. 140 skilled employees deliver almost 60,000 individually adapted aids to over 30,000 users annually. The company is a private limited company with Norwegian owners.
Of a turnover of NOK 230 million, the majority are requisitioned aids that are reimbursed by NAV. The company also provides aids and services to health trusts, occupational health services, sports clubs and private paying customers.
Orthopedic Technology's vision is to be the natural first choice as a supplier of orthopedic technical services and products in the geographical areas in which they are represented.
Contact
Ortopediteknikk AS
Ryensvingen 6
0680 Oslo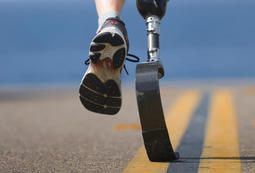 Ortopediteknikk AS has departments in a number of places:
The offers are a little different at the different departments, below you will find an overview.
Ryen in Oslo
All types of orthopedic aids
– Collaboration with both public and private orthopedist
– Competence center for advanced prostheses and orthoses
– Production
– Orthopedic sewn shoes in collaboration with NOF
– Arm prostheses in collaboration with NTO
Lillestrøm
– Measurement and adaptation of orthopedic aids
– Cooperation with private orthopedists Carl Erik Næss and Håkon Sjøbrend
Spruce on Hadeland
– Measurement and adaptation of orthopedic aids
– Cooperation with private orthopedist
– Open every Tuesday and Thursday
Back
Place of visit
– Measurement and adaptation by agreement
See more information about the departments in the Oslo area
Sandvika
– All types of orthopedic aids
– Cooperation with private orthopedists
– Competence center for advanced prostheses and orthoses
– Orthopedic sewn shoes in collaboration with NOF
See more information about the department in Sandvika
Tønsberg
– All types of orthopedic aids
– Cooperation with private orthopedists
– Competence center for advanced prostheses and orthoses
– Production
– Video-vector motion analysis
– Race analysis
– Diabetes team
– Authorized podiatrists
– Orthopedic sewn shoes in collaboration with NOF
– Arm prostheses in collaboration with NTO
Horten
– Measurement and adaptation of orthopedic aids
– Open Tuesdays and Thursdays

Sandefjord
– Measurement and adaptation of orthopedic aids by agreement
Stavern
– Measurement and adaptation of orthopedic aids
– Close collaboration with the Coastal Hospital on inpatients
– Primary rehabilitation after amputation in Vestfold and Telemark
– Collaboration on physical-medical outpatient clinic (requires referral)
Porsgrunn
– Measurement and adaptation of orthopedic aids
– Cooperation with private orthopedist
– Collaboration with physical-medical outpatient clinic at Porsgrunn hospital (requires referral)
– Production
– Orthopedic sewn shoes in collaboration with Wollenberg Orthopedic
– Arm prostheses in collaboration with NTO
See more information about the departments in Vestfold and Telemark
Stavanger
– All types of orthopedic aids
– Competence center for advanced prostheses and orthoses
– Production
– Video-vector motion analysis
– Orthopedic sewn shoes in collaboration with NOF
– Arm prostheses in collaboration with NTO
In collaboration with Stavanger University Hospital
– Service department for patients at the hospital.
– Outpatient clinics for diabetes
– Outpatient clinic for amputees
– Outpatient clinic for clubfoot treatment.
Hour by appointment with an orthopedic engineer
Sandnes
– Measurement and adaptation of orthopedic aids
– Cooperation with private orthopedist
– Closed on Tuesdays
Haugesund Sanitetsforening rheumatism hospital
– Measurement and adaptation of orthopedic aids
– Cooperation with the hospital
– Present every 14. day
Egersund
– Measurement for all orthopedic aids
– Adaptation of simpler aids
– Present 1 day each month
See more information about the departments in Rogaland
Førde
– Measurement and adaptation of orthopedic aids
– Own special shoes department
– Orthopedic sewn shoes in collaboration with NOF
Sogndal
– Measurement and adaptation of orthopedic aids
– Hour by appointment
See more information about the departments in Western Norway