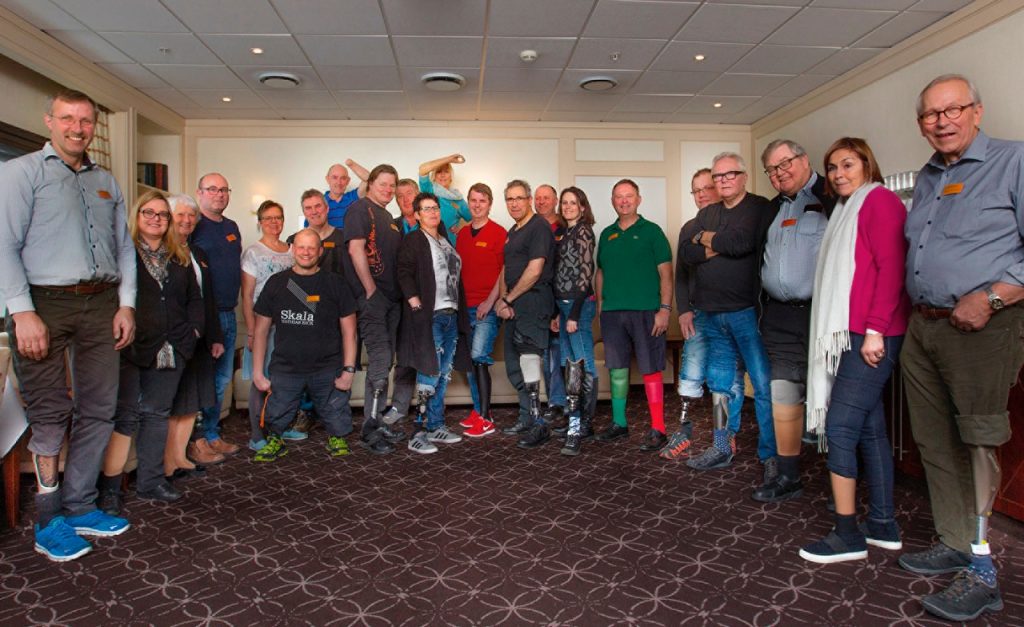 Good peers, ever better peers… This group, which includes well-experienced and less experienced peers, was gathered this weekend for a peer course in Oslo. They seem to be having fun. Maybe the picture tempts non-equals to become equals… (Photo: Hans Hekneby Reinertsen)
Pillars in Momentum's work
Exchange of experience is an important element when peers in Momentum are gathered, points out Arne Wilberg, who is the leader of the association's peers and relatives committee.
By virtue of his position, Wilberg was one of the key people when Momentum this weekend, 10-12. February, arranged a series of their peer courses in Oslo (for peers and relatives.)
In courses like this, it is important for the participants to become good or even better peers, such as those who, on behalf of Momentum, meet new amputees to listen and inform and inspire.
Puff in the back
In short, the peers will give new amputees a push in the back to see and seize opportunities to get into a good everyday life.
Running a peer service has been read and adopted as a very important task for Momentum. Yes, peer manager Wilberg says that "this is the most important thing we do."
Thus, it is clear that the equals are for pillars to count in the Momentum work.
A peer course under the auspices of Momentum offers basic knowledge of how a peer should proceed in the meeting with a new amputee. In addition, it provides an opportunity to, so to speak, connect theory with reality, in that peers exchange experiences, tell each other about what they have each experienced in meetings with new amputees.
Experience that is «worth gold»
Nils-Odd Tønnevold (Momentum leader) and Geir Bornkessel are among the amputees in Momentum who have many years of experience of being equals, and during this weekend course they were among those that less experienced peers could find it useful to listen to.
Equality manager Wilberg says about Tønnevold and Bornkessel: "It is clear that with the experience they have, they are worth their weight in gold to those who are in the starting pit as equals."
According to Wilberg, Momentum has around 80 peers around Norway, and a couple of dozen of them participated in this weekend's course at a hotel in Oslo.
Refreshment every five years
Wilberg says that old peer-to-peer course material has recently been upgraded, and that it is partly inspired by experiences that Momentum representatives Kristin Holter-Sørensen and Nils-Odd Tønnevold brought home to Norway from a visit to the USA last summer (see the articles American Handbook for Peers and Socializing with American amputees gave more flavor in the Momentum magazine Livsglede 3/2016).
The Directorate for Children, Youth and Families (Bufdir) has been operating for some time with rules that require an association such as Momentum to ensure the quality of the peer service, and Wilberg says that Momentum has followed this up by deciding that established peers should undergo refresher courses every five years.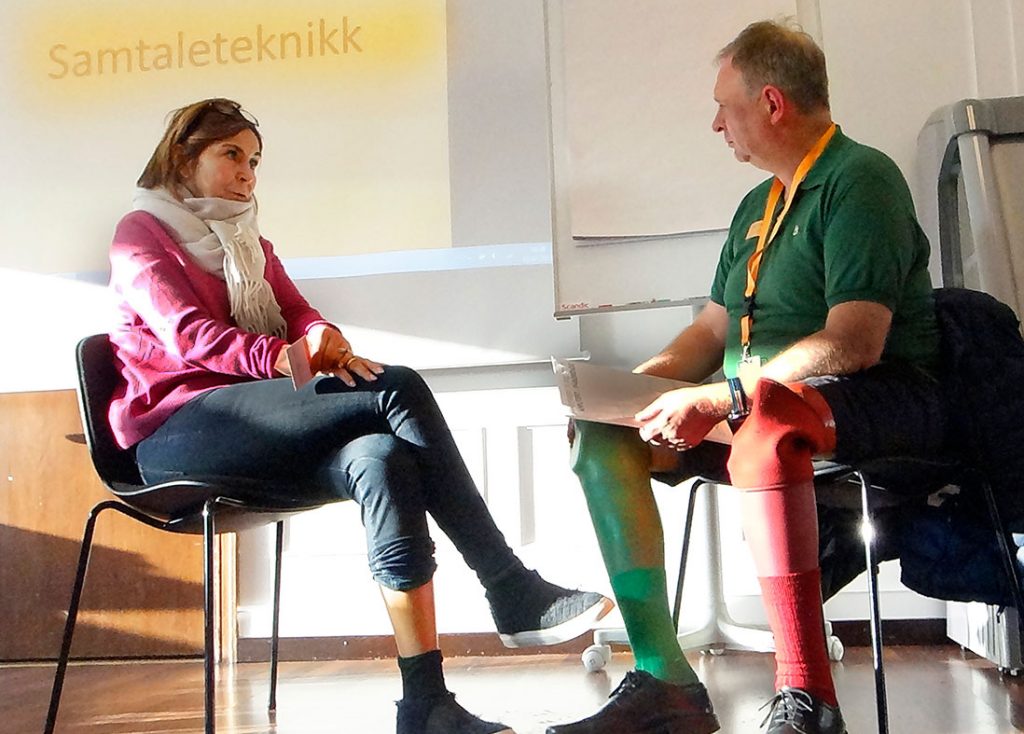 Role play during this weekend's course in Oslo: Kristin Holter-Sørensen plays a new amputee, Nils-Odd Tønnevold plays an equal. (Photo: Hans Hekneby Reinertsen)