Do you know anyone who has made an extraordinary effort for amputees?
Momentum awarded the Momentum Prize for the first time in 2004 and since then it has become a tradition. In this way, we want to honor the person or people who have made a special effort for prosthesis users and relatives.
The momentum award for extraordinary efforts
Feel free to send suggestions for an individual, a topic, a department, an institution / organization or a company that in one way or another has made an effort far beyond the ordinary and which you therefore think should get:
The momentum award for best prosthetic cosmetics
In the same way, we will focus on the appearance of the prosthesis with special emphasis on shape and form and encourage innovation and new thinking in the area. We would like to invite you to submit a proposal to the person / persons you think you should receive: Picture of cosmetics must be attached to the nomination.
2019 – Momentum's honorary award: Sigrun Solberg

2018 – Momentum's honorary award: Hans-Emil Møller-Hansen

2015 – Geir Bornkessel

2010 – Momentum's honorary award: Nils-Odd Tønnevold

2010 – Orthopedic Engineer: Roger Gsell Orthopedic Technology Ryen in Oslo, Ottestad Rehabilitation Center Hamar and Bakke Center for Mastery and Rehabilitation.

2008 – Bjørg Nodeland, Jan Risnes, orthopedic technician in the OCH Orthopedics department in Oslo and the Rehabilitation department at Haukeland

2007 – Momentum's honorary award: Tor Dalsheim

2007 – Anne Berit Flaaten, Vebjørg Walle and Fredrik Johansen

2005 – The couple Liv Karin and Rune Søstuen

2004 – Kjetil Atterås from Atterås Ortopediteknikk and Tomm Kristensen from Norsk Teknisk Ortopedi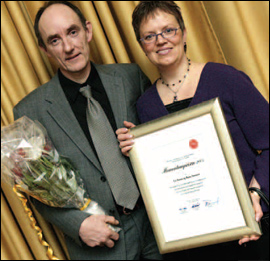 Anyone who wants to can nominate candidates.
Proposals must be substantiated and contain the names, addresses and telephone numbers of both the proposer and the candidates (with a small reservation about the number) will be invited to the award ceremony.
The prize will be awarded during the annual Momentum Weekend.
More information can be obtained by calling Momentum on tel. 40 00 43 60 or e-mail info@momentum.nu
Proposals for candidates must be received by Momentum by the end of April each year. Send your proposal to Momentum by e-mail info@momentum.nu
It is the main board of Momentum that evaluates the proposals received and nominates prize winners.