New amputee Ola Vikholt is looking forward to the new people he met during the ski weekend at Venabu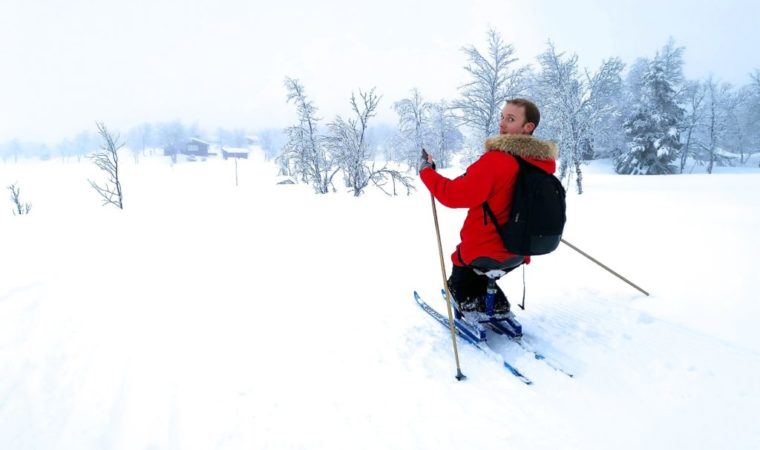 Newly-amputated Ola Vikholt enjoys himself at Venabu. The first weekend in February at Venabu, the sixth ski weekend in a row was arranged. The weekend was filled with good unity and several new skiing challenges. Newcomer Ola Vikholt and Colombian Alejandra Rojas participated for the first time at Venabu. Ola, who did not think it […]
The first weekend in February at Venabu, the sixth ski weekend in a row was arranged. The weekend was filled with good unity and several new skiing challenges.
Newcomer Ola Vikholt and Colombian Alejandra Rojas participated for the first time at Venabu. Ola, who did not think it was possible to ski, was very positively surprised by the skiing opportunities.
– I got to try cross-country skiing for the first time after the amputation. Since I have no ankles to balance with, in addition to the fact that my feet contain soft springs, I fell a lot in the beginning. In addition, I have prostheses that are still being adapted. The next day I experienced good progression and completed three kilometers on skis. I also had a nice trip of 8 kilometers on a toboggan. My girlfriend Alejandra also got to try skiing for the first time in her life, he says.
– The fact that the hotel is located directly on the ski slope means that the participants can easily go straight out on the trail. The trails and terrain are also very easy. You also have the opportunity to reach Rondane National Park if you are one of the energetic ones, says Geir Arne satisfied.
Great activity offers on Venabu
Geir Arne Hageland has been arranging a ski weekend at Venabu since 2015. On tour he had a group of 20 eager Momentum members.
– We have a nice composition of people who keep coming back. We manage to fool someone new with us every time, says Geir Arne, who is involved in the activities, also on a toboggan. He was born with an injury that eventually led to an amputation through both knees as a 5-year-old.
For a most comfortable stay for everyone, Geir Arne is constantly trying to develop the activity offer. Since not everyone is equally safe on skis, the participants also had the opportunity to try snowshoeing.
Exchange of experiences
Geir Arne also spends a lot of time arranging and working with attitude work and mastery through various activities.
– It is great to see that people dare to stretch further and become more secure with themselves, even with an amputation. In addition to the physical, it is a lot about being able to accept the situation, which often prevents new injured people from recovering. They learn a lot from exchanging experiences and listening to other people's stories, he says.
– We have several on the team who are already very safe, and who contribute greatly to everyone being able to feel the same way, both socially and through activity, he continues.
Pleasant stay
– Since people are out a lot during the day, there is not as great a need for a regular event in the evening. Still, people appreciate being able to sit down and talk to others and exchange experiences. Among other things, we gather for food every afternoon, Geir Arne adds.
Ola highlights the atmospheric stay at Venabu high mountain hotel.
– I got to know many nice people with different prostheses and amputations. It was inspiring to see how they coped with life in such a good way. I myself am starting to get in good physical shape. Even the mental is lagging behind, says Ola, who is struggling with depression after he lost his sense of smell and both legs in a fall accident.
– I am very pleased with the contacts I made with several of the participants. I intend to nurture these in the future. In addition, I have been inspired to continue skiing, says Ola satisfied.