The leg amputation led Kenneth (25) to the profession of orthopedics and sprinting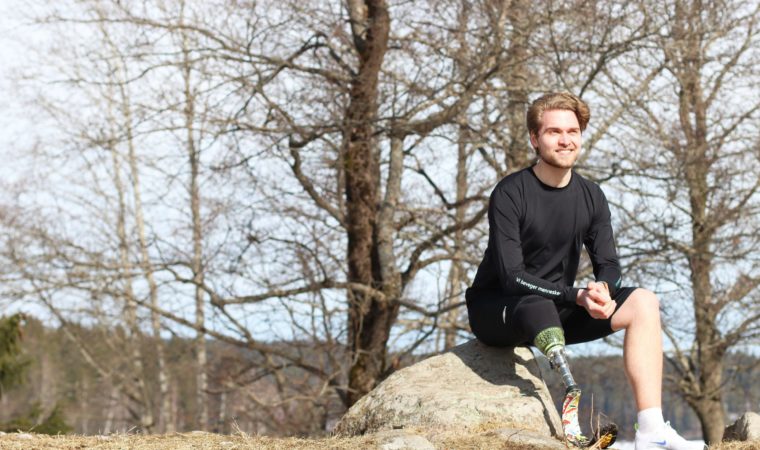 '- The joy is to help other amputees, and to share the profession and the competition with others.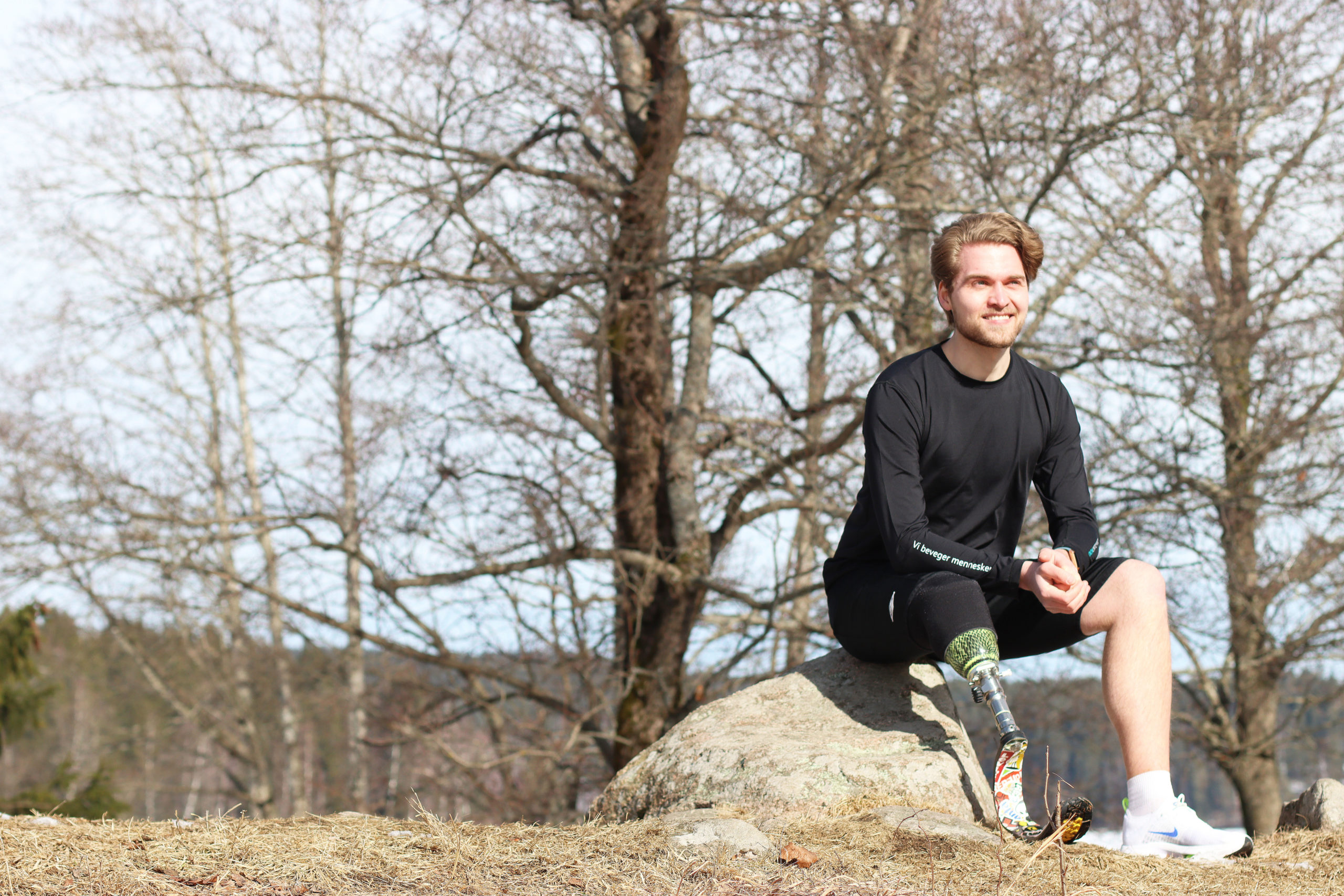 Photo. Marte Nordahl
Text by Marte Nordahl
– The joy is to help other amputees, and to share the profession and the competition with others.
One summer evening in Eide on Nordmøre in 2012, Kenneth Heggdal was on his way by motorcycle to camp with his brother and a couple of friends by the local lake, Langvatnet. It was past nine o'clock when he drove into a bend with a rock wall on the left side. In the middle of the turn, the low-lying sun appeared which caused him to lose sight.
– I deliberately overturned the bike which made me slide straight into the crash barrier. In the rollover, I got my leg pinched between the motorcycle and the crash barrier. In retrospect, I realized that if I had braked abruptly, I would have flown right over the crash barrier, says Kenneth.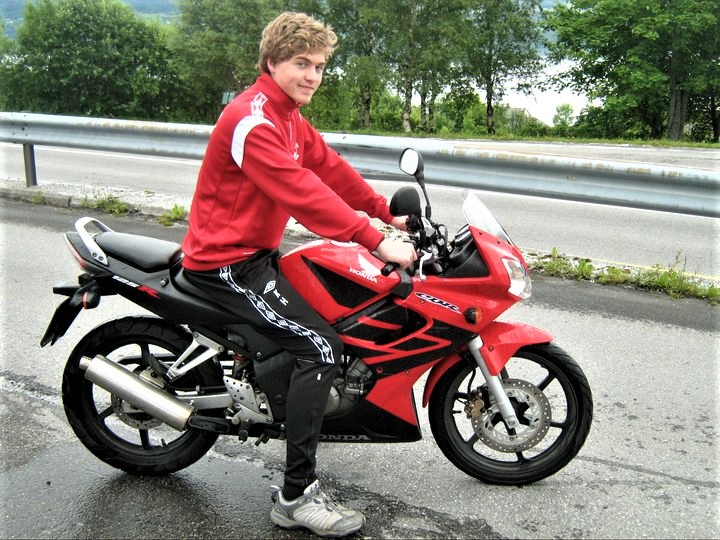 Kenneth drove a lot of motorcycle before the accident.
Eight operations
After the accident, Kenneth was operated on at the hospital in Molde where the surgeon fixed his leg. He was operated on seven more times at St. Olav's Hospital in Trondheim. All the dead scar tissue that made him lack circulation down to his leg and foot made it difficult to save his broken leg. After the eighth operation, they decided to amputate the leg.
– I do not remember anything the first two weeks after the accident. Due to strong painkillers, I only remember fragments from when I was in the intensive care unit at St. Olavs Hospital in Trondheim.
Positive to amputation
Kenneth remembers well the traumatic moment when the surgeon came in and told him he had to be amputated.
– He informed me well about the benefits of amputating the foot. If they kept the leg, I would have a lot of pain, in addition to having no circulation or feeling in the foot. The risk of infection was also great if I were to get a cut in the foot without noticing it. Amputating my foot meant that I could do pretty much all the activities I did before.
Kenneth remained in the hospital immediately after the amputation. He had a physiotherapist in the room with a psychologist. The meeting with the surgeon meant that he did not feel the need for a psychologist afterwards.
Conversation with the surgeon
– The biggest medicine I got was to have the leg amputated, so that all bacteria and infections disappeared. I felt healthy right away, he says.
Kenneth is pleased with the good follow-up he received while he was in the ward for women and children at St. Olav's Hospital. Since it was summer and the inpatients were on leave, he received extra good follow-up.
– As a 16-year-old, there was not much I wondered about the amputation. My parents were present during large parts of the stay. Here they collected all the information I needed about the practical tasks, he says.
Rehabilitation eases the mind
– The rehabilitation period eased the mind a lot. That I was also young and active before the amputation and the accident, made it easy to get back on my feet. As soon as I got out of bed I started walking on crutches. I sat very little in a wheelchair, he says.
After his hospital stay, Kenneth spent a short time at Betania in Malvik in Trondheim. Here he started training with a skilled physiotherapist. When he returned to his home municipality of Eide, he got a physiotherapist there.
– Since I spent a fast time learning to walk, I mostly did strength training of the buttocks and other body parts. As soon as I got my first prosthesis in Trondheim, I went on it without support. In the beginning, there were many trips up to Trondheim to adapt the prosthesis.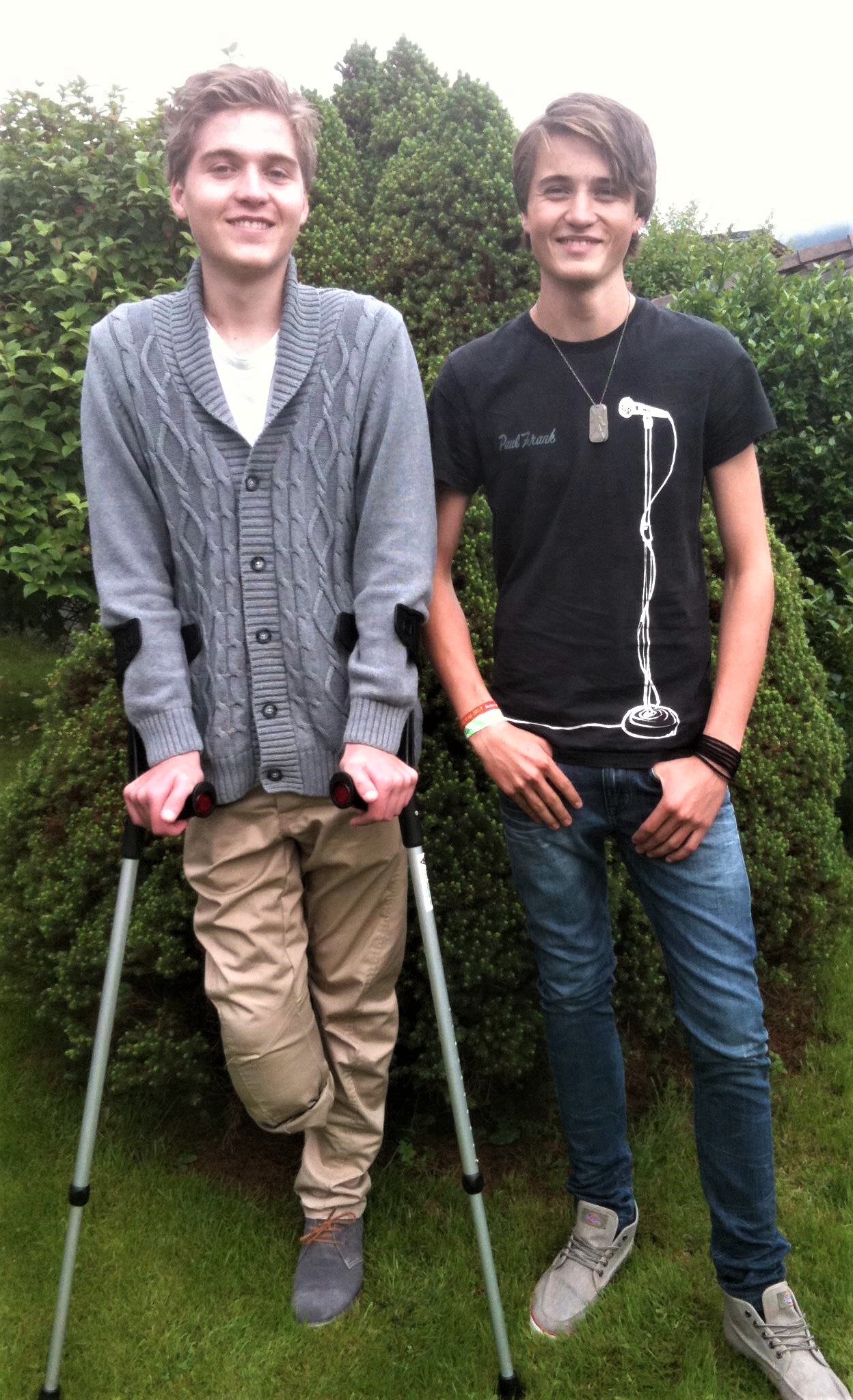 f. v. First day of school at Molde upper secondary school with his twin brother, Kim Heggdal.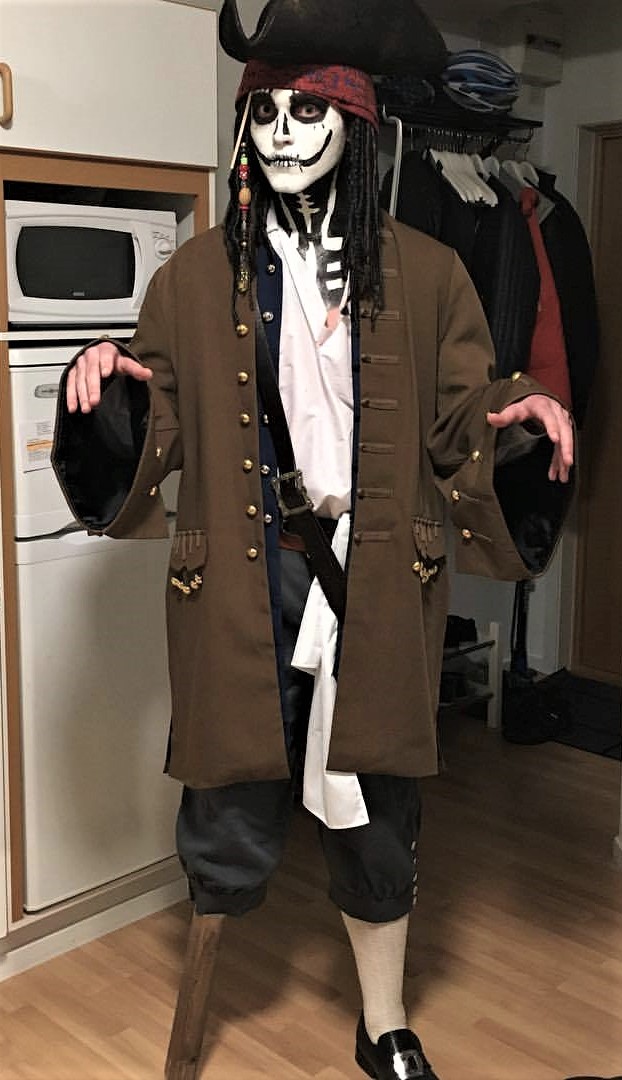 T. h. Halloween celebration during study time. As an orthopedic engineer has Kenneth had the pleasure of making his own wooden leg which he uses when he is going to dress up as a pirate. Private pictures.
Right to high school
Kenneth was amputated the summer before he was to start high school. His goal was to be healthy enough to attend school. He was discharged from the hospital the week before school started, so he had a short break at home. The first day of school he showed up with crutches and one leg.
– My classmates had already read the case of the boy who had to amputate his leg after a motorcycle accident and was to start at the Music Line at Molde. The first year they were very helpful in carrying instruments and other things I needed help with
Active before the accident
Before the accident, Kenneth played both football and floorball. After the amputation, he continued to play floorball at an active level while attending Molde High School.
– I played everything I could and did not think that I was wearing a prosthesis. It worked very well to move the knee and hip more than before, says Kenneth.
– I also had the pleasure of being an assistant coach for my old football team. That I had to stand on the sidelines was the only boring thing, he says.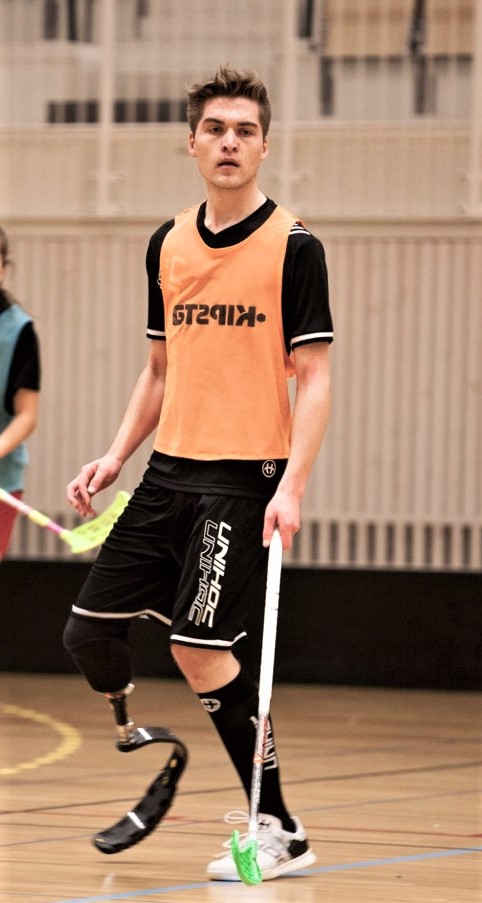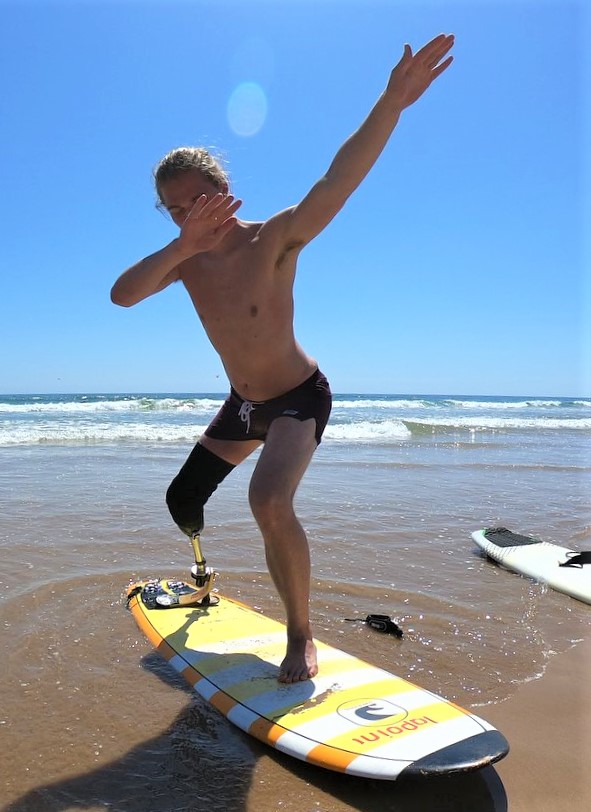 F. v. Floorball tournament in high school. Kenneth also played floorball during his studies in Jönköping in Sweden.
Th. Surf camp in Morocco. Private pictures.
Orthopedic engineer
Kenneth decided to become an orthopedic engineer in his second year of high school. His interest in the subject developed rapidly when he got components and prosthetic feet. He discussed with his orthopedic engineer – in addition to surfing for new solutions that might be right for him.
– I also think that the orthopedics subject and being a prosthesis maker seemed interesting. The main reason why I want to work as an orthopedic engineer is that I want to help others in a similar situation, he says.
Kenneth began studying right after high school in Jönköping, Sweden, following a tip from a Swedish orthopedic engineer in Trondheim. Here he continued with floorball.
Peer course in Sweden
While living in Sweden, he trained as a «role model coach» who is somewhat similar to an equal.
– In the course, I received good tips on how to lead a conversation, which leads to the user learning to reflect and come up with solutions themselves based on what we talk about together. The goal is to get the person to motivate themselves and find their own solutions and goals as a prosthesis user. I recommend everyone to contact a peer if you have any questions about the amputation or prosthesis, or just need replenishment with new motivation. It is very good to talk to others, he says.
Improves everyday life
Kenneth has already managed to work for half a year as a rotation candidate at OCH Orthopedics at Helsfyr. During the period, they also visit other hospitals.
– Right now I work at Sunnaas Hospital twice a week to specialize in orthoses. Multitrauma patients often have five aids at the same time. At Sunnaas, I have very good contact with physiotherapists, occupational therapists and doctors. In the autumn, I will have six months with prosthesis as my main subject, he says.
– It is extra nice to think that an orthopedic engineer can make a custom prosthesis that makes it possible for the user to walk. In addition, small adjustments to the prosthesis will be able to relieve pain, which allows the user to return to work and perform activities, he says.
Found several tricks
As a trained orthopedic engineer and with advice from other colleagues, he has discussed ways and tricks to be able to use the prosthesis even with chafing.
– Each individual often has individual challenges and needs. The challenge I face is often completely different in others. Although it is important to relieve the sore spot, it does not necessarily mean that it is best to remove the prosthesis. As a result, it can lead to reduced circulation when not actively using the stump. Thus, the wound will also grow more slowly. I recommend listening to the advice of your own orthopedic engineer, Kenneth informs.
Prostheses as needed
For Kenneth, the short amputation stump consisting of a lot of scar tissue has caused a lot of chafing and pain. Therefore, it has been absolutely essential to get a sleeve that has fit perfectly to be able to perform the activities he wanted.
– Today I use several different prostheses. One for swimming activities, a running foot, alpine foot and an everyday foot that I use for normal walking in everyday life. I have also made my own pirate leg which I think is extra fun to use at Halloween or other masquerades.
Runs actively
Kenneth started sprinting in early December 2020.
– Jumping into the sprint has been absolutely toppers. I started at the same time as my running partner Sander Hegni. Since I did not know exactly what I was doing in the beginning, it is good to have received good follow-up from my own coach. We follow a training program every week and get to train at Bærum sports park and Bislett.
– Since last year, we have concentrated on learning new techniques in sprint. Today I do not think much about having a prosthesis when I run. I try to propel my body forward as if I have two legs. For the last seven years I have also had an easy-to-use running prosthesis and my good friend.
Photo. Marte Nordahl. Kenneth runs active sprint for Norwegian parafriidrett with the goal of participating in competitions, both at Norwegian and international level.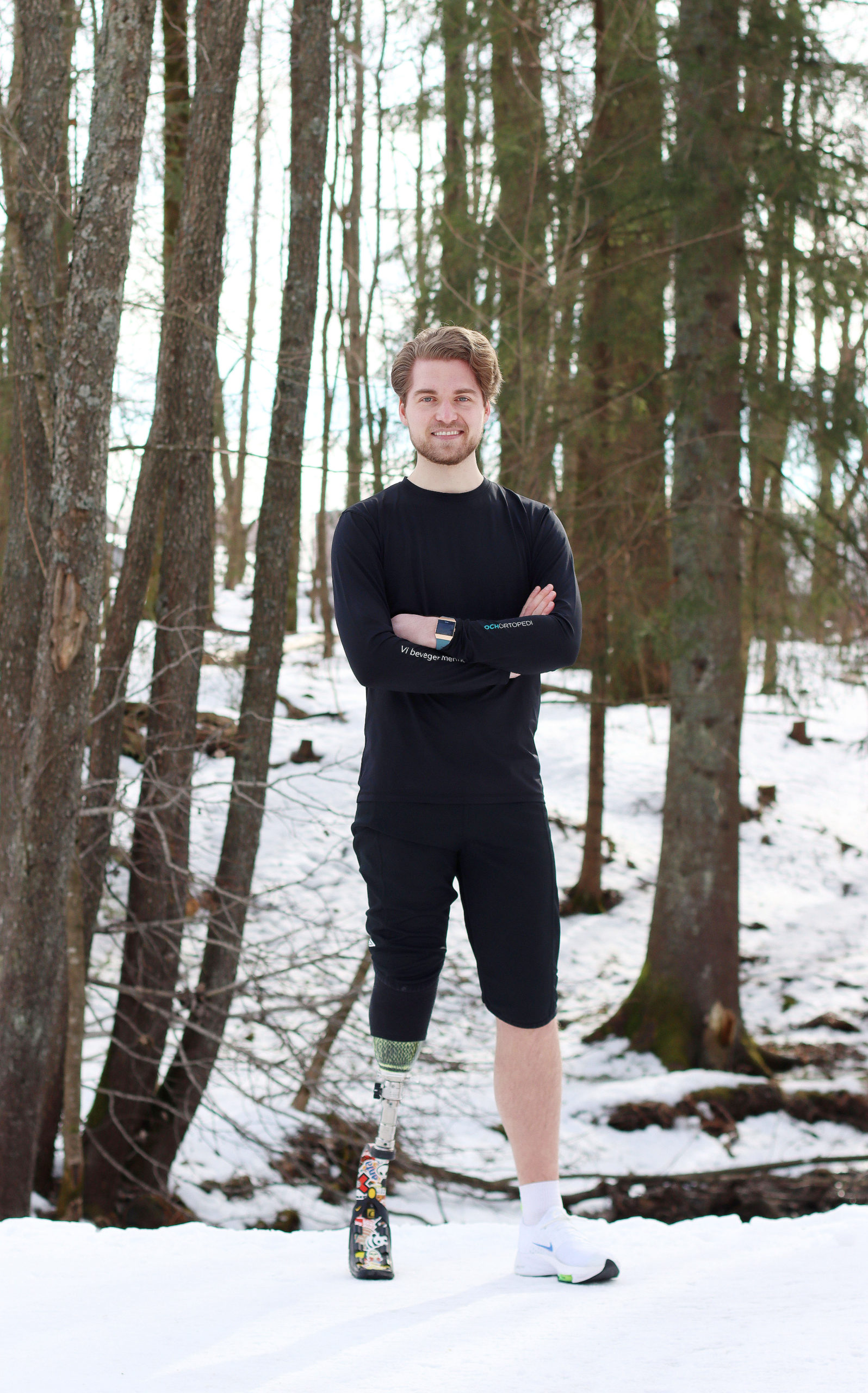 Pleasant environment
– It is very nice to be part of a suitably large para-sports environment. It's nice to always be able to strike up a conversation with someone in training. If someone sees you running past, they cheer for you until they see that you are over the finish line. They know that it is very hard to become a good sprinter, he says.
Kenneth thinks it's nice to have found a sport that he enjoys a lot, which also helps to keep him healthy.
– In December, my goal was to reach the parafriidret's European Championship qualifying times. Although I will not be participating this year, the goal is still to reach the limits of the summer. I have ambitions to compete at local and national level, and perhaps at international level next year. I dream of gaining a foothold in athletics.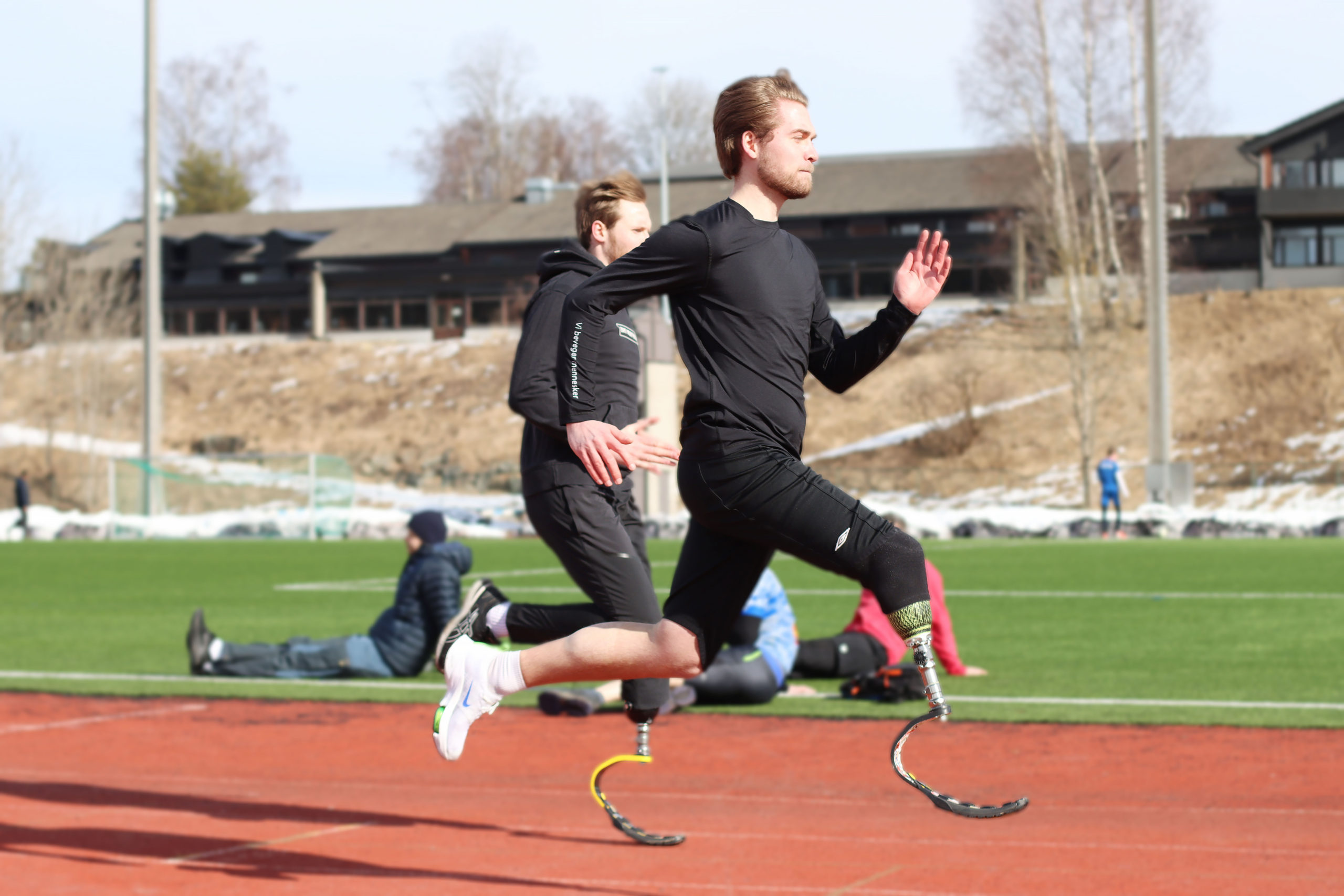 Nice to share interests
– Sharing the work and training with others, gives me motivation to continue. I look forward to continuing with the rotation service and becoming good at being an orthopedic engineer, making many contacts and helping people.
– In the summer I take summer vacation from work to visit the family in Eide. If it opens up in Sweden, my Swedish roommate and I will travel there to meet her family. I brought her from Sweden when I moved here. Now we can only hope that we get a vaccine, he says.