Peer support coordinator Mark Miller spreads important messages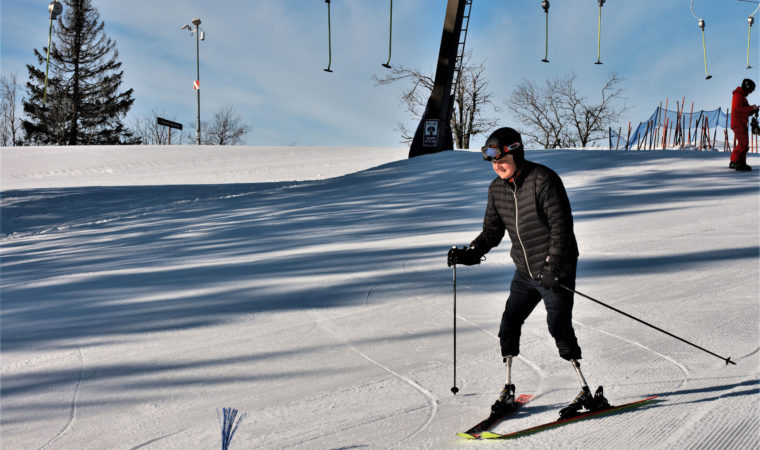 Mark Miller is happy to share his positive experiences with new amputees and prosthesis users. He also works as a peer support person with the goal of disseminating useful information, and realizing for the user that it is entirely possible to live a full and active life after an amputation. He slaloms with his grandchildren […]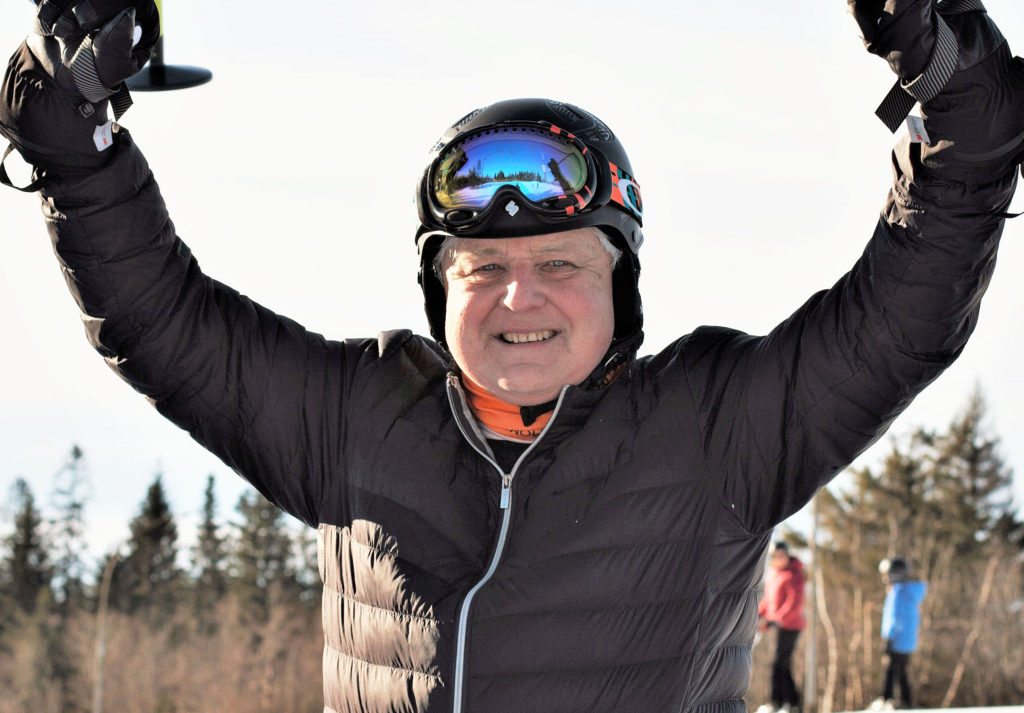 – Conversations with a peer strengthen the faith and hope that you can also have an active and good life.
Av Marte Nordahl
Peer coordinator Mark Miller remembers well the older lady who called and told that she had amputated both legs under the leg due to a course of illness. She wanted to talk to Mark and they agreed on a time later that day.
– The lady asked questions about what I did in everyday life, if I was amputated and if I drove a car. It turned out that she had imagined that she would be in a wheelchair for the rest of her life. She thought she would just be a nuisance to others. She looked darkly at life and was open about the fact that she had suicidal thoughts, says Mark.
A rising hope
Mark visited her in the hospital shortly after the conversation. He remembers her sitting in bed with a curious look when he came walking with prostheses.
– After chatting for a while, she started talking about her friends who are going to visit her at the hospital. They talked about the life they should have together, about the trips they should go and everything they should achieve.
Today she wears prostheses and masters everyday life in a good way. According to her husband, Mark is the model she has in mind when she challenges herself.
Between 500-600 calls
– For me, the conversation with the lady is a good example that sufficient information gives the amputee knowledge of all the possibilities that exist. Furthermore, it is up to each individual to create the life they want. Many want an active life as a prosthesis user, he says.
Mark is pleased that Momentum makes between 500-600 conversations with amputees in the course of one year.
– It says that the necessary information reaches so many people. New users depend on enough information to be able to have the everyday life they want, he says.
Many unanswered questions
– We have noticed that users have plenty of questions both before and right after the amputation. Many questions are often not answered by regular healthcare professionals. In reality, only those who have lived with the amputation can answer these, he informs.
Mark clarifies that a few know what an amputation actually means in the beginning.
– When the user meets a peer who has lived with an amputation and mastered the practical everyday problems, they themselves will be able to jump several years forward in time. The person in question gets a better knowledge base that they can use to get up again, he adds.
Healthcare professionals are poorly informed
Mark highlights the large proportion of health personnel who lack sufficient knowledge about life after amputation. In a hospital, they often see the amputee for a maximum of ten days.
– Thus, they have little understanding of what goes on in their course. This applies to both doctors, physiotherapists and nurses who work in hospitals. It is similarly similar to rehabilitation, although they often spend more time with the user. Those who want a new stay in rehabilitation are often people who have practical challenges in everyday life and need more training. Healthcare professionals do not see those who have a good and active life, who work without the need for more health care, says Mark.
Most similarity possible
Mark also spends time working as a peer coordinator. The work consists of administrative responsibility and training.
– When people call Momentum or me, they want to meet a person who is as similar to them as possible. Age, disease picture and activities determine this. That is why administration secretary Liv Karin Søstuen and I have created a library with knowledge about everyone who has passed courses as an equal.
Diabetes and wound care
Since the age of 17, Mark has had a varying and high blood sugar due to diabetes. This led to him losing the feeling of nerve in his feet. (Neuropathy) During a three-year period, he visited the hospital weekly to care for the wounds. Every night his wife also changed his bandage.
– I well remember the large orthosis I used to protect the foot. It made it impossible to engage in activities other than walking. One day ten years ago, a surgeon by the hospital happened to come to repair the wounds. As he was about to leave, he asked me if I had considered an amputation. Later I received information about the amputation and prosthesis users, he says.
Performed surgery the following week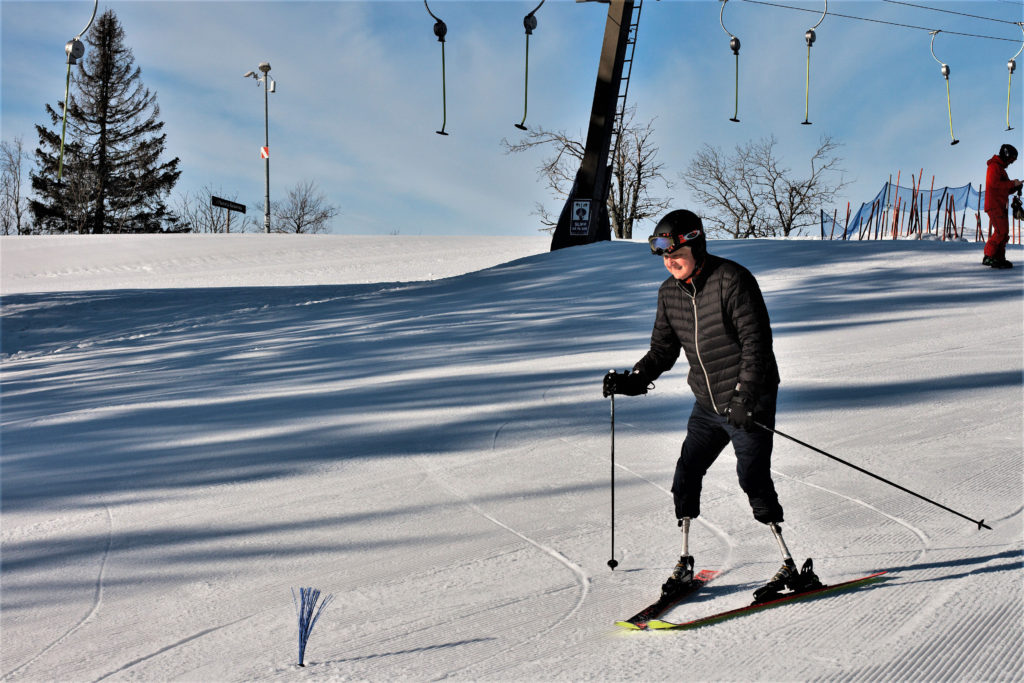 – I called my wife and told her that I had plans to amputate my leg directly over my leg. The following week, the amputation was performed. Three months later I was back in full time work. Amputation meant that I regained an active life. I skied and started swimming again. Patient life was finally over.
Seven years later, Mark suffered a wound on his left leg. He told the doctor that he did not want to start wound treatment again. He understood that the bone would never heal again.
– I wanted a new amputation before May 17, so that I could be back at work in August. The doctors wanted to hold on to my leg, but I stood on my own and had to amputate my leg 16. May. August the same year I was back at work again, he says.
Quick on the legs again
Eight weeks later, he was checked at Bærum Hospital. When the doctor called him, Mark walked across the corridor on two prostheses completely without aids. The doctor marveled at the stable gait. He had never seen any similar cases in the hospital.
– I encouraged him to show up for rehabilitation, where there are many who do just as well with prostheses after eight to ten weeks.
Responsibility for peer work
Mark joined Momentum three years ago. He wanted to convey his experiences about the use of prostheses to other amputees. The same year he went on a peer course at Helsfyr together with his wife, who also wanted to be a peer for relatives. Together they began to get involved as equals and arranged a couple of meetings.
Eventually he joined the board of Momentum East. Shortly afterwards, he was assigned responsibility for peer work in the main board. Today he arranges courses for new peers and has contact with many amputees and relatives.
Very rewarding work
– The first peer conversations were very rewarding. It's amazing to see how you can help others understand how they can build an everyday life that they are happy with. I experience an enormous pleasure in influencing others positively. On peer visits, I talk to them about all the possibilities of using dentures. That I see them walking up stairs and mastering everyday life gives me a great feeling of mastery back. Everyone who works as an equal helps people to understand that they can have a good life, says Mark.
Dynamic group conversations
– We also conduct group discussions that create their own dynamics. The advantage of group discussions is that patients can help each other after the peer has left the institution. We also arrange personal meetings, as well as meetings with relatives. The goal is to help the support staff of the amputee, as well as give them answers on what they can do and expect, he says.
Important follow-up work after the course
– Likewise, we are responsible for training everyone who wants to become equals. In recent years, I have worked to renew the course. As a result, we now only spend one day on the implementation. We prioritize spending more work on the follow-up of peers.
– In each region, there are representatives who gather the equals in the various counties and regions. The goal is for everyone to create a forum where they can discuss among themselves after the courses. We try to achieve this everywhere in Norway. Due to covid-19, the work has been postponed. I hope we can continue with this until the autumn, informs Mark.
Meeting place for relatives
– We also have plans to create new meeting places for relatives, where they can exchange experiences, share tips and get answers to important questions. Relatives rarely meet other relatives.
– The goal is for relatives to be able to function as resource persons for amputees, he emphasizes.
Improved peer work
– Creating many activities that the peers also participate in is a very important part of the peer work. Sports activities, a trip to the Kiel celebrations and informal café visits are examples of such arenas.
– All Momentum activities are actually peer activities. When amputees meet and talk to each other, they also influence each other positively. At the more informal gatherings, everyone gets the opportunity to ask questions.
– Previously, there were a couple of people who took care of the peer work. Of a total of 50 peers in Norway, around 25 of them were active last year. Because many of the peers who participate in activities forget to register the peer visit, we actually have more active people, he says.
Only voluntary work
– Health professionals often have many questions about whether we are out in the hospital to recruit members. Therefore, it is important to inform them that peer work is not paid for commercially, but based on voluntary work. We are also not visiting to recruit members. We want to create a better life for others who experience an amputation, and teach them how to live a good and active life with prostheses, he says.
Read more about peer work on our website.