Valuable and educational peer work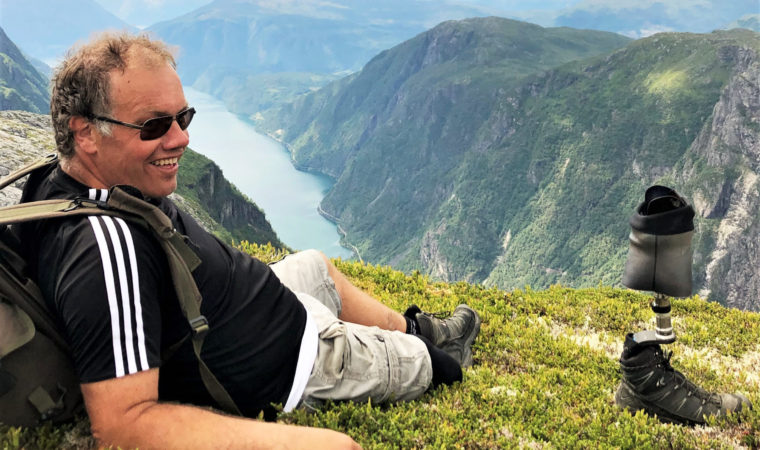 '- Peer work facilitates people's everyday lives and contributes to amputees and prosthesis users being able to participate in activities that are adapted to them, says Jan Ove Sørheim.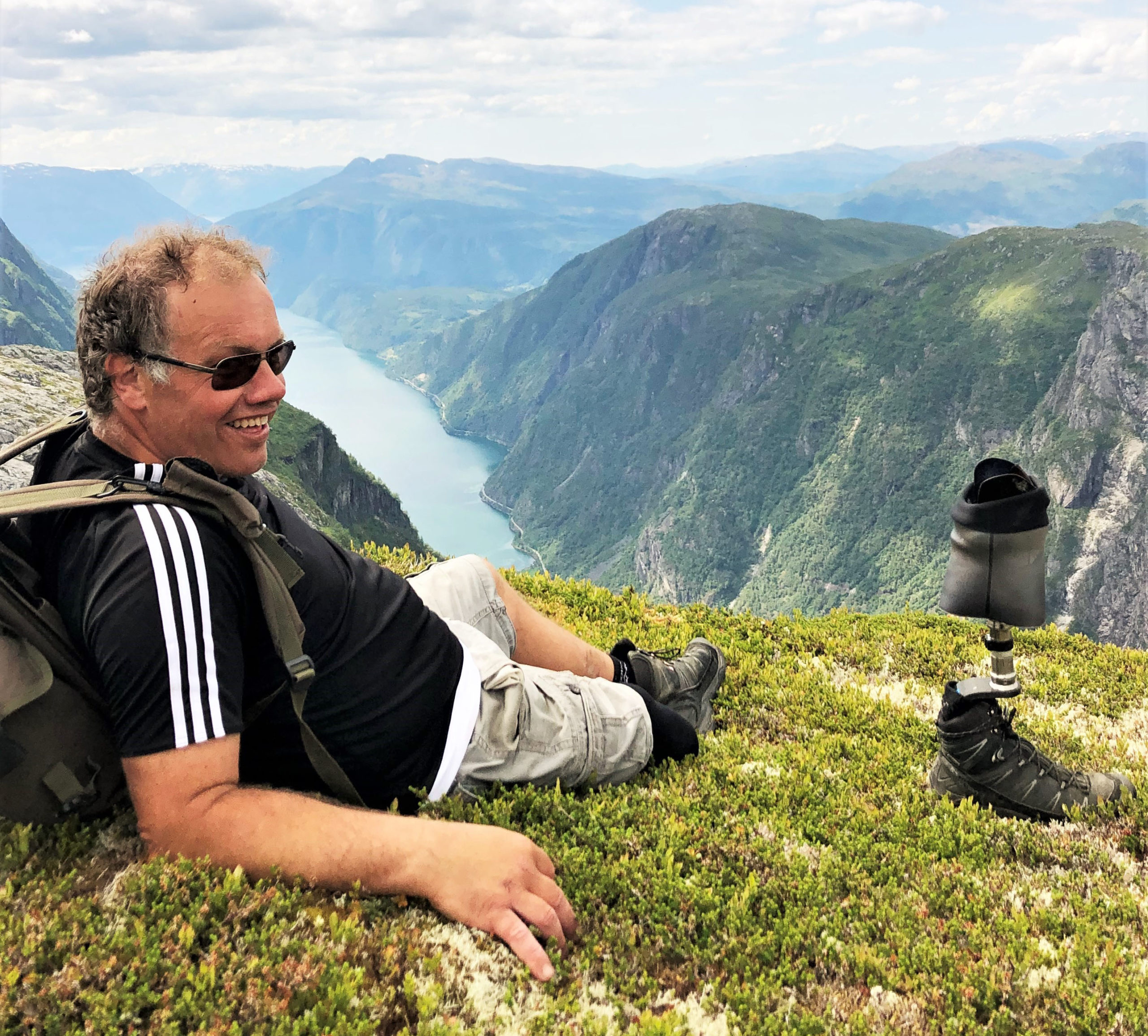 Jan – Practice finds great pleasure in outdoor activities. Here he went up to Nipa Høgda at 1200 meters with a view practicer Osafjorden, which is located in the innermost part of the Hardangerfjord. He has a cabin in the area and often goes for walks in steep terrain.
By Marte Nordahl. Photo: Private.
– Peer work facilitates people's everyday lives and contributes to amputees and prosthesis users being able to participate in activities that are adapted to them, says Jan Ove Sørheim.
Jan Ove Sørheim was hit by a wheeled excavator at work in 2004. As a result of the accident, he had to amputate his right leg shortly afterwards. The time after the amputation he experienced as tough.
– Lack of information and support required that I worked hard to get back on my feet. I quickly understood that I was dependent on meeting others with similar experiences, he says.
First day at work as a truck driver after the accident.
The farm work helps to keep Jan Ove in shape.
Permanent equal for four years
Jan Ove was trained for the first time as a peer in 2010. He has worked as a peer for about four years at Unicare Fram in Rykkin. Here, Momentum has an agreement to conduct peer talks for one hour each month. Jan Ove worked here until the coronavirus broke out in March last year. Now he is looking forward to the offer reopening.
– At the meetings, we introduce ourselves and tell about Momentum and the work around peer work. As of today, we are two people sharing the task. I also show up for phone calls when someone wants to talk, says Jan Ove.
Useful group conversations
At Fram, Momentum conducts group discussions with several people. Usually, there are around ten people participating in the conversations. Initially, Jan Ove presents Momentum.
– Since many in the conversation group are newly amputated and have not seen a prosthesis before, I often show the prosthesis I use. I also try to answer questions about the practicalities well. Likewise, I take care to inform them about different types of prostheses and attachments, as well as wound problems. All the general information I provide helps to simplify all routines for the new amputees, he informs.
Informative discussion
– The same people often participate in the group discussions because they find it useful to participate. When they have become warm in the jersey, many dare to share different experiences among themselves which results in a lot of informative discussion, he says.
– We also experience that not everyone thinks it is as comfortable to speak loudly in a group conversation. Therefore, we are available for a chat on the phone if they have any questions after the call, says Jan Ove.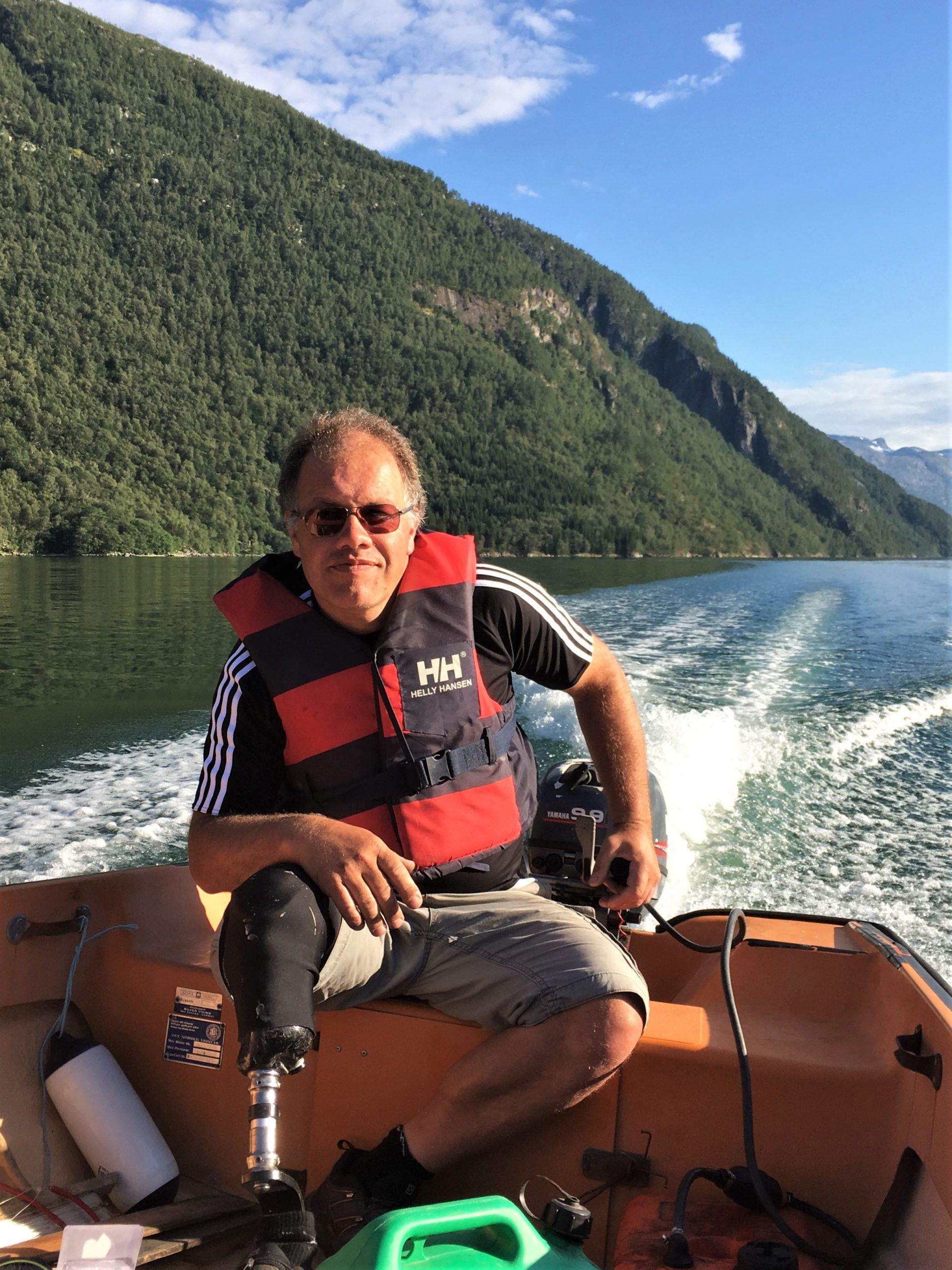 Jan – Practice is often on boat trips in the Osafjord.
Challenging and rewarding conversations
Jan Ove emphasizes that peer work can be both very rewarding, but also challenging.
– I meet people who are to be amputated, or who have just been amputated and are in hospital. It also happens that I have new conversations when the person is in the rehabilitation phase. Before I ask them questions, it is important to look at what stage they are in and what their needs are. Mostly I experience that people become more positive when they see that it is possible to live a good life after an amputation.
Jan Ove mastered the demanding hike up to Lomseggen with Bedriftsidrettslaget. On the trip he went up Galdhøpiggen. The photo was taken last summer.
Valdres, 2016. Jan Ove first crossed Besseggen in Valdres and Bitihorn the next day. He spent a total of seven hours on the trips.
Finally reached the top of Galdhøpiggen.
Inspiration that motivates
– The goal of the conversation I perform is to inspire the user to understand that it is possible to be active, as long as they are motivated to do so.
Jan Ove is very inspired by being able to motivate people to exercise and do activities that make everyday life easier.
– I constantly get feedback that people think more clearly about life after they have talked to a peer. In addition, we adjust the level of amputation and the challenges the person has with the peer. If a young man has amputated a leg, we try to find a similar equal within his age group.
Jan Ove is actively snowboarding. In March last year, he participated in the National Championships in Boardercross, which gave him more taste.