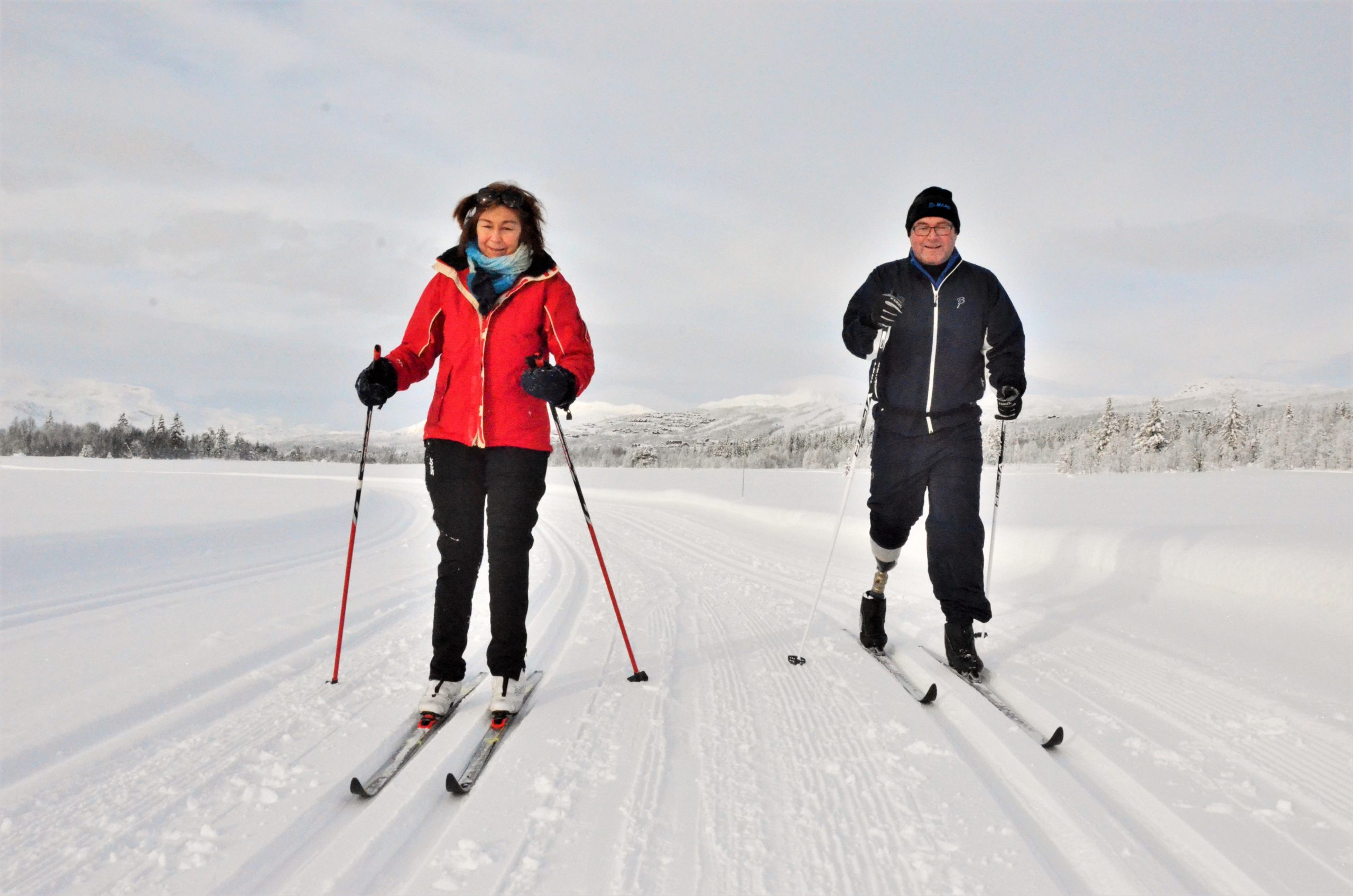 Ski weekend at Beitostølen in 2014. Kristine is just as active today and uses a prosthesis that is adapted to activities on a daily basis. Photo: Funkibator.
– The feeling that you can help a new amputee a little on the way is an extremely good feeling, says Kristin, who has worked as an equal for almost ten years.
By Marte Nordahl
Kristin Holter-Sørensen (60) from Oslo has been conducting peer interviews for over ten years. Today she makes calls once or twice a month. Lately she has had several conversations at Ullevål hospital. Here they have recently opened up for peers to show up at the hospital and talk to new amputees.
– Sometimes I come out of there and think that the conversation was just as important to me as to others. It's nice to meet other people who have a "positive" attitude, and who do everything to get back to a normal life as possible.
Different ten years ago
Kristin remembers the peer work as completely different ten years ago. At that time, there was less training, and Momentum gave to a greater extent the opportunity to everyone who wanted to be an equal.
– It was also common to have a conversation with both the user and an experienced "peer", as it was called at the time. Today, peer work has become more structured. You have to go through a certification course that must be approved before you get the opportunity to talk to someone, she says.
A valuable meeting
Immediately after the amputation, Kristin was asked to see a prosthesis user. She who had never met one before thought it sounded nice.
– I remember sitting in the cafe at Ullevål and spotted a young lady who came walking easily on foot with a pram. The moment it dawned on me that she was wearing a prosthesis, my thoughts about life as an amputated person changed. That she told me that her life was completely normal made it easier for me to use a prosthesis. Talking to her was extremely important to me, she says.
Necessary to meet like-minded people
– It is also important to meet people who have also experienced something of the same as yourself. It is important to meet other like-minded people who understand what you are going through, she says.
– For me, peer work has had a positive impact on my mental and physical health. It's wonderful to meet people when you can give them a little hope for recovery.
Developed yellow staphylococci
Kristin even amputated her left leg below the knee as a 40-year-old. She is diabetic and after an eye operation she developed yellow staphylococci that spread to the rest of the body. She amputated her leg several times at Ullevål hospital, and one last time at Aker hospital.
– The period was heavy and tedious. Since I have always had the ability to think positively, it simplified the situation I was in the middle of. Today I am very happy with life both with and without bones, she says.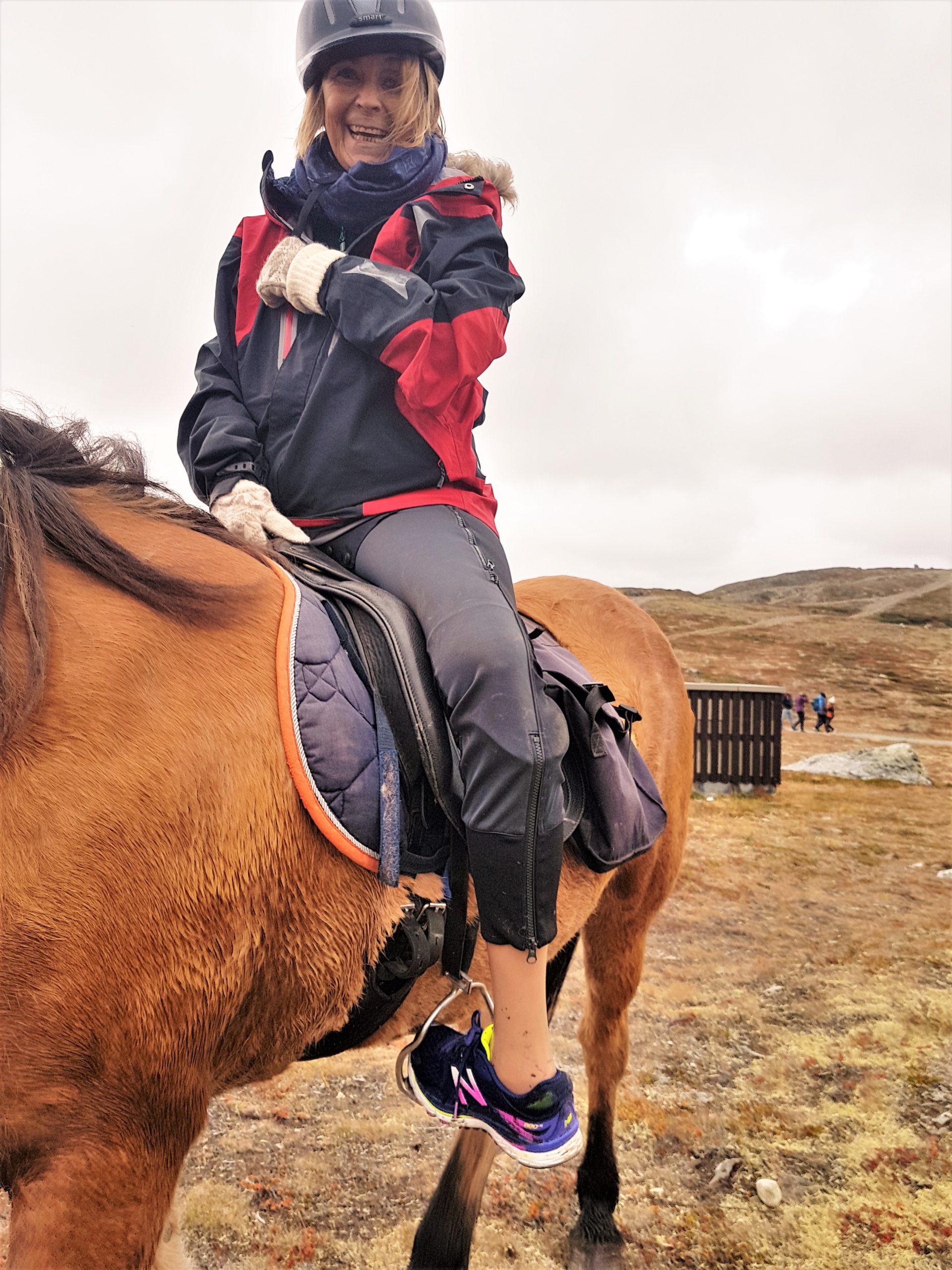 Horseback riding with Momentum at Hjerkinn in 2018. Photo Funkibator.
A life before and after the amputation
– The people I meet for a conversation have often just been amputated and are very far down. Others have gone through the grieving process before because they expected surgery. When you meet someone in the same boat as you, it's very good.
– During the conversations, I emphasize that even if life after the amputation is different, it is not said that you will have a worse life. I promise that everything will go slower with a prosthesis, she emphasizes.
Demanding, but not impossible
The users Kristin talks to are often very different. Some are dismissive and others she can not get at all. She also experiences that desperate relatives call with a wish that the user should meet for a conversation.
– I have met several who have said that they have a desire to sit in a wheelchair for the rest of their lives. It's extra nice when the person opens up little by little, so that I can start a conversation, she says.
Uses the prosthesis actively
Kristin is today a diligent user of two different prostheses. She alternates between one that is adapted to activities and one that more easily regulates the height of the shoes. This is how she gets to wear the shoes she wants.
– I am very happy with the prostheses and I think I have a very good life. I have learned a lot on the go after the amputation. I want to thank all the interesting people I have met. Together, they have inspired me to accept life as much as I do today, she says.