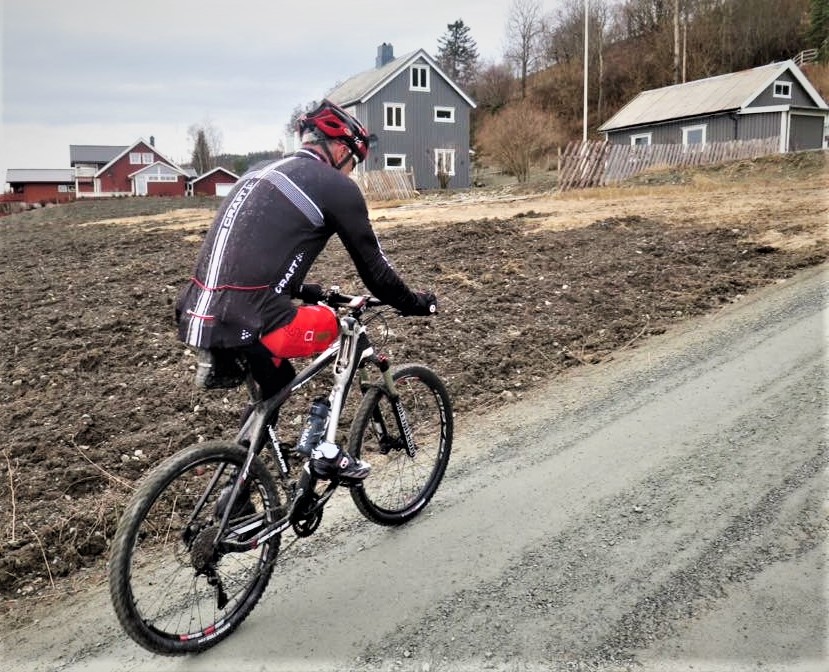 Tor Aalberg rides so often so much. Here he is on a bike ride in Orkanger in Trondheim. Photo: Pivat.
– Attending training classes and conversations with amputees is extra rewarding when I meet them again in activity with a new prosthesis.
By Marte Nordahl
Tor Aalberg from Trondheim has worked as a peer for ten years. He represents Møre og Romsdal and Trøndelag. Tor joined Momentum after he was involved in a work accident in 2007.
– I discovered the magazine Livsglede at the rehabilitation center Betania and became very interested in peer work. At that time, there was no peer contact in Central Norway. I immediately thought that I would contribute with peer work when I got back on my feet.
Serious work accident
On the day of the accident, Tor was working as a formwork carpenter. A large lump of clay fell from a grave slope and straight at him, which caused him to land on his back. In the fall, the foot was twisted around while the right foot was stuck in the clay.
Thor was placed in an artificial coma for ten days, while health personnel tried to repair his leg. In the end, his general condition was so bad that they had to amputate his right leg up to his thigh.
– When I woke up again, I discovered that one leg was missing. I only remember fragments of the ambulance people coming. Everything else in the memory is gone, he says.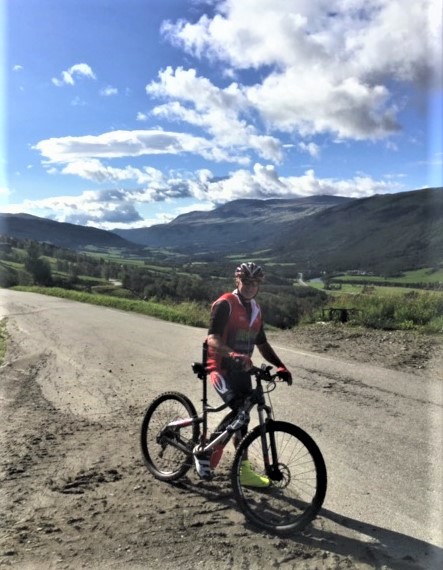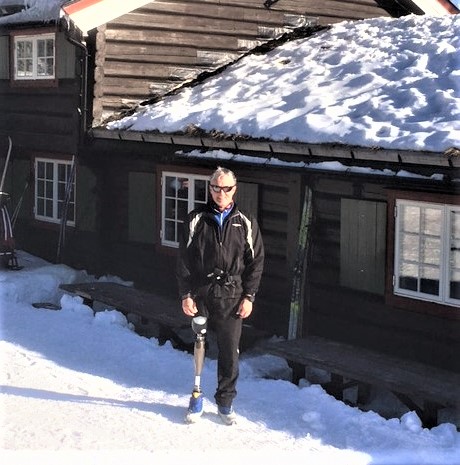 On a bike ride on Dovrefjell. Dare Aalberg loves a cabin trip every now and then. Here he is at Elgseterhytta to go cross-country skiing and relax. Private pictures.
Very active
Tor currently uses the Genium X3 prosthesis, which works great for most activities both indoors and outdoors.
– The prosthesis has a fantastic knee joint that makes me feel safe when I go up stairs and perform activities as usual. I also go for walks with my two dogs every day no matter the weather. Studded shoes make it possible to go outside in the winter. In addition, I train strength and spinning indoors. For outdoor cycling, I use my own custom bicycle prosthesis, with an open knee joint and lower sleeve.
A sporty like-minded person
Momentum currently has permanent agreements with Selli rehabilitation in Klæbu, the first Thursday of the month and otherwise when needed.
– I also participate in training sessions with new amputees, as well as outdoor activities. During the lessons, we work well with physiotherapists and management. We also stop by when needed at St. Olav Hospital and the hospital in Levanger. Here they have a good collaboration with two orthopedic workshops in Central Norway. The agreement involves receiving calls when users need a chat.
– We have not yet reached any permanent agreements with the hospitals. I respect that some of the patients do not want a visit before the actual amputation. Still, I hope we get permanent agreements in the long run, he says.
Great enthusiasm and joy
– During the training sessions, I show the users what they can achieve if they add extra goodwill. The goal is to get all new amputees back on their feet. It's really cool to see how they master the training. Everyone shows great enthusiasm and joy over the group discussion and training, he says.
– It constantly happens that I meet again users on the street who are doing well with the prosthesis. Seeing that their prosthesis works gives me a lot of joy back. I work primarily as a peer to inspire and motivate people to have an active life with prostheses. That the users themselves see that I come walking with dentures seems inspiring and gives them an extra boost. Therefore, I want to talk to more people before they perform an amputation.
Several visits to old people's homes
Tor highlights the 60-70 people who are amputated in Central Norway every year. Ten of them do not become prosthesis users for various reasons. In addition, ten people are sent straight to a nursing home from the hospital. As a result, they never recover.
– Due to covid-19, it is challenging to gain access to nursing homes and hospitals. Nevertheless, the rehabilitation has given us access as they think it is necessary that we are present for the new amputees, he says.
Engage relatives
– It is also valuable to engage the relatives. In group discussions, we observe that well-adult people do not always receive important information. Therefore, it will be useful with help and guidance from the relatives. The goal is to get them to inspire the user to move around the home. Also that relatives must act as resource persons for amputees.
– We want to arrange a couple of information evenings for relatives about what this is all about.