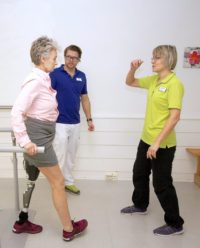 Only after a few weeks of rehabilitation at Fram Unicare on Rykkin, Benedicte learned to wear a prosthesis.
Photo: Marte Nordahl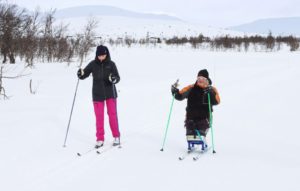 Benedicte skied for the first time after the amputation with other participants on the cross-country weekend at Venabu. Here with Geir Arne Hageland. The feeling of mastery was high.
Photo: Marte Nordahl
– My biggest wish with peer work is to advise and help new amputees to be able to live as full and active a life as possible.
Av Marte Nordahl
Benedicte attended a peer-to-peer course last fall. She finds the work interesting and rewarding. Until now, she has managed to carry out a group conversation in the lavvo outside Unicare Fram at Rykkinn, in addition to conversations in hospital and over the phone.
– As an equal, I want to give amputees and prosthesis users a better view of life. My hope is to be able to contribute with valuable advice, in addition to sharing experiences that I have come out stronger of myself. That they get the joy of life back and the ability to look ahead is worth the work.
Thigh amputated after a ski accident
Benedicte Finnema was amputated in October 2019 after a ski accident in Hemsedal. Four weeks after the amputation, she had the first prosthesis adapted.
– I learned that if I was to be able to get back on my feet, I had to put in a lot of willpower and do the heavy work myself. Since I have been a sports girl all my life, it was natural for me to take hold. Still, it has been a tough road to the goal, she says.
Similarities create trust
When Benedicte enters the door with ordinary jeans and boots, they see for themselves that it is possible to get up on their feet and learn to live with an amputation.
– That I myself have experienced what they are now going through, gives confidence and is hopefully a good help. It is important to have someone to support you who has been through the same thing. During the peer interview, I make sure that the person in question is asked questions. I listen to their thoughts on amputation and come up with advice and support.
Many have it tough
– New amputees have many practical areas they must familiarize themselves with that they often have no knowledge of. Everything from wound care, hygiene, general condition, prosthesis fitting, to where they can seek help and which orthopedic engineer to choose.
– Since many are in a state of shock and grief after an amputation, they also do not get everything that is said. That is why I often repeat some of what they ask for, says Benedicte.
Learn to live again
– In the peer conversations, I emphasize that when you first learn to live with an amputation and a prosthesis, the heavy darkness disappears. At the same time, I tell them that they do not have to be positive all the time. It is human to have difficult feelings.
Benedicte also helps new prosthesis users to cope with the new situation.
– Teaching them to accept and to move on and want to live, is something I work purposefully with. I pass on that no matter how strong you have been earlier in life, it is absolutely essential and not at all shameful to ask for help. For me, it has been absolutely crucial to receive help after the accident, and not least after the amputation.
Informs about Momentum
In the peer interviews, Benedicte informs about the good community and all the opportunities that exist for amputees. Even about all the events and projects that Momentum works with.
– Momentum is a great association that works to ensure that we have as safe, active and good everyday life as possible. Through Momentum, I learned about all the rights I have as an amputated person. Eventually you will also learn that there are many individual options and several different dentures to choose from. Furthermore, I inform them that there is a free choice of orthopedic engineer.
Activities for great pleasure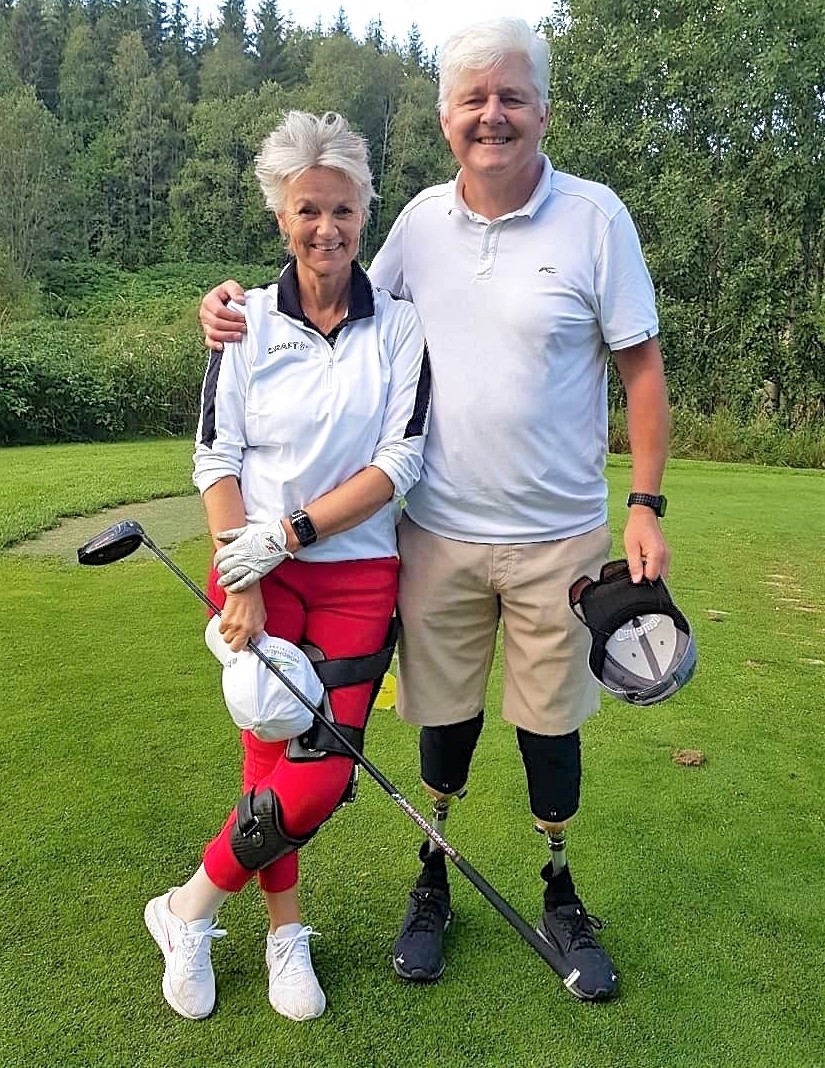 Benedicte is happy to participate in as many activity trips as possible. Golf is one of the favorites.
Private photo.
At Hjerkinn, she was happy to have a five-hour ride in an idyllic landscape with a view over Rondane and Dovrefjell.
Photo. Geir Arne Hageland.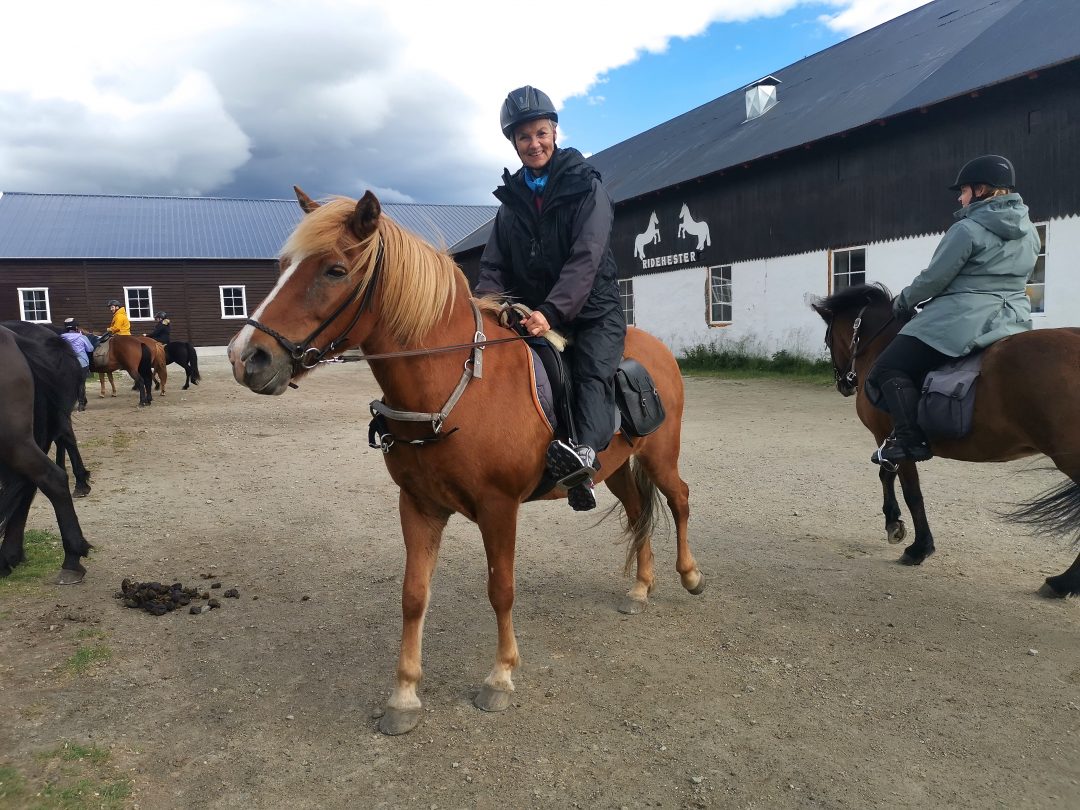 – I also take the opportunity to ask them what activities they have performed before and want to do in the future. I point out that small sub-goals are important to be able to experience the joy of mastery.
Benedicte's everyday life consists of rest, food and activities. She uses a fairly high activity prosthesis that works well for various everyday and leisure activities. Indoors, she uses a wheelchair to rest her body as much as possible between the activity schedule.
– I go for walks with the dog on average 9.8 kilometers every day, which I divide into three sessions. The crutches are replaced with a handy rod to prevent tilting. I also learn to play golf again, and train and swim in physiotherapy once or twice a week. My goal is also to go cross-country skiing, she says.
Feels whole
– It was only when I was finally amputated that my life got better. Today I feel whole. I am a physical person who likes to stretch myself to reach new goals. All the activities I manage to perform give me an enormous feeling of joy and mastery. At first, I worked hard to walk without crutches ten meters. I cried a lot, but knew it was going to pass.
– I think it's nice that there is such a low threshold for participating in events via Momentum. I have been lucky to meet so many new people at the many different events and activities I participate in through Momentum. I feel a strong affiliation with the association, says Benedicte
Read about the peer offer