Do you want to get in touch with Momentum? Use the contact form below, or see contact info.
Do you want contact with members of the main board?
Momentum has one person employed part time.
All shop stewards work voluntarily without pay or board fees.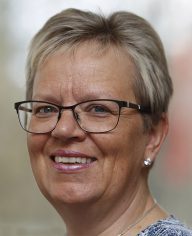 Liv Karin Søstuen
Administration Secretary
Liv Karin takes care of all the administration in Momentum.
Blue. sends applications for support for events and projects, keeps accounts, invoices, keeps track of all paperwork and is a great support to the main board.
Mobile: 40004360
Mail: info@momentum.no