The running prosthesis that Ann Selda Deliler (21) received a request for in upper secondary school, has resulted in several podium places and buckets of sports enjoyment together with other athletes in parade sports.
Av Marte Nordahl
For parade athlete Ann Selda Deliler from Porsgrunn, the painful gym experiences at the junior high school are fresh in the memory. Due to the severe cramps she got only after a few hundred meters, she was sent on trips mutters alone while the class ran 3000 meters.
– The gym teacher informed me that if I could not perform the same activities, I had to find alternative solutions myself. I arranged my own athletics session, without my teacher following at all. At that time, I felt hopeless. As an adult, I thought it was the school's task to arrange gym classes for me, she says.
Ambassador for the Olympic Summit
– My own experiences of how the gym classes at the school are structured, have engaged me as an ambassador for the Olympic Summit. If we are to be able to recruit more children into the sport, we must start by making arrangements for all students. Both those with and without disabilities, she says.
Ann Selda wants schools to acquire more information related to disability and training. In high school, she got a grade in the standpoint grade because the teacher thought she was too passive in ball activities. She was told to work harder, which was not physically possible with her disability.
Born with dysmeli
Ann Selda was born with dysmeli, without the right skin bone on her leg and knee joint. This resulted in a height difference. She also failed to bend her knee. In her early childhood, her orthopedic engineer tested many different solutions to get both legs the same length. As a four-year-old, she had her leg extended, which she broke shortly afterwards. After getting back on her feet, she had surgery to insert splints to get them as straight as possible.
The following year, my father called Rikshospitalet, and informed them that I already had problems getting into the car. Since I was not fully grown, he wondered if amputation could be a solution. The hospital, which had previously considered an amputation, would try all possible solutions first. Now that my father insisted, I received a clear signal to start the process, so that I could use the prosthesis on the first day of school, she says.
Successful thigh amputation
Ann Selda was amputated on her 6th birthday.
– I remember the good reception with soft cake in my room, where I was surrounded by nurses, doctors and my family, she says.
The surgeon performed the thigh amputation on the right side through the knee joint. The operation was successful.
– In addition to the amputation, they also stopped my growth of 160 meters. Therefore, my stump is shorter than the other leg. Purely cosmetically it is good. When I wear the prosthesis, my knees become parallel. I have neither pain nor phantom pain after the amputation, she says.
Sent home after two months
Ann Selda was sent home after a two-month hospital stay at Rikshospitalet and Telemark Hospital.
– It was winter and I was a lot inside the breaks in the kindergarten. I remember walking up with crutches on the toboggan run. In joyful zeal I threw them down to the top of the hill and aft down.
New prosthesis on the first day of school
The next six months were spent making a new prosthesis. Ann Selda spent the entire summer vacation on rehabilitation to learn how to wear the prosthesis. The first day of school, she went to school happy with the prosthesis.
– Apart from the gym classes at the junior high school, I had a nice upbringing. Most people around me often forgot that I was a prosthesis user, she says.
– Mom and Dad have been good at inspiring me. Since I was little, Dad has told me not to see restrictions on things. He has always been concerned that I should walk a lot and strengthen the stump. Thus, I have also coped with all the strains I have encountered. On trips with the class, he was concerned that I should go with the others. The experiences have helped me to look ahead, she says.
Thrives with manual knee
Ann Selda uses the manual prosthetic knee Total Knee Hi Activity, which she was awarded at Sophie's Memorial in 2019. Until then, she used the prosthetic knee Total Knee, which was replaced between three to four times a year.
– I thrive best with manual knees and feet. I never take off the prosthesis and prefer to wear it. I have previously tested an electric knee that was not as optimal.
New running prosthesis
The first year of junior high school in 2014, she received a request from the orthopedic engineer for a new running prosthesis. The goal was to be able to move more in his spare time.
– I had also started strength training and think it sounded good to get more fitness training. The engineer contacted the supplier in Sweden. He had also contacted Runar Steinstad, who at the time was a parade athlete in javelin throwing. After setting up my new prosthesis, Runar invited me to a training camp during the winter holidays in 2015. Here I participated with great zeal.
In the same year in November 2015, Ann Selda was asked to take part in a competition race under the auspices of the parade court. In the following years, she has participated in a number of competitive races. She has previously participated in the junior WC and EC, where she won silver in the 60 meters during the NC in February.
A wonderful bunch
Initially, Ann Selda traveled and competed with around four other athletes from the parade sport. Today, there are several who compete together.
– Sport gives me an enormous joy of life, which nothing else can replace. I feel very privileged to experience everything around top sports. We are a wonderfully nice bunch who get along well and who also cheer on each other. We are also very good at enjoying ourselves after a lot of hard training, she says eagerly.
Kissing disease and knee injury
2018 was a challenging year for Ann Selda, with a knee injury followed by the kissing disease that lasted for a year.
– What kept my motivation up during this period was the TV series with Team Ingebrigtsen. I tried to remind myself that most professional athletes also experience a downturn during their lives. Despite that, they recover. Many athletes in parade sports, including the Danish athlete Daniel Wagner, are one of my great role models. He won the World Cup last year. In 2016, he came to Norway to show me tips and tricks with my new prosthesis, says Ann Selda.
And then came the coronavirus
– Due to the corona outbreak, we have only completed two of three training camps this year, which lays the foundation for sports performance. We have been ten days in Tenerife and only one of two weeks in Portugal. The second week was canceled due to the corona.
– When we finally got back to training again after the coronary restrictions, it felt like everything collapsed. I thought I had lost the training base we had practiced before the virus broke out. My coach, on the other hand, thought I was in my best shape ever, she says.
Troubled prosthesis
Ever since the start of 2014, Ann Selda has had challenges with the running prosthesis. As a result, she has not managed to run as far as her competitors. In 2016, she experienced painful cramps every time she ran.
– I almost failed to lift my leg after 200 meters of running. To get rid of the cramps, I was totally dependent on a roller. I used it to roll and tease each other during the warm-up and after each run. Longer runs also triggered cramps, so I had to roll as soon as I reached the finish line, she says.
Free from cramps
– For several years I was told that the cramps related to the prosthesis were something I had to expect. I didn't get to do anything about the problems either. Luckily, I met an orthopedic engineer at Sophie's Memorial, who suggested a CT angiography to examine it further. The result showed that the prosthesis stopped much of the blood circulation, which also led to unpleasant cramps.
– In July this year, I got a completely new running prosthesis with a new upper. The dedicated orthopedic engineer spent the entire summer vacation completing it. I tested it while they had free time, and the result was successful. Today, the troublesome cramps have completely disappeared.
New record
Ann Selda ran for a silver medal in February this year with a new personal record in the National Championships in Bærum. The summer was spent testing the new prosthesis. Therefore, she was not given the opportunity to participate in any races.
– The last week in August I ran a test run to try the prosthesis properly. I also switched to a softer foot. The result was a time improvement of 0.8 seconds. As Runar Steinstad says, a bad running prosthesis will be experienced similarly to a rubber boot. I have never run as fast as I do today, she says happily.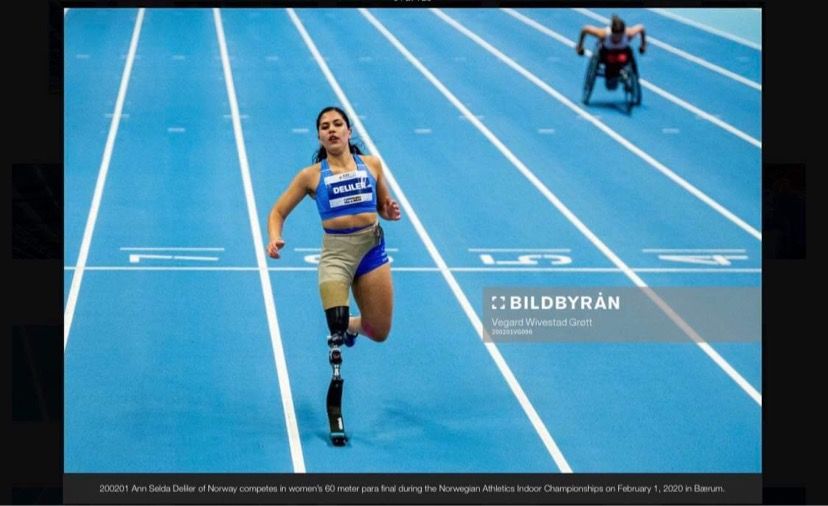 NM in Bergen
Ann Selda ran in for a silver medal and a new personal record of 100 meters in the National Championships in Bergen in September.
– It was incredibly fun. NM is the biggest we get to experience in Norway. I have previously run at Diamond League competitions with over 40,000 in the stands. Even though there were no spectators during the NM in Bergen, the atmosphere was at its best, thanks to athletes and officials, she says happily.
In great shape
Ann Selda is happy that she also for the first time managed to keep her nerves in check just before the race.
– My body was also at its peak. Finally I got back for the hard work I and my coach, Magnus have put behind us. I was even a little overwhelmed, and used a little too much gunpowder during the warm-up, because it went faster before the race, she says.
After the race, Ann Selda has had training free for everyone for the first time this year who has gone to relaxation and studies.
Nursing student
Ann Selda is studying the final year of her nursing studies at the University of South-Eastern Norway, which she enjoys.
– No matter how good shape I am in, it is conceivable that my body will be bruised when I am old. Loading the healthy leg as much as I do has resulted in pain in both the ankles and hips. Likewise, I have become good at seeing solutions rather than obstacles. I dream of becoming a midwife, maybe at a health center. In the health sector, you are constantly learning something new, which will never end, she says.
More pleasures
– Now I look forward to starting winter training. It's incredibly fun that I can finally give my all in training without any obstacles. This is how I get an optimal charge towards the next season.
– My greatest joy in life is to spend time with my closest ones, and not least the joy the sport gives. Especially when it goes the right way, she says with a smile.