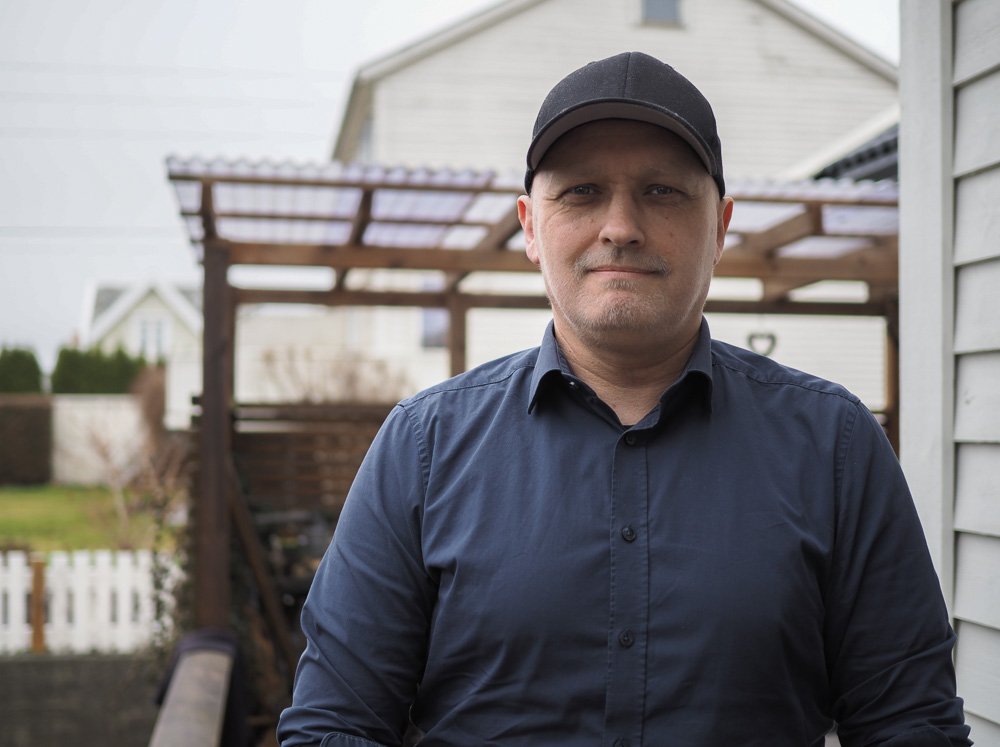 It was an easy decision. Now Roy Tørring (47) is getting back on his feet.
HAUGESUND / KARMØY: Around Christmas time in 2019, Tørring felt pain in his knee. He basically did not think much about it, other than that it was probably the tooth of time that had made an impact. "Everyone" has a little pain in the knees.
At the same time, after 17 years in substance abuse care, he was ready for new challenges in his career path, and applied for the job as a volunteer coordinator in Karmøy municipality. Tørring was the right man for the position, and was one of 54 applicants who got the job.
When he took on his new work tasks in April 2020, the pain had become so intense that Tørring had already undergone two operations.
Yet they would not give up. On the contrary, the problem only increased.
It was Karmøynytt who mentioned Tørring's story first.
So random word "cancer"
The road to finding out what was wrong began with a GP visit in the new year 2020. A rather uncomfortable appointment to make for someone who has almost never been ill, and even less often used the health service's services.
It went on to the X-ray, and in a side note, the 47-year-old was told that he could log in and find his medical record online.
When he entered the necessary and navigated to the side, it should turn out that Tørring inadvertently got the doctor in advance. The doctor who was going to inform him of the finding.
– I happened to see a referral to Haukeland for a cancer examination. It was a shock to read it. Then I realized that I am good at crisis maximization. When you see the word "cancer" and your name in the same setting, you are quite put off, he describes.
The examination showed that it was a benign tumor that had developed in Tørring's leg. It had to be removed.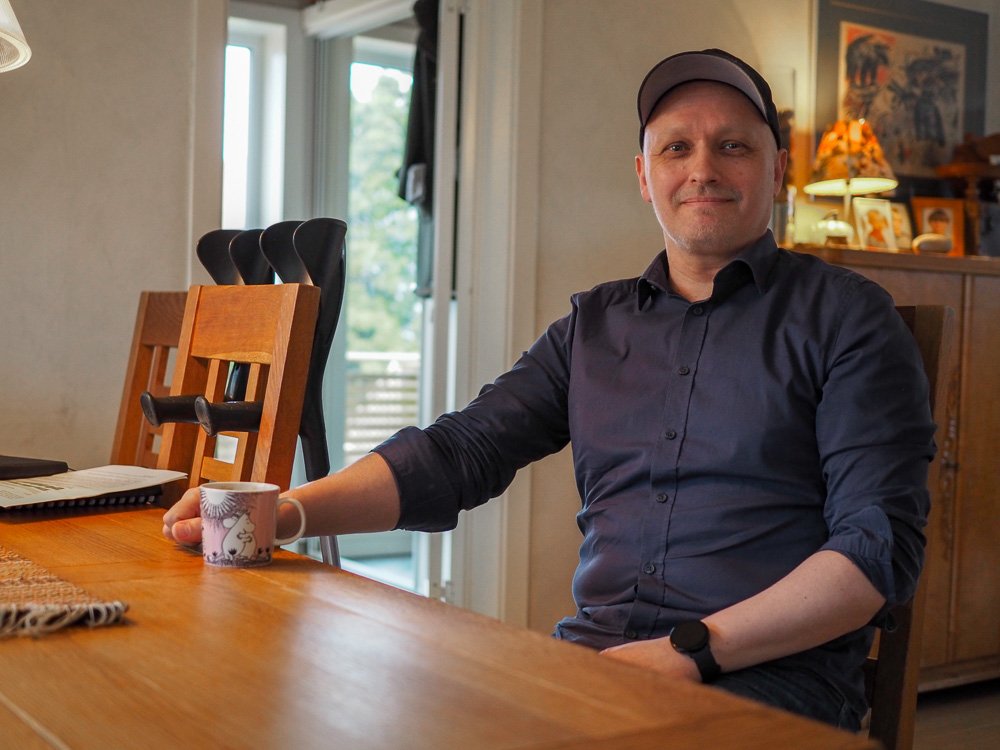 Removed three times
When the haugesunderen had operated on the recurrent tumor for the third time, the doctors suspected that there could be other ailments.
Tissue samples were analyzed both in Bergen and in Boston, and finally the answer came: The tumor had become malignant. Roy Tørring had cancer.
He who had started a new job a short month ago, had during this period been on sick leave for the first time in his life.
– It felt like a defeat. A situation I have never been in, and a situation that was weird to get into. Not only was I on sick leave, but it was for a pretty "good" reason, he explains.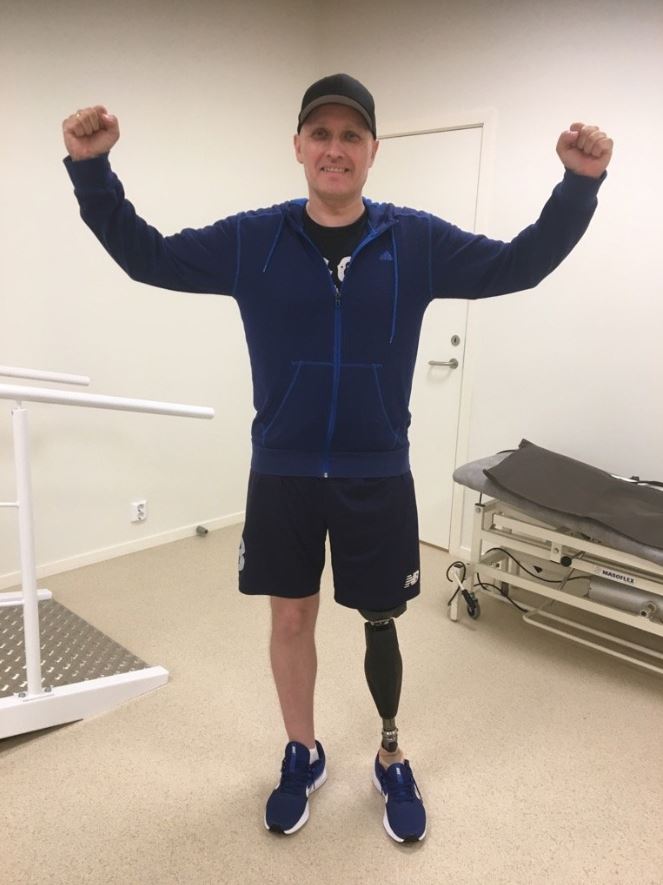 IN PLACE: A few days after the amputation, Roy Tørring received a prosthesis. He has been determined to stay in the mood and a positive attitude, even though he has been seriously ill and spent many weeks at Haukeland University Hospital. Photo: Private
Greater than the struggle against his own pride was the war against the evil cells that ravaged him. The cytotoxin took its share of Tørring's energy.
– Last summer I was not fit. Cytotoxic drugs, it's married, and I got very sick. When you are so ill that you can do nothing but hold on to life… It is tough to undergo a treatment that makes you so unbelievably ill, he announces.
The 47-year-old has greatly appreciated the support from his wife, their three children, other family and health professionals over the past nine months.
– I have a big cheerleading gang, and it's good, he says gratefully.
– An easy choice
Despite extremely tough ceilings, Tørring has been concerned with keeping his spirits up. To think positively.
– I have thought that this will go well. Although it was a serious diagnosis, and it was not a given that it would go well. Occasionally one is in the basement. When you are physically weak, it also affects you mentally. But it was not an option to have a negative attitude, he says.
This was also the case when he was served the two alternatives:
– I got the choice when there was a danger that the cancer would spread. Either to sacrifice life or the foot. It was an easy choice, says Roy and adds:
– The most important thing for me was to get rid of the cancer. It lay over me like a clammy hand.
When he woke up after another operation 31. August, the left leg was amputated above the knee. Not long after, the training started, and the prosthesis came into place.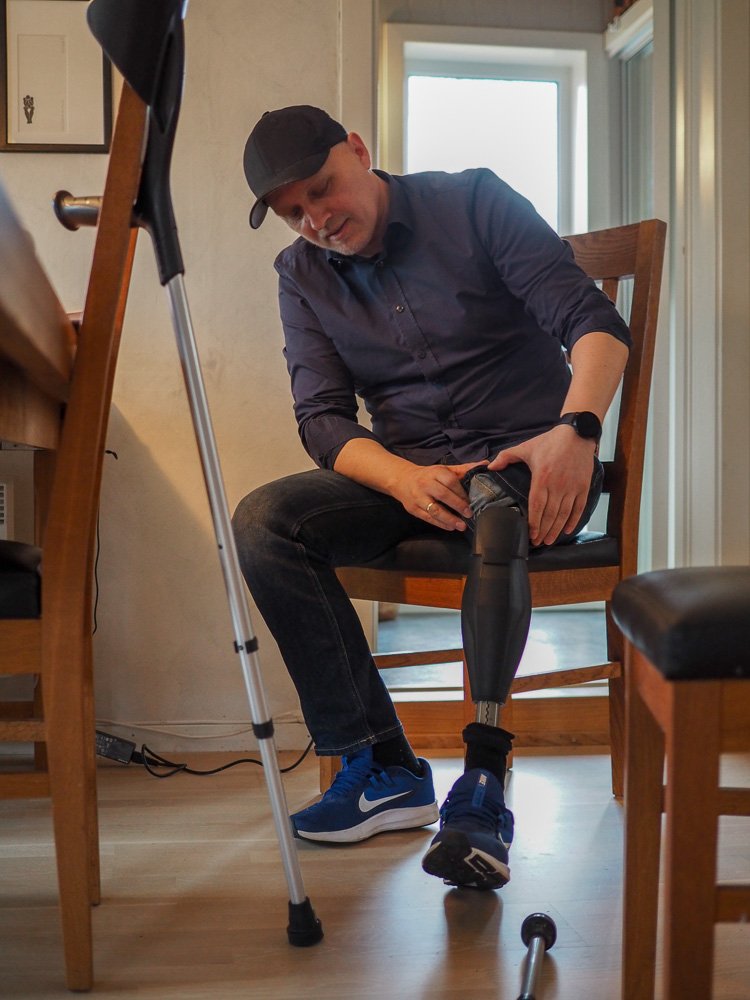 – It makes everyday life a little different, but the biggest challenge lies mentally. Thinking of oneself as disabled. It's so far away, because I'm still the same old man. But I have always been pragmatic and good at adapting. I want to live as normally as possible, also considering those around me, says the 47-year-old.
He still feels pain, and is in the process of learning to get used to the prosthesis.
Today, Tørring uses crutches, but he is clear that he will train towards being able to do without. The next goal is to get to the top he sees from the kitchen window: Vardafjellet.
Back to work
Another goal has been to get back to the job he never managed to start properly in. Doing something socially beneficial is important to him.
– The job was always in the back of my mind. I should return as soon as possible, says the volunteer coordinator, who had to realize that it is not just just getting back into working life after several operations, chemotherapy and amputation.
– Others have been clear that I must not jump right into it, but now I am bubbling over with energy. I am aware that there may be side effectsr like fatigue, but I do not have time to sit and wait for it to come. Now I want to get started with what I wanted so much last year, he confirms.
On February 15, Tørring was back at work, an escalation he takes about 25 percent at a time. It carried straight into meetings at Teams from the home office.
– I start on bare ground again, but have colleagues who have received me well, who want me well and give me time to get acquainted with things, he says.
As a volunteer coordinator, Tørring is the link between all voluntary organizations and the municipality.
– It is very exciting to work with seeing volunteering in a larger perspective. It makes the job meaningful to me, and I want to contribute. It became all the more frustrating to get sick up there at all. I have saved energy, and now it is going out, he says.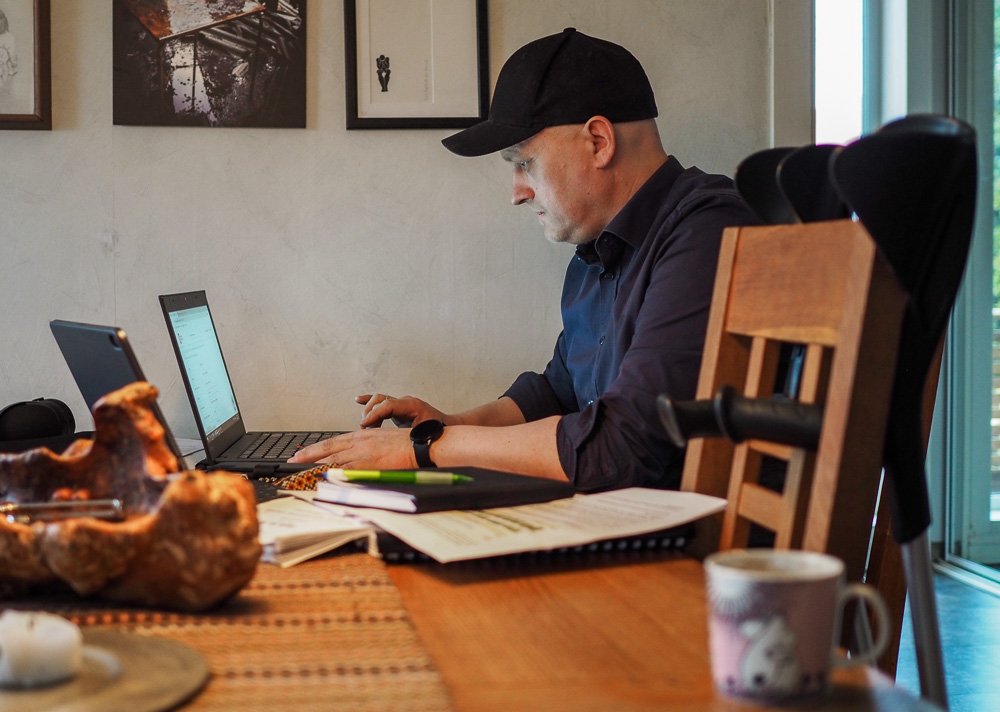 – Absurd. Unreal
The 47-year-old has left behind a year that has been different for everyone, but for him it was almost about the corona.
– It has been absurd. Unreal. It has been a bubble that I have not quite been able to admit that it is myself who has been in. One thing is the cancer diagnosis, another is to amputate the foot. It was not something I envisioned when I started to limp at Christmas 2019, he says thoughtfully.
– I have probably been more seriously ill than I would realize, Tørring concludes.