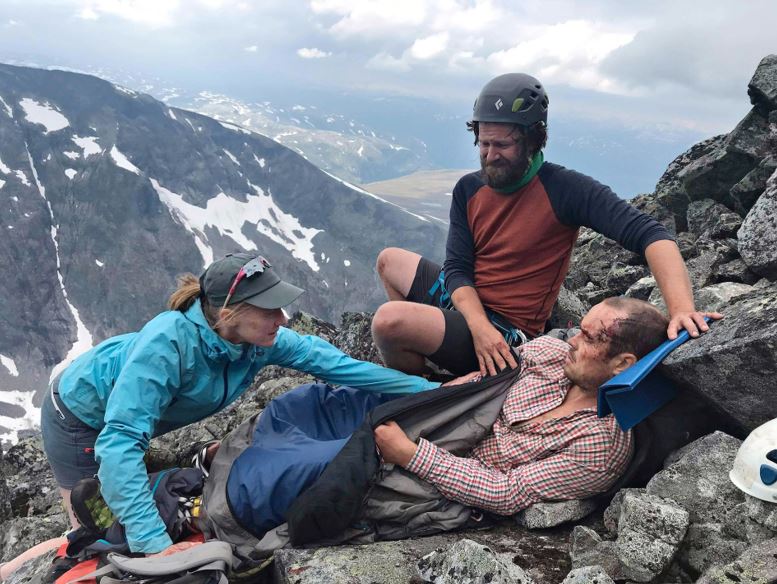 – I mostly remember the sound of it. It was a brutal end to his cry
Comrades Jørgen Teien Blystad (33) and Espen Mikkelsen (36) were almost finished with the trip in Hurrungane, when things suddenly went wrong.
It was almost 20 degrees in the mountains. Dry and fine. Comrades Jørgen Teien Blystad (33) and Espen Mikkelsen (36) have been climbing for many years and had just taken off their equipment after climbing Søre Dyrhaugstind, which is located in the mountain area Hurrungane in the southwestern part of Jotunheimen.
The two comrades have known each other for about four years and have been on summit hikes in the winter and climbed in the lowlands together. But this was their first trip together in the high mountains in the summer.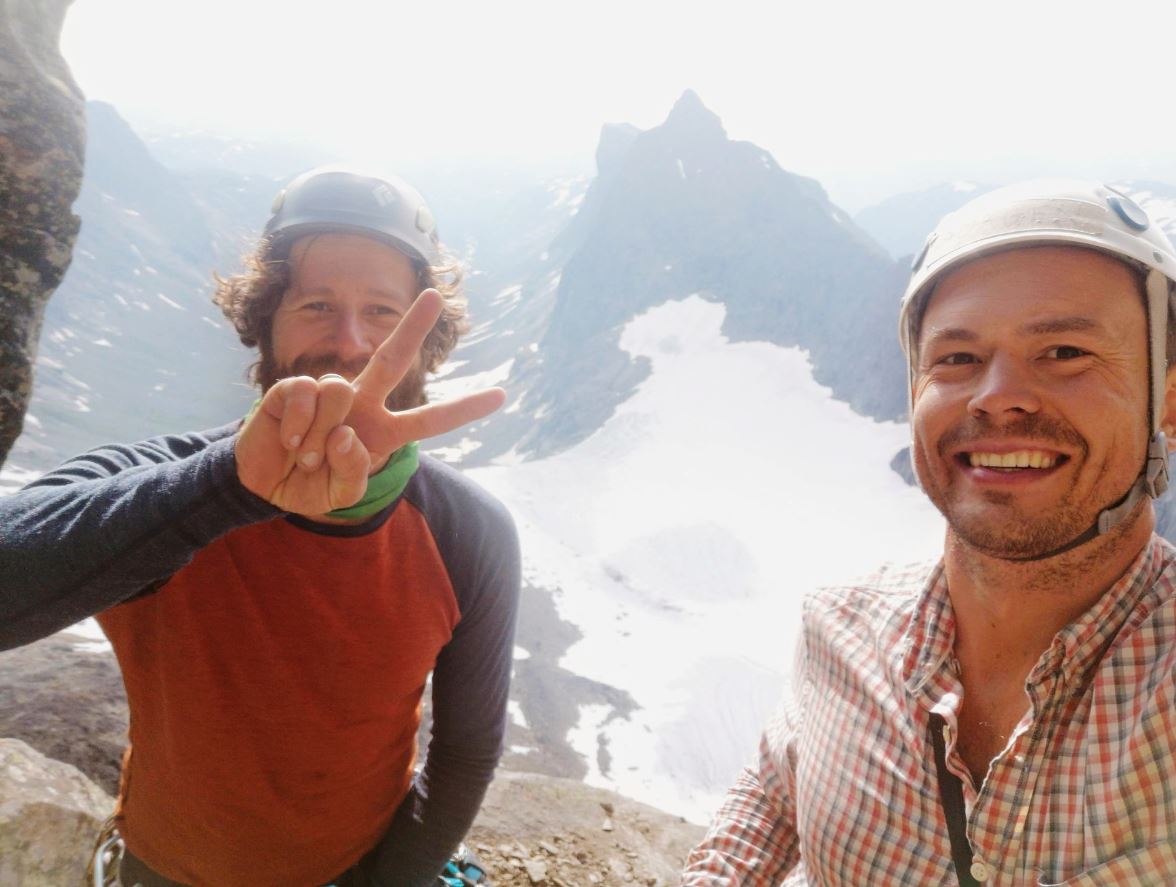 – This was a trip we had had on the wish list for a long time. The plan was to go around Skagastølsryggen and Dyrhaugsryggen next weekend, but due to the weather forecast we got around and drove from home on Monday, says Jørgen Teien Blystad to Bergens Tidende.
Back home, Blystad's highly pregnant wife and their almost three-year-old son. They have a term in mid-October. And Mikkelsen's pregnant wife and their two-year-old son.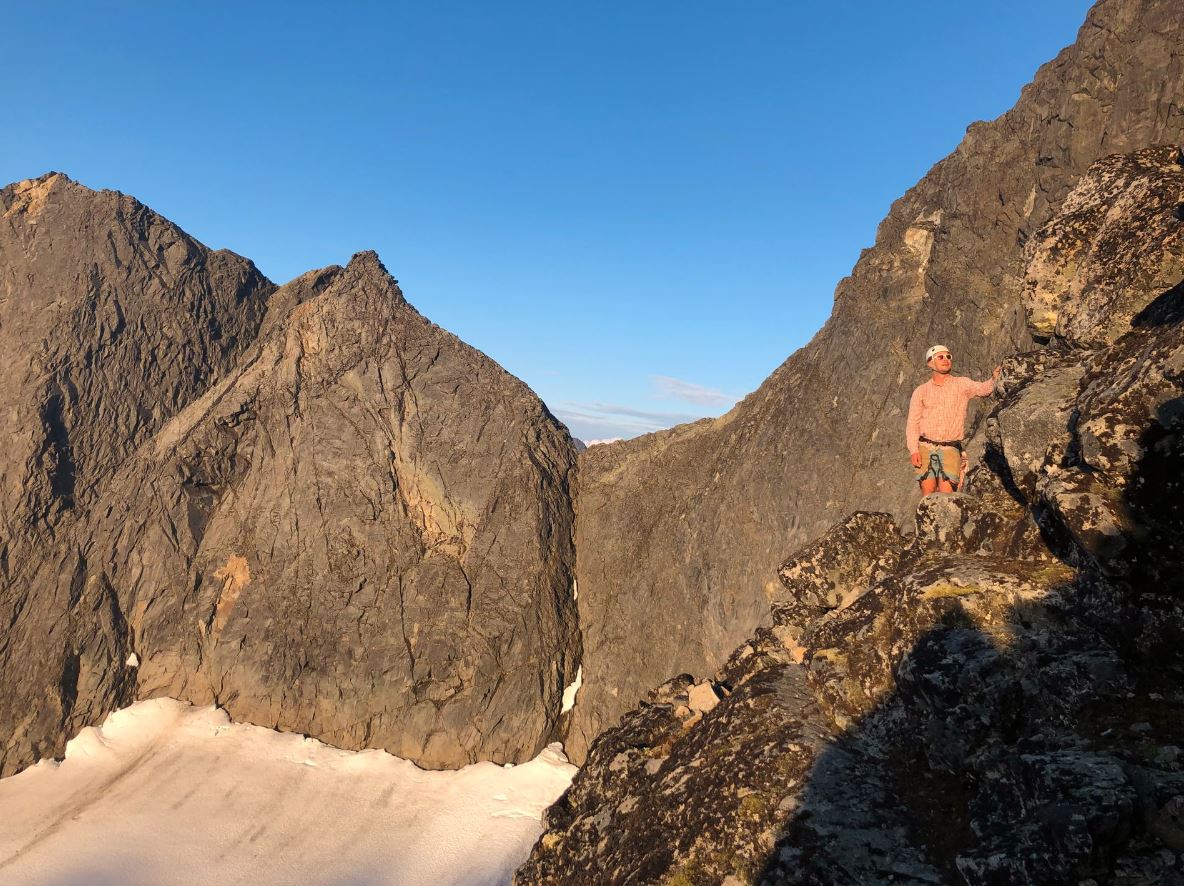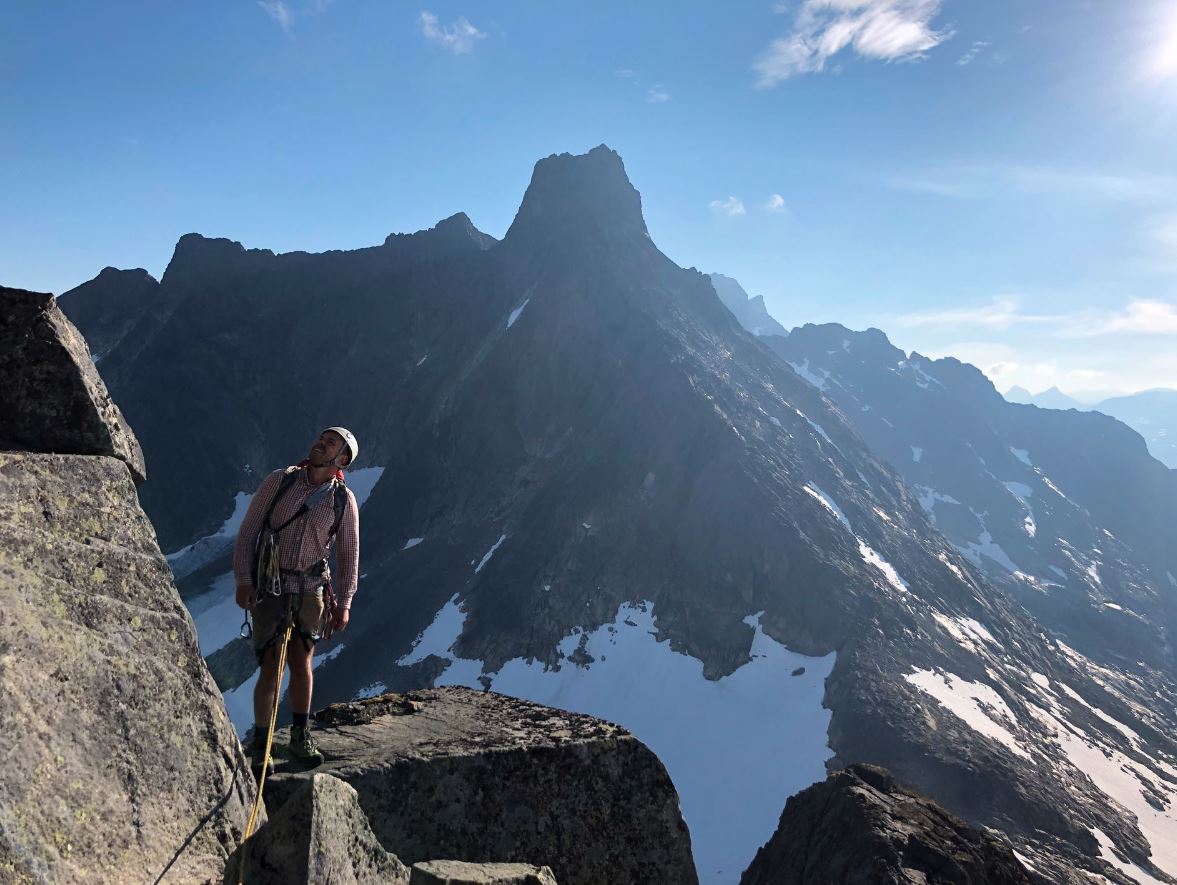 The comrades spent the night in a tent by Turtagrø and walked Skagastølsryggen on Tuesday 18. August. After spending the night at Skagastølsbu, they only had the last leg down again to Turtagrø.
– It was great when we woke up on Wednesday morning. The atmosphere was good. We climbed the 200 meters up Søre Dyrhaugstind and reached the top around 11.00. The last thing I remember is that we got dressed, packed our bags and started walking over Dyrhaugsryggen.
This is where the accident happened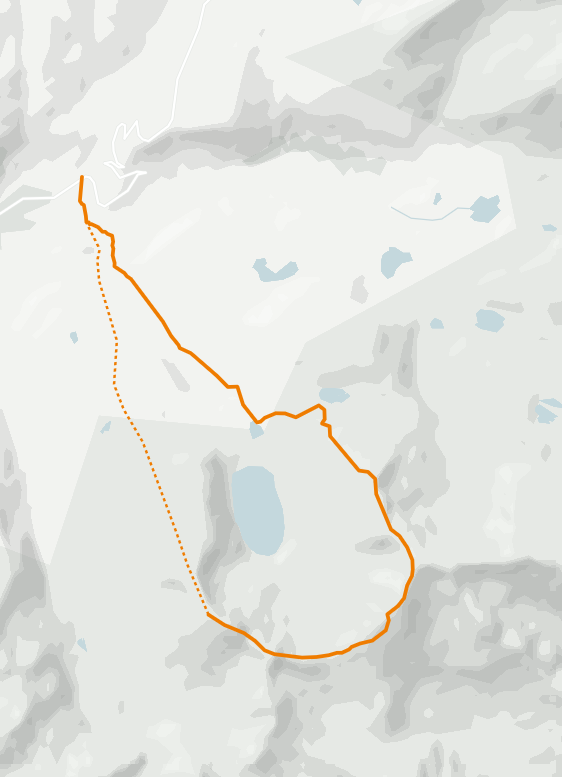 – He stopped lifeless in the unclean
The trip went as planned until the two comrades passed Store Dyrhaugstind.
They had secured themselves with ropes in several places, but just before Store Dyrhaugstind they sunk in the rope and went in the direction of Nordre Dyrhaugstind. Blystad was about 50-60 meters ahead of Mikkelsen.
– It is a ramp where you have to concentrate when you go down, with some loose gravel. I was on my way down when I heard him shout, "No!" When I looked up, I saw that he was in free fall and had both hands around a rock. It was as big as Jørgen. They fell and hit the stone clock together. And then they were thrown around a few times, before he stopped lifeless in the unclean. I mostly remember the sound of it. It was a brutal end to his cry. Then the stone continued down to Ringsdalen, says Mikkelsen.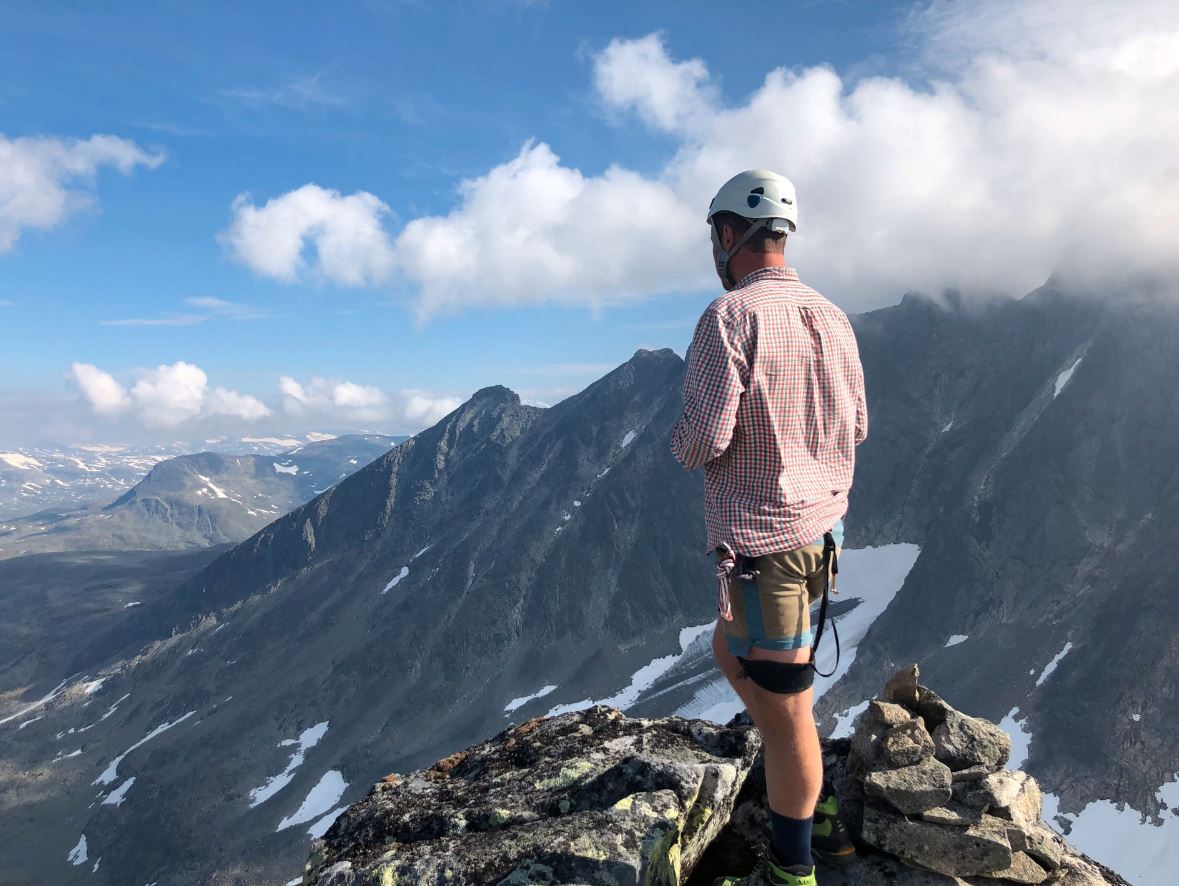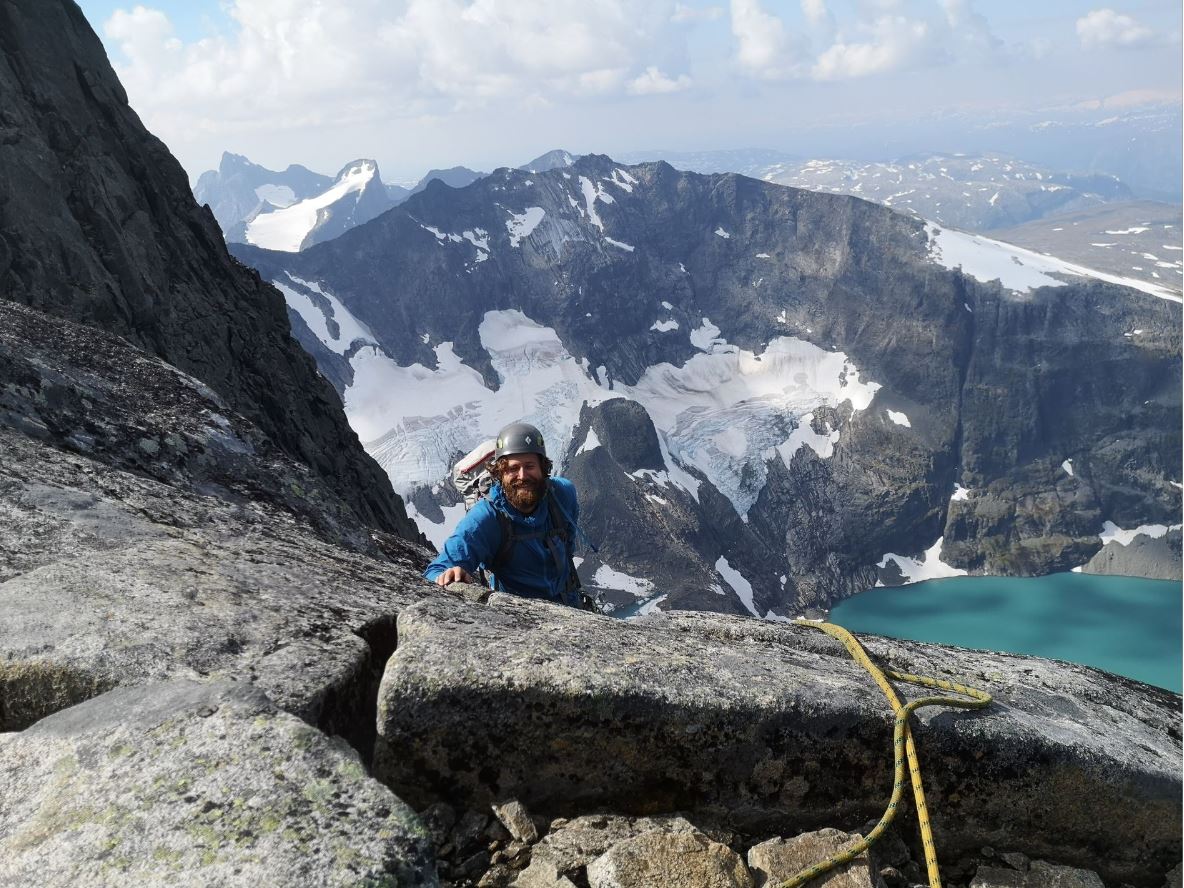 He says that his friend fell around 15 meters, and that more and more stones came loose. It was chaotic.
– I saw Jørgen lying there completely lifeless. As I walked carefully downstairs, not to loosen any more stones, I was quite sure he was dead. And that I would get it confirmed when I came down to him. It looked like a fatal accident.
When Mikkelsen came down, Blystad lay folded with his head and legs down in the pile.
– He did not breathe and was completely blue in the face. I folded him out and loosened his helmet. His head had wedged itself into some rocks and the strap was suffocating him. When I loosened my helmet, he gasped for breath and began to breathe. But he was not conscious.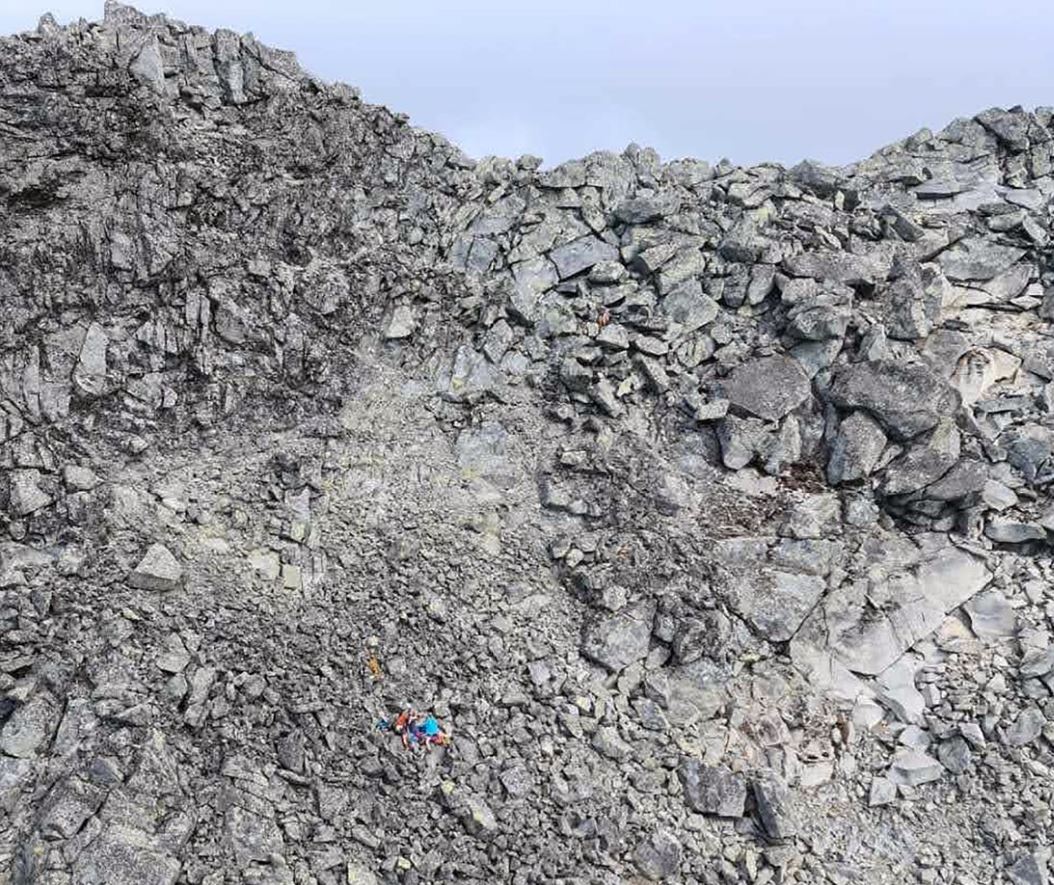 – The left foot was broken
Mikkelsen laid his friend on his side and tied him to a rock so that he would not roll on.
– I saw that the left foot was broken and that he was bleeding heavily. He also had several large wounds, including one in his head. I had a tourniquet tied around my foot to try to stop the bleeding.
Mikkelsen had to go up to the top to get coverage, and to be notified of the accident. On the phone, he had only ten percent of the battery left. He called 112 and was notified of the situation, where they were and that they needed help from a helicopter. Then he ran out of power.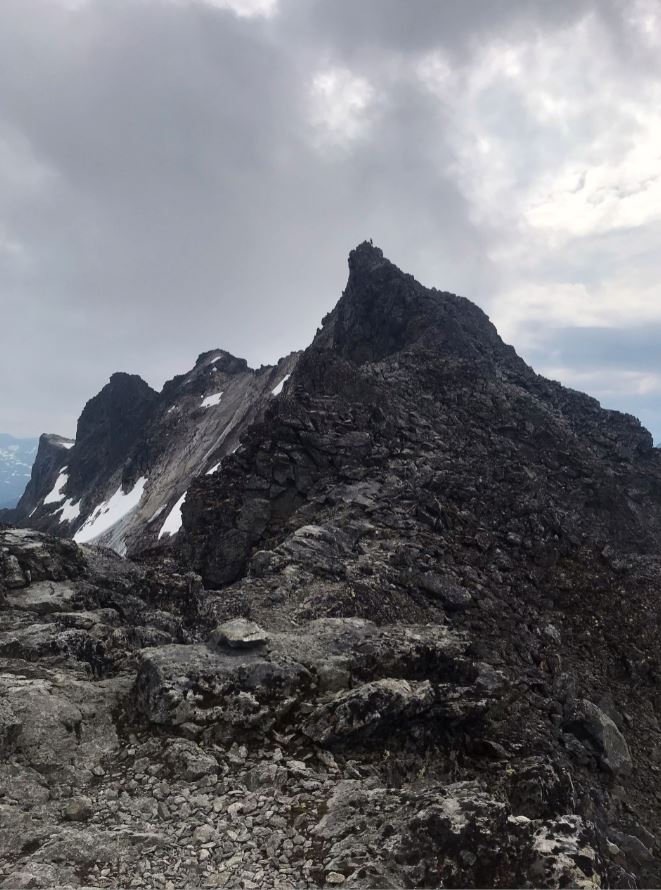 Against him came two women walking, Sigrid Sulland and Marte Tvinnereim. They came from Turtagrø and were almost at the top of Store Dyrhaugstind when they spotted a person standing on the forehead and talking on the phone. The time was 12.55.
– We were a little surprised that he was standing there talking on the phone. But when we got closer, the man politely shouted if we were going this way and asked if we had a phone with a battery. He said that the comrade was badly injured in the unclean, says Sulland.
While Sulland called 112 again, the other two went back to Blystad.
– I was not sure that Jørgen would be alive when we returned. But he was conscious and lying and screaming. We covered him with sleeping bags to keep him warm. And then it was just a matter of waiting for the rescue, says Mikkelsen.
– It was only when we got around the top that we realized how serious this was. Then we heard the screams of Jørgen and saw how far he had fallen, says Tvinnereim.
– To hear those screams … It's something I've never heard before, says Sulland.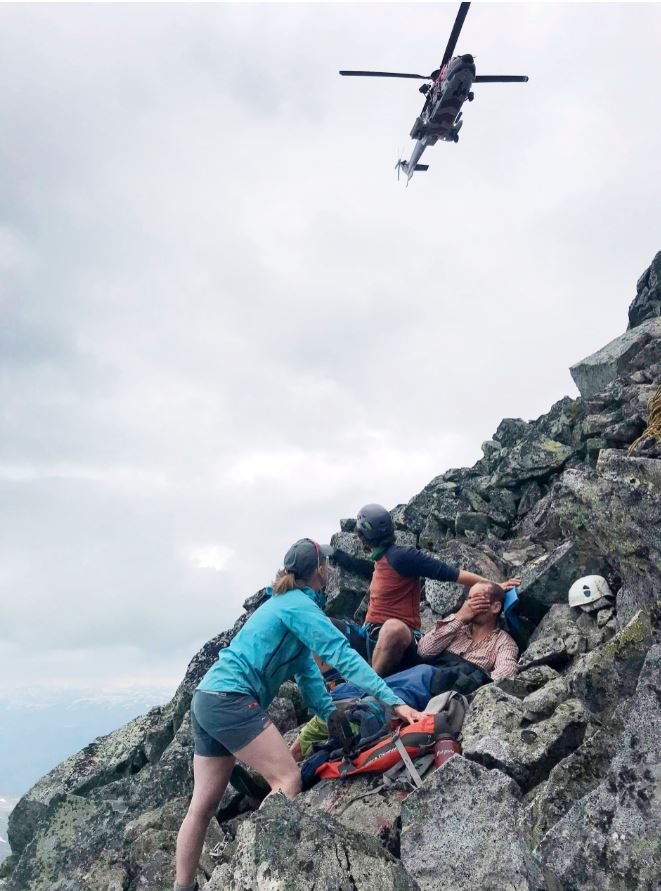 – It was incredibly tough
They went down very carefully unclean, so that they did not trigger new rock slides that could hit Blystad.
– We quickly realized that it was mostly about stopping bleeding, and about keeping him warm. Just be there and make sure he's fine. And keep your spirits up, says Tvinnereim.
– He lay restless, and we had to make sure he did not bang his head on the rocks. We put sacks under him so he could lie better. And we put sleeping bags around him, to keep him warm. We also took the tape from an ice ax they had with them, and tightened it around the leg on the broken leg, says Sulland.
At one point, Sulland was told by 113 that even though Blystad had a pulse and was conscious, it could suddenly turn around. That there could be a need for cardiopulmonary resuscitation, and that he should then lie down so that it was possible.
– The sound of the helicopter was fantastic
The police were notified of the accident at 12.55. Blystad was slightly below the top of Store Dyrhaugstinden, at an altitude of about 2000 meters.
– Time goes incredibly slowly when you lie there and wait. The sound of the helicopter was amazing. Then I realized that the help was there. It was a huge relief when others came and took over, says Mikkelsen.
Mikkelsen believes it took about 1.5 hours before they heard the sound of the rescue helicopter over their heads.
– It felt like an eternity. Jørgen lay most of the time, but when we said that the help was there, he sat up. As if he understood that the help was there, says Tvinnereim.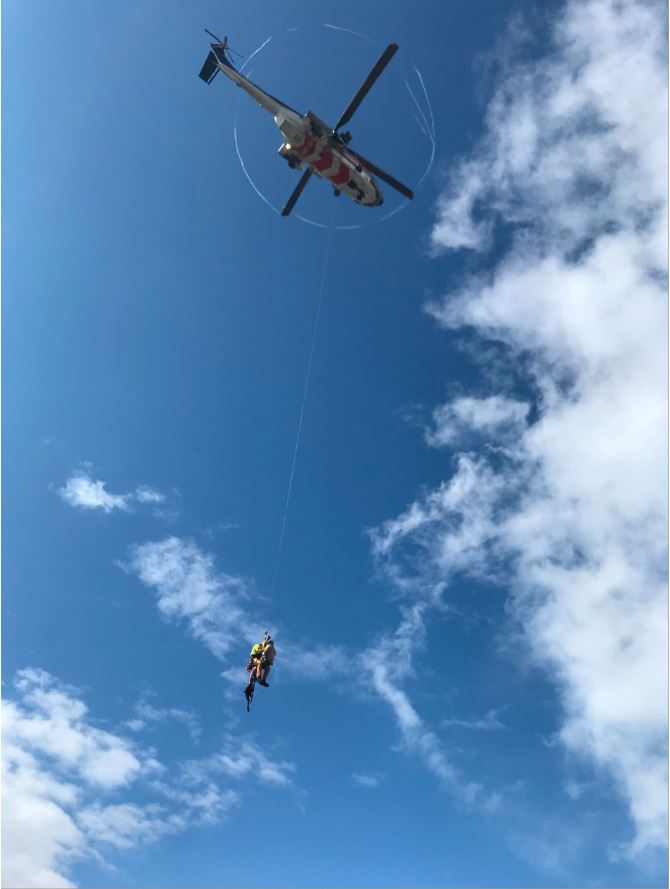 – I just have to brag about the rescuers. Maneuvering a helicopter inside between rocks and mountains, and retrieving Jørgen that way. It's absolutely amazing. It was an impressive and violent sight, says Mikkelsen.
– Espen, Marte and I sat close together in a ravine by a large rock, some distance beyond where Jørgen was lying, when the rescue helicopter flew down to hoist Jørgen and the rescuer out. It was impressive to see, brutal and touching. Finally, Jørgen should get help from someone other than us. Espen cracked up a bit, and we all felt that it was good to finally be able to lower the emergency preparedness, says Sulland.
While the air ambulance was on its way to Haukeland hospital with Blystad, the wives of the two comrades sat at home and watched a news update about a rescue operation at Dyrhaugstind. They were terribly worried and talked together about how they could find out if it was their men that mattered. They knew they were on top.
When I finally got to talk to my wife on the way down from the mountain, the police had already notified Jørgen's wife that it was him. The two have had some absolutely awful hours in uncertainty, says Mikkelsen.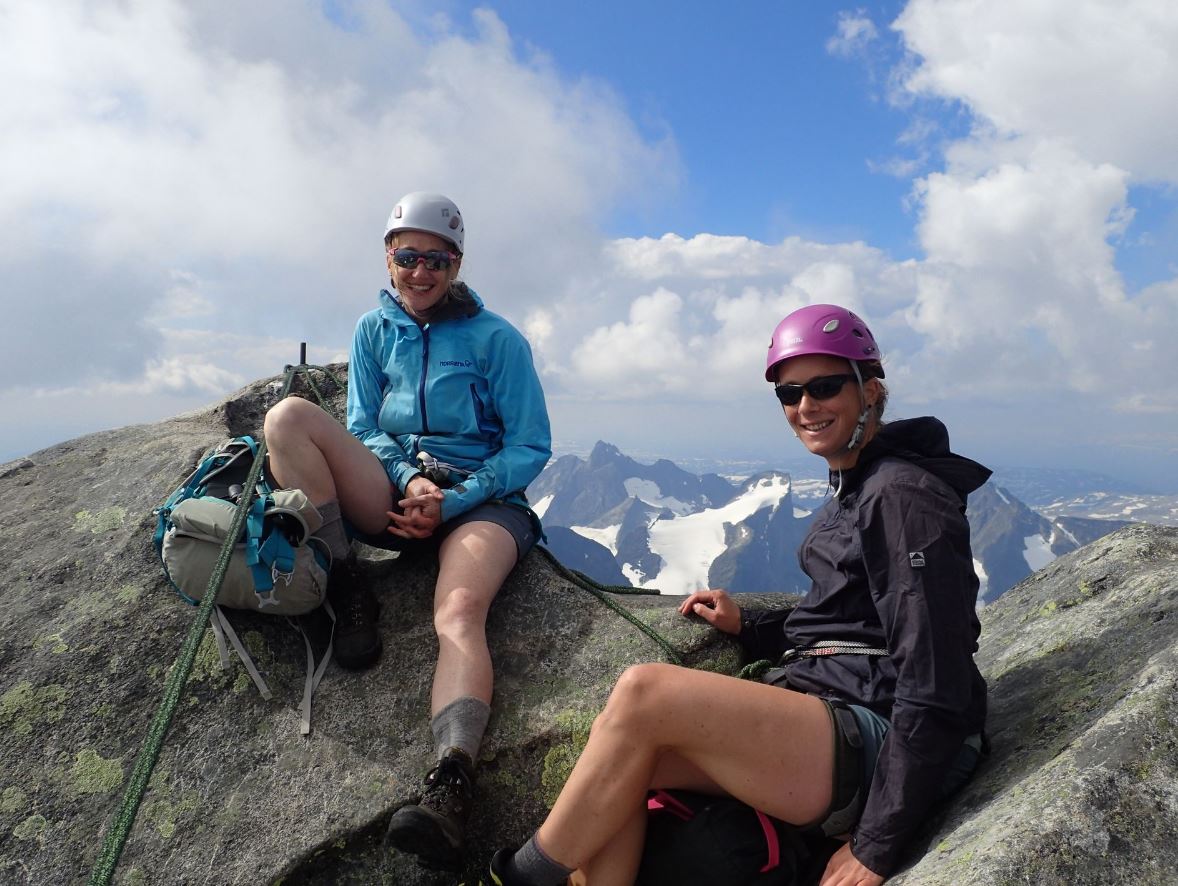 On the way down to Turtagrø, Mikkelsen and the two women were informed that Blystad would most likely survive.
– It was a fantastic message to get, he says and becomes quiet.
They spent about three hours down to Turtagrø hotel. There they ate dinner together in the evening and breakfast the next day.
– It was good when Espen came and told that he had talked to Jørgen's wife and that he was doing well. That he was himself, even though he was badly injured. It was also good for all three to be able to talk about what had happened, says Sulland.
– It would have been absolutely cruel to be there alone with Jørgen without Sigrid and Marte, says Mikkelsen.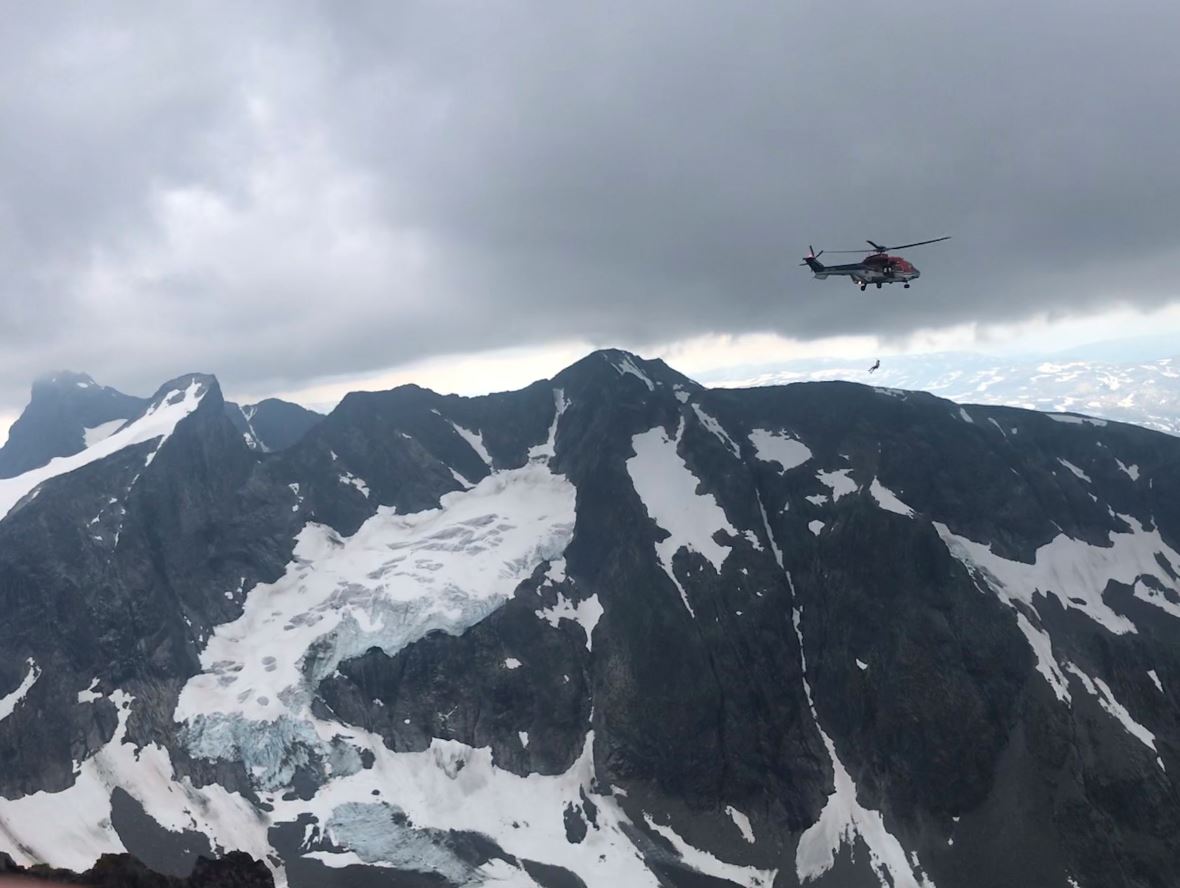 – Glad I'm alive
Jørgen Teien Blystad remembers nothing of the incident and has a black hole in his memory for about a week. It is the comrade who has told him what happened. He has now been in Haukeland Hospital for almost three weeks and has undergone several operations.
– The first thing they did was take a CT scan. There was no major damage to the brain and spine, and only then did they know I would survive. When I woke up alive again, they concluded that the left foot was so bad that they had to amputate it from the middle of the leg, says Blystad.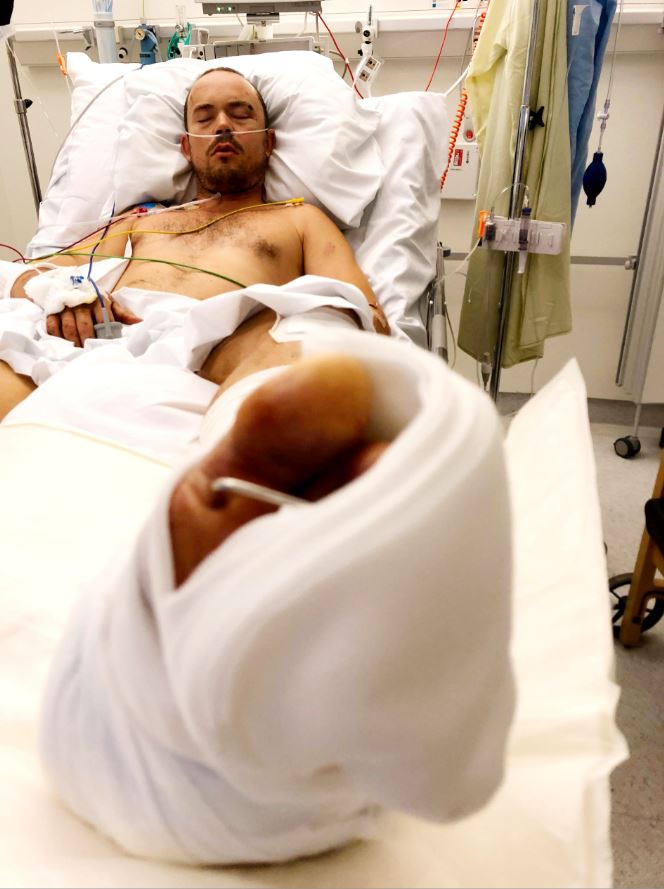 Blystad's mother, brother and wife were in the hospital the same day.
– No one thinks it's nice to amputate a foot. But given the circumstances, I'm glad I'm alive and I did not get a brain injury or become paralyzed. I can do a lot with just one foot, he says.
When he looks at the pictures from the accident site and where he has fallen, he realizes how lucky he has been.
– It's good luck that I had not taken off my climbing helmet, and good luck that I had a backpack that included a sleeping bag and a 60 meter long climbing rope. I have cracked thorns on the vertebrae above and below where the backpack sat. If not enough, the back would have been broken across. This could easily have been a fatal accident.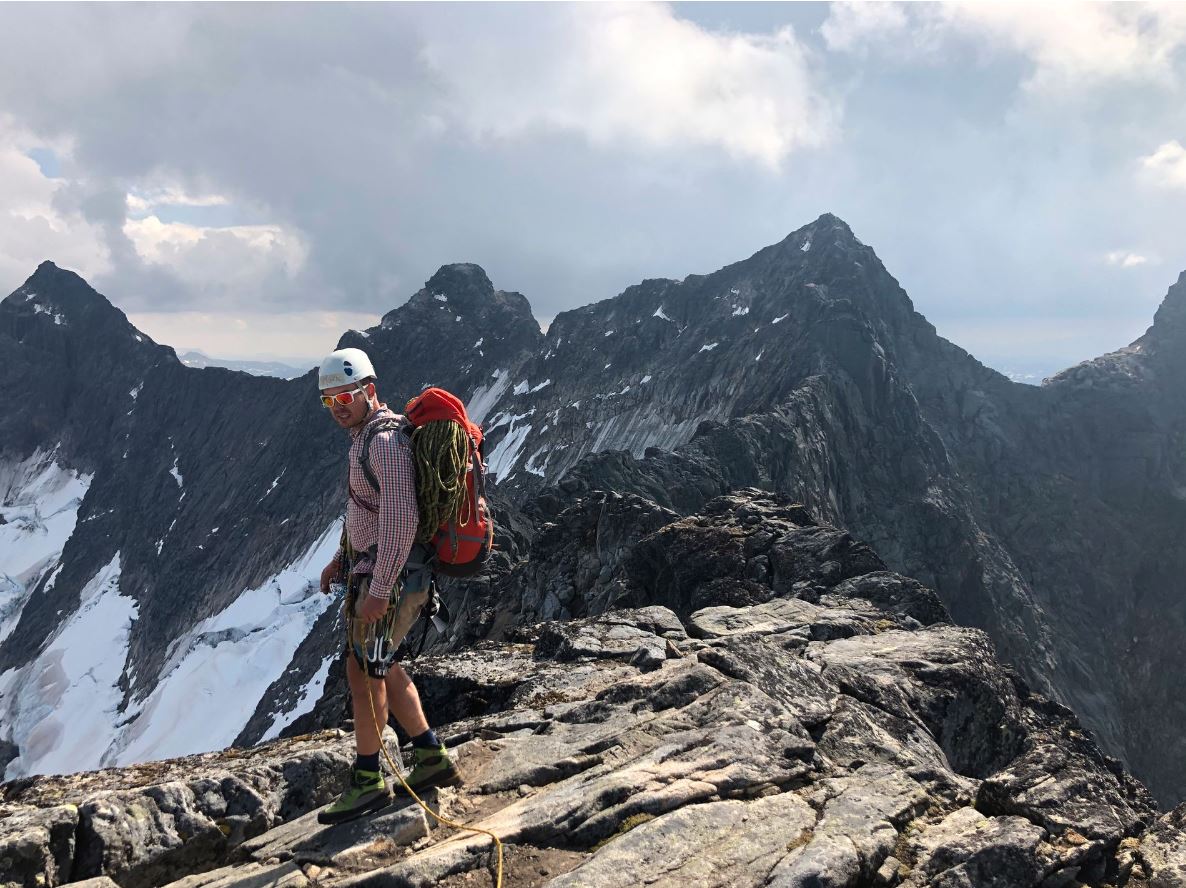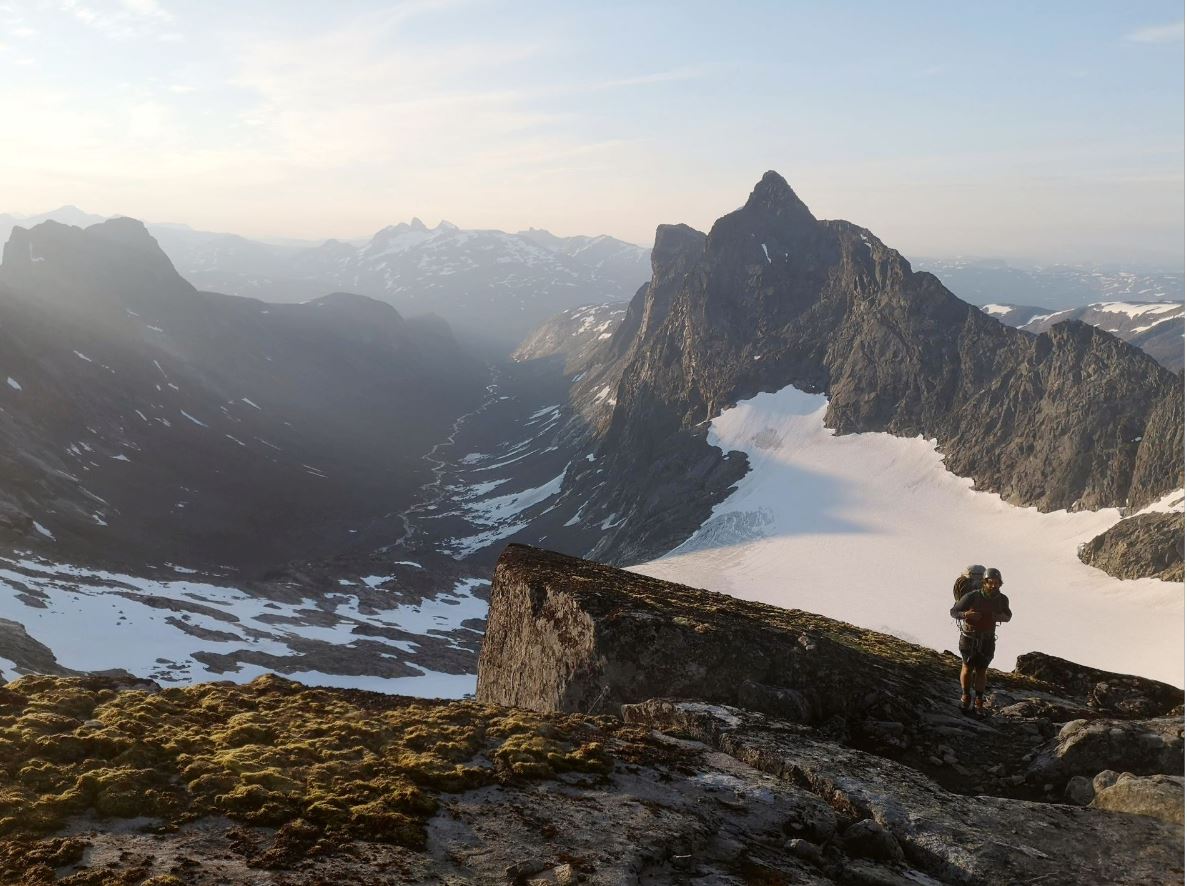 New mountain hikes
Espen Mikkelsen was not allowed to talk properly with his friend until a few days after the accident.
– It was a very nice conversation. He was just the way he was before the accident. Fortunately, Jørgen is quite positive. We will probably get to the mountains again, yes, he says.
Sulland and Tvinnereim have had contact with the two comrades after the accident.
– It is good to see that Jørgen has so many good people around him and that he gets good support from family and friends, says Tvinnereim.
– We are very happy that Jørgen is in good spirits and that things are going well with him. In retrospect, I have thought that this is an incredibly strong and tough man, says Sulland.
Published:
Published: 9. September 2020 22:02
Updated: 11. September 2020 12:37