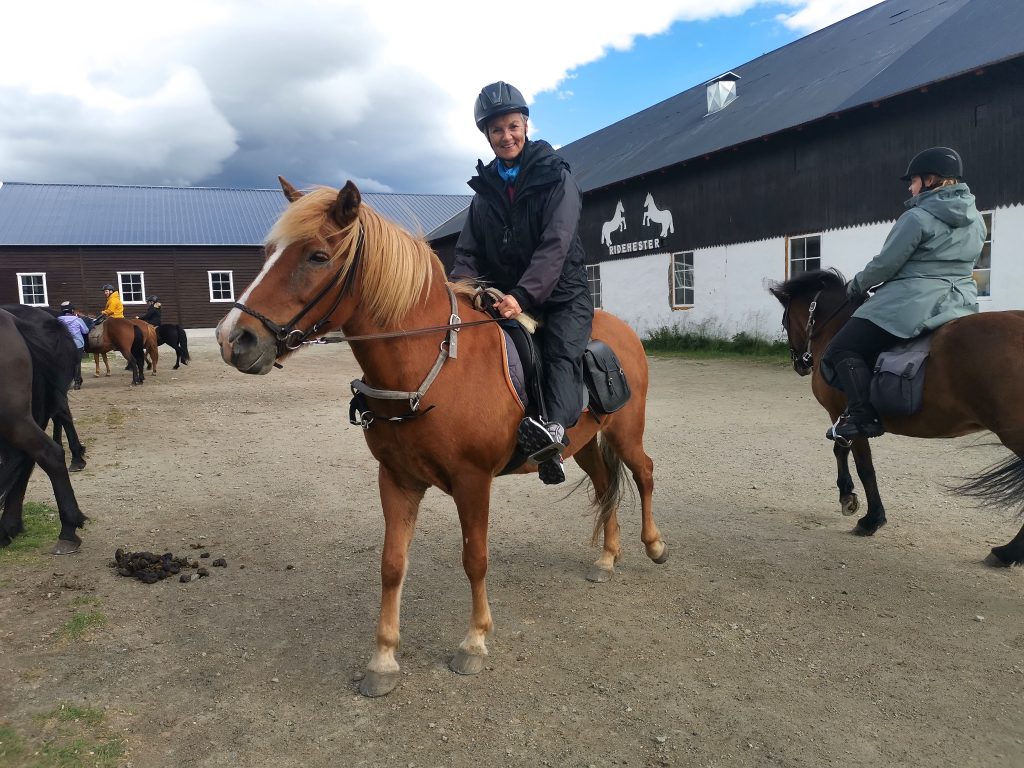 Text: Marte Nordahl
On the weekend trip to Hjerkinn, Benedicte Finnema proved that it is possible to have an active life and master being on the mountain.
– Performing activities that increase the quality of life is the most important thing. Also knowing that the body works. The thigh prosthesis is also not an obstacle to physical activity. The trip gave me a big boost in addition to opening my eyes to new activities. I will sign up for many more activities through Momentum, says Benedicte who is working to get the structure back in everyday life. Activities in daily life are therefore very important.
– It was a euphoric experience to be out for five hours on horseback on a musk ox safari. I rode on rough terrain and eventually continued on gravel roads where I felt safest. Knowing that I master riding is absolutely amazing. This really gave more flavor, says Benedicte who spotted a whole flock of musk on the trip.
New challenges
At Unicare Fram, Benedicte learned the benefits of taking responsibility for her own quality of life. When the prosthesis is on, it means activity, training and constructive activities. She walks about eight kilometers on average every day. Indoors, she uses the wheelchair to rest her body.
For Benedicte, who underwent an acute thigh amputation in October 2019, the trip alone up to Hjerkinn felt a little unsafe.
– I went up alone and went to activities I had no idea about. Since you are stuck in the saddle of the horse, it made no difference to sit on the horse's back as amputated. At the same time, it also requires that you think you are safe. Even though I see and encounter obstacles, I do not let that stop me. Then I choose to do the activities in a different way, she says.
– It is important to participate in events that give you mastery and joy. One of the best things for me is to be outdoors in the woods, fields and mountains. I am a physical sports and outdoor person. At the same time, I do not spend time on activities that are not physically possible. It is important not to expose yourself to danger, and rather spend time figuring out what works for you, she says.
Fantastic bike ride
Benedicte, who has never loved cycling before, was thrilled by the hand bike she borrowed from Geir Arne.
– The feeling of freedom I got from using my arms on the cool and narrow electric mountain bike was enormous. The bike is also a great transport aid that you can travel anywhere with. The bike means more quality of life, she says happily.
Also took the challenge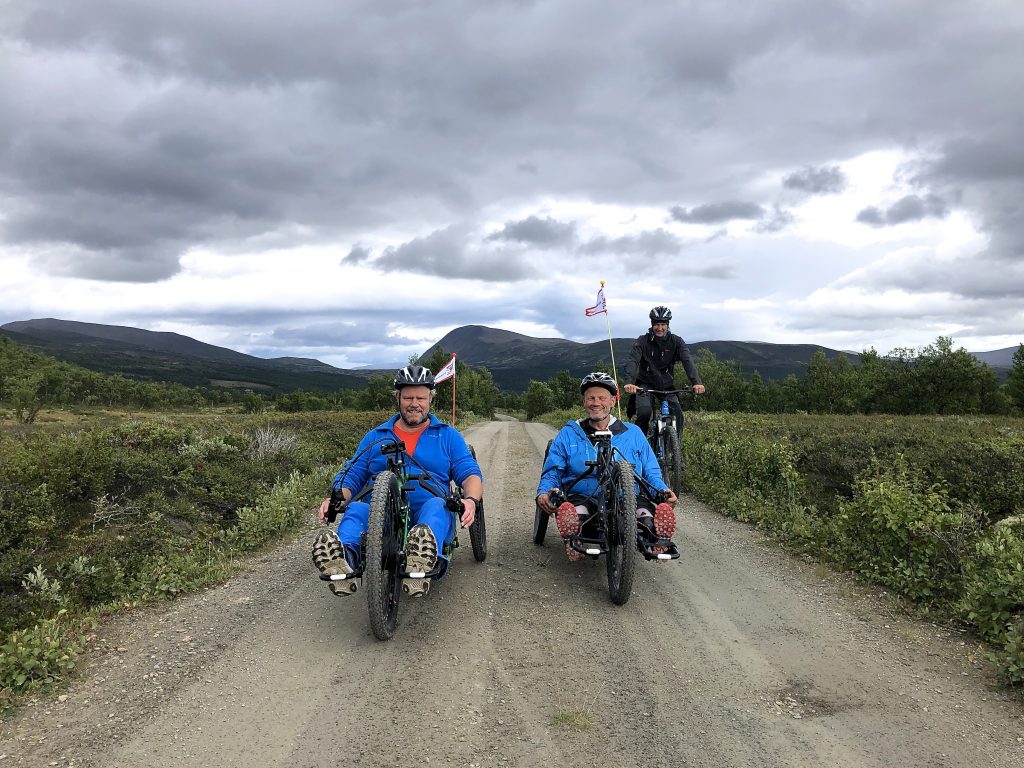 John Arne Rosenlund also participated in the trip. John Arne amputated his left leg in February 2012 and has managed to maintain the level of activity since. He borrowed his hand bike for the first time since he did not want to strain his healthy leg as much.
– I was a little skeptical about whether my hands could handle the trip. I got tired, but luckily it went very well. It's nice to be able to challenge yourself physically. Cycling is also a lot of fun. In addition, the weather was above expectations. We got a lot of views and the sun shone at the end of the trip, he says.
Fun to arrange trips
Geir Arne Hageland, Funkibator and Momentum organizer, thinks it's fun to arrange trips.
– In general, we get to arrange the trips so that most people have fun. Here, everyone gets to try more physical activities within a safe framework, which also inspires more activity. First and foremost, we want to facilitate for all levels. Due to the lively participants in this autumn's event, I chose to maintain the longer route. We also have alternative routes with small and large activities, which means that they will primarily have a good mountain experience and master the activity. We have a good overview of all the participants and follow them up along the way, says Geir Arne.
Introduced bicycle last year
– We introduced cycling as an activity offer on the trip last year, which is both a simpler and cheaper offer. I think it was fun that John Arne took the chance and tried his hand at cycling for the first time, says Geir Arne.
Geir Arne emphasizes that during the trips, prosthesis users receive pure basic training. Moving outside in the fresh air and getting trained in balance with new means of transport is also valuable. The bikes also have an electric motor which means that you do not have to use your own physique all the way. The engine can also be switched off.
Down to earth and pleasant
Thigh amputee Runar Steinstad is very happy with this weekend's activity-filled event at scenic Hjerkinn. As a prosthesis user for almost 40 years, he has been a Momentum member for many years. Runar is a former javelin thrower and sprinter from Sandefjord. Today he is very active in his spare time.
– The feeling of mastery we got from the activities, combined with fresh mountain air and scenic surroundings, gave us lots of new joy of life and energy. The event is a great initiative and initiative. The whole arrangement was very down to earth and pleasant. I enjoyed myself with a small group of a total of five participants. Geir Arne is very good at making things nice. On Saturday I was out cycling around Kvitdalen, while on Sunday I rode for four hours around Hjerkinndammen, says Runar Steinstad.
Action-packed low-threshold offer
For Runar's part, it was the riding that triggered him the most to participate in the trip, since he rides regularly in his spare time.
– I thrive best at events with a high level of activity where I get to use my body and prosthesis. Feeling mastered by new things is very appealing, he says.
– Likewise, I think it was cool to have to perform all the tasks related to the horse. For most people, it was scary and completely new to lift their hooves and scrape away the manure. We also salted the horse, in addition to grooming and placing it in a bridle. All the tasks made us safer when we went up on horseback.
Relaxed trip
– As Pippi says "I have never done this before, and I can certainly do it well." I did too. As a prosthesis user, I quickly found the balance on the ride. It was easy to get up on horseback in addition to the fact that I sat stably during the ride. I got confirmation that it went just fine riding. His shoulders sank during the five hours on horseback, he says.
Runar currently uses the Otto Bock Genium X3 prosthesis with preset knee values, which allows you to decide how much bend and resistance you want. The prosthetic knee works excellently for both cycling and riding.
Encourages more challenges
Runar thinks it is absolutely great to feel the mastery of using the prosthesis.
– Some people do not use the prosthesis other than to walk back and forth between the living room and the kitchen to get a cup of coffee. On such a trip, you will discover what other activities the prosthesis can be used for, which also encourages you to sign up for more and more demanding trips.
Runar noticed in particular the enthusiasm of Benedicte Finnema who shone like a sun after the ride on Saturday.
Cozy and homely
– In the evenings we talked about the nice nature experiences we had along the way on the bike and horseback. The trips were a full two to thirty miles. We also spent a lot of time eating packed lunches and enjoying ourselves, Geir Arne continues.
Runar highlights the down-to-earth mountain lodge at Hjerkinn where you feel at home.
– The stay is at "low-threshold level" with simple food and self-sufficiency, where you put out the thermos in the evening and get it refilled in the morning. For the trips, you make your own packed lunch, says Runar.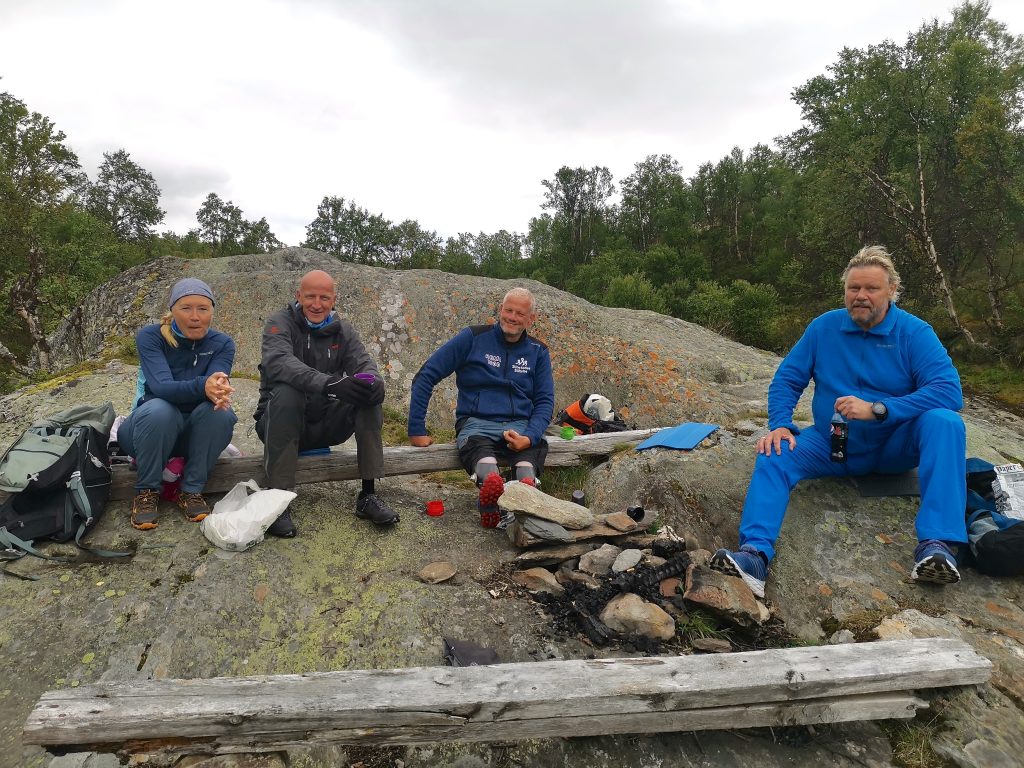 Socially and experience-changing
– There are also many nice people who are on these trips. Geir Arne and Tatjana are also both skilled and solution-oriented and good at including everyone. They did everything to make the weekend a success, says Runar.
John Arne Rosenlund thinks it was pleasant with socializing in the evening. Here he met several new members.
– I only knew Geir Arne and Tatjana from before. It is always fun to meet new people and exchange new experiences. Even if we do not have the same amputation, it is advantageous to harvest a little here and there, says John Arne.
Well taken care of
John Arne also always feels just as well taken care of at Hjerkinn. Although the infection control situation made the stay a bit special, they took it up there. John Arne had to amputate his left leg due to type 2 diabetes.
– Diabetes has never given me limitations. It is even important to take extra care of infection control with the disease. If you are good at washing your hands and holding the meter, it generally goes well. I really relaxed on the trip. I have had new positive experiences, says John Arne.
Runar would like more people to experience the trip to Hjerkinn. Even the drive from Sandefjord to Hjerkinn was great.
– I am pretty sure that everyone went home with a good feeling that there were pleasant people we were with, says Runar who also thinks it was a pity that not more people got to experience the trip.
Width of activities
Geir Arne Hageland emphasizes that even though they had few participants this year, the participants were very active and got a lot out of the weekend.
– Since we were fewer, it was also easier to adapt the scheme. I hope that we can continue with a combination of a wide range of activities. In addition, it is important to avoid that the activities compete with each other in Momentum as far as possible, says Geir Arne who hopes for increased participation next year.