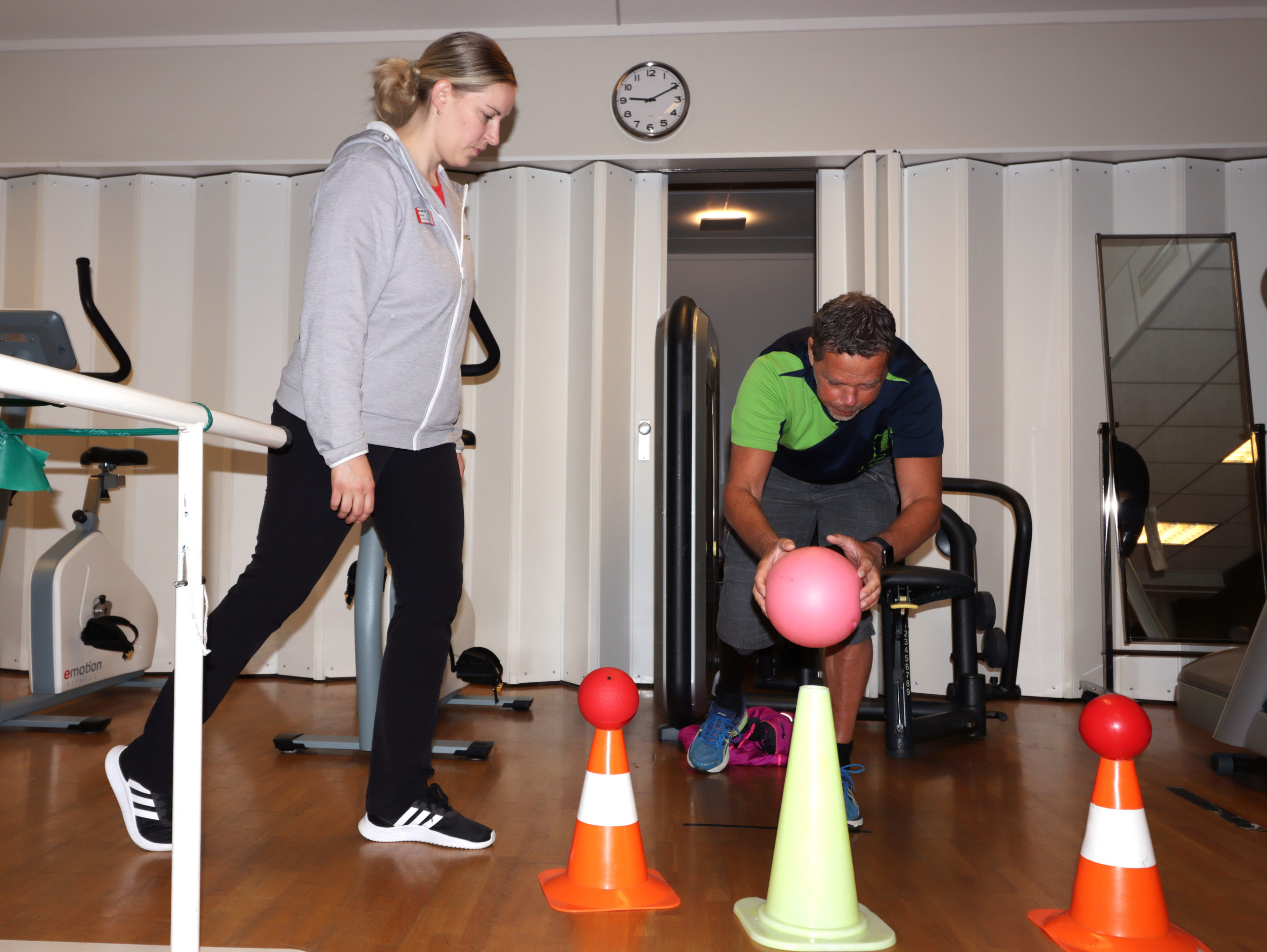 Physiotherapist Marie Strand Torgalsbøen, together with Arve Jarl at Unicare Bakke. At the group trainings, the good group dynamics arise. The user gets to train strength, condition and balance at the various stations that last for a few minutes at a time.
Physiotherapist Gitte has trained amputees and prosthesis users for over twenty years. Her goal is for prosthesis users to see the value of exercising for the rest of their lives.
Photo and text Marte Nordahl
It's just past nine in the gym at Unicare Bakke. Physiotherapist Gitte Flindt Hilding follows and guides users at their respective stations with great commitment.
Gitte has worked as a physiotherapist since 1993. This year she has worked at Unicare Bakke for 20 years. Her high knowledge of most things in amputation techniques and prostheses, ensures that the user gets the best possible rehabilitation stay.
– I think it is very fascinating to be allowed to be part of the user's journey into the unknown when they come here. We also have patients who have been amputated for many years who need to take new steps as amputated, she says.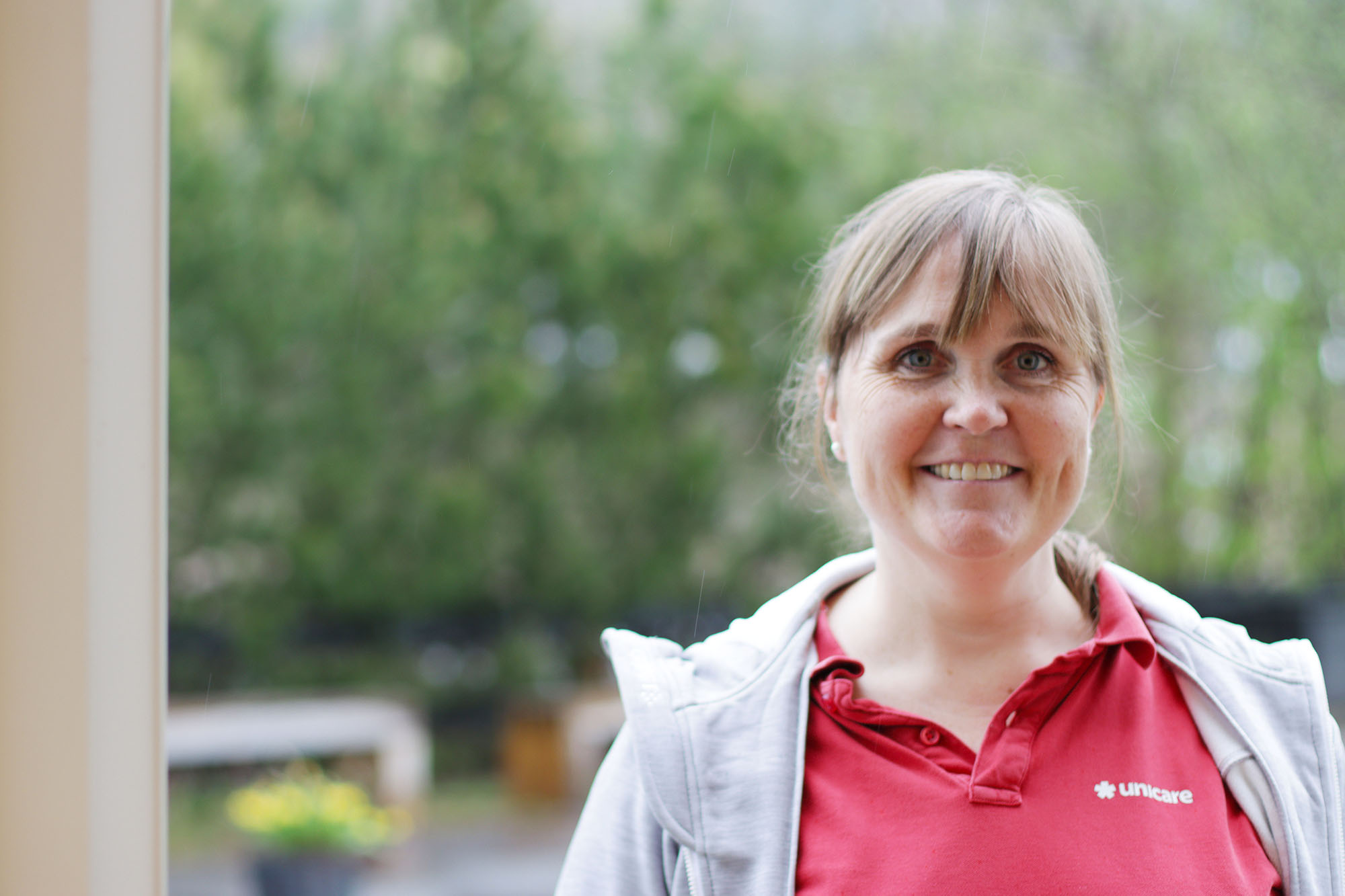 Gitte Flindt Hilding has worked as a physiotherapist at Unicare Bakke and trained amputees for over twenty years. To master the training, she is concerned that the user must first find the balance in his new life as an amputee.
Establish good exercise habits
The temperature is rising among users who are both concentrating on crawling and getting up again, walking straight on the line and reaching for the ball.
– Initially, I concentrate on what the user's purpose with the training is, and what kind of training is needed to reach the goal. If they want to take the boat out to the cabin, we practice going in and out of the boat, as well as crawling and crawling to secure the user. If the ambition is to get out in the kayak again, we paddle a lot of kayaks together, she informs.
– Other users may, for example, wish to follow their grandchild up to the altar on the wedding day. Lots of walking training is then what it takes to be able to walk in several family companies. Setting common goals makes it easier to get others involved in the training, she says.
Information is important
Physiotherapist Rikke Gundersen follows the user's movements, and takes care to tell them how to get up and down with the prosthesis.
– In the treatment of amputees, sufficient information is very important. We take care to explain to the user that there is a big difference between being a femur and a lower leg amputation. As a femur amputee, you need more energy to be able to walk than when you have both legs.
Gitte informs that as a lower leg amputee it costs around 25 percent more energy, while for thigh amputees between 50-70 percent more energy for each step you take.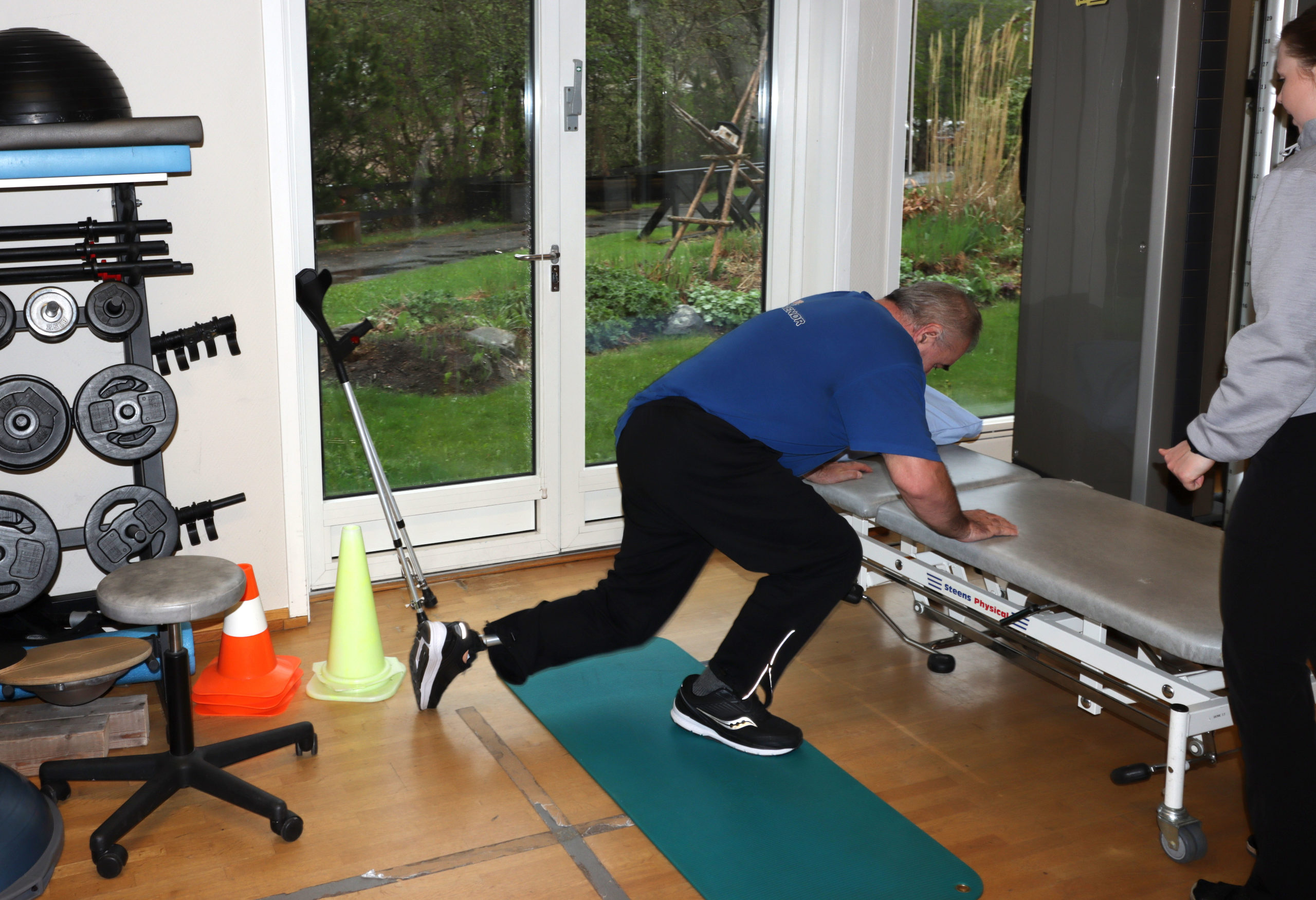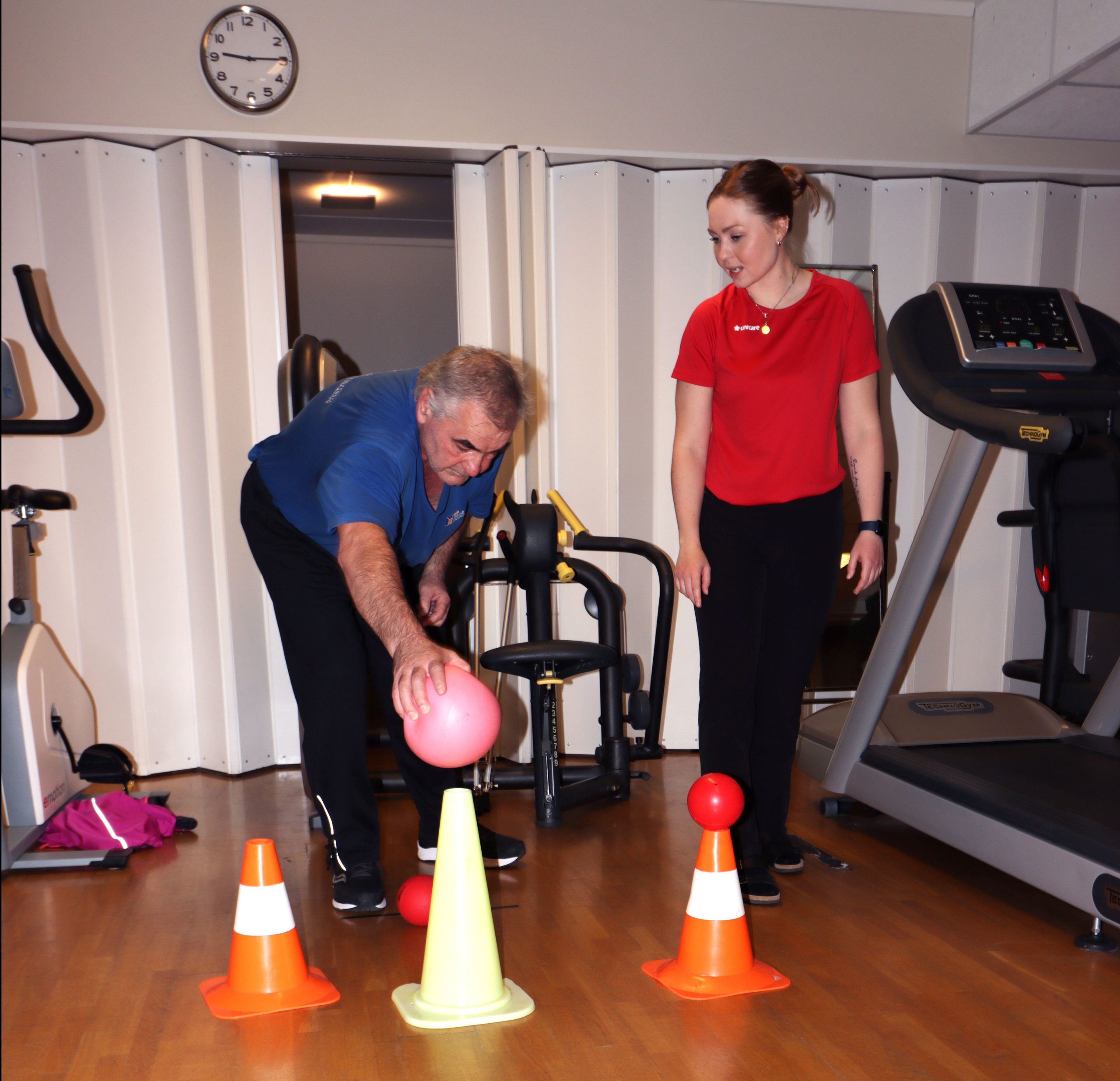 Physiotherapist Rikke Gundersen trains with the user with a new sleeve. Proper technique and execution of movement are important from the start.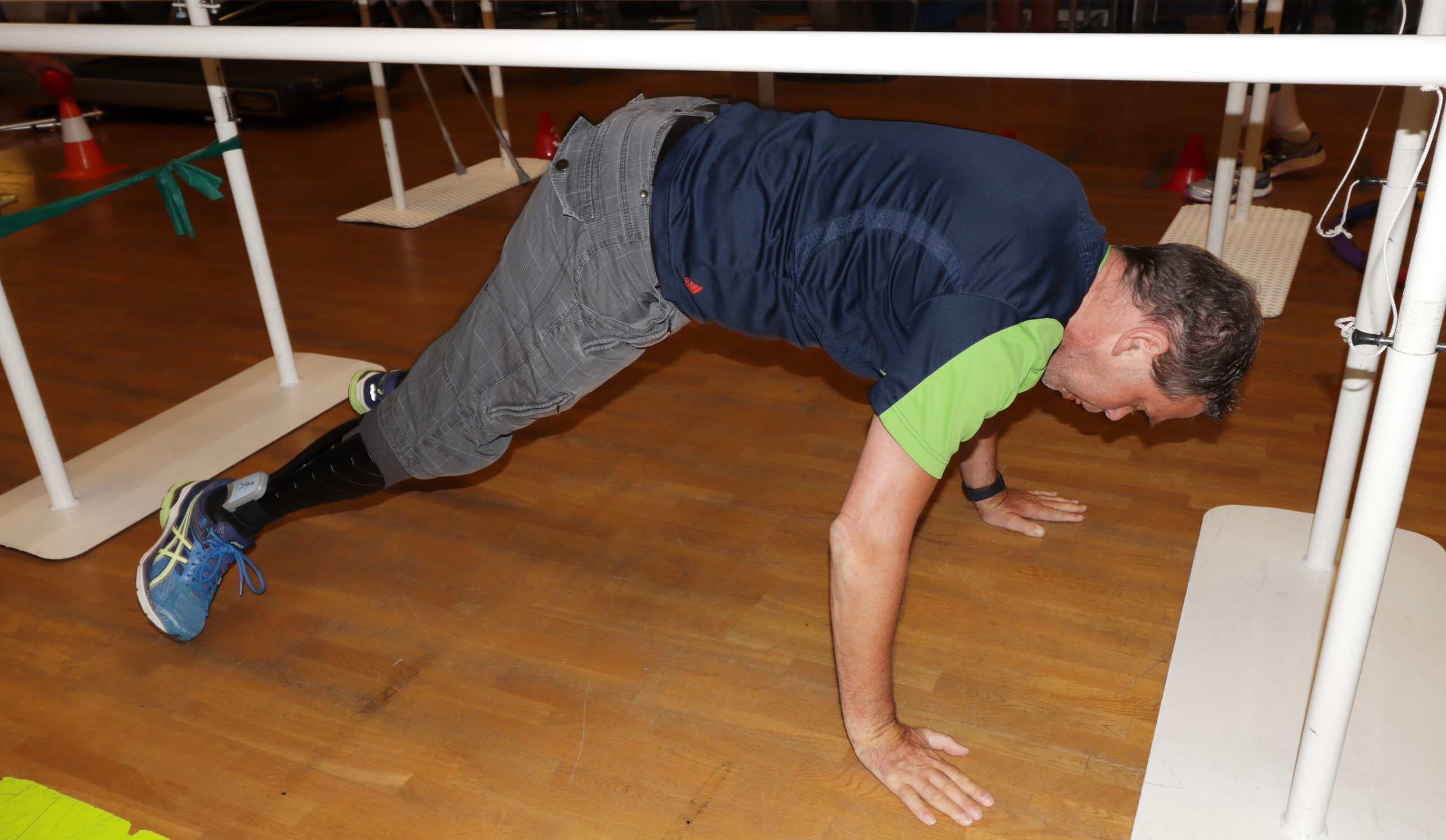 Arve Jarl is training to get up and down on the floor with the prosthesis.
A new life
During the treatment, Gitte experiences that most users have a great desire for them to get back the life they had before the amputation. The hope is that the prosthesis will replace the bone that is missing.
– If you try to get back to your old life, the road becomes enormously steep to walk. Therefore, we concentrate rather on the user getting a new life. We try to convey that amputation is not the end of everything, but the beginning of something new. If you can look at all the benefits you get from exercising, it is easier to continue. On the other hand, exercise should not be painful, and it is important to find a prosthesis that fits. The appearance of the prosthesis can also have a lot to say for some, she says.
Working in teams
She concentrates fully on each individual user's performance throughout the class. It is important that the user hampers on exercises that they need in everyday life.
– Working as a physiotherapist for amputees involves a lot of teamwork around the patient, consisting of the orthopedic engineer, occupational therapist, psychologist, sociologist, doctor and wound nurse. We are small detectives with a goal of finding out where to start working with the patient. Each patient is completely unique.
Important with tough training
Gitte points out that many of Bakke's patients come directly from hospitals and have been hospitalized for months, which has made them unconditioned. Often, pain before and after the amputation has led to inactivity.
– After an inactive period, it takes tough training to get back on your feet. It is very easy to measure if the fitness level has increased. When the patient feels that they have more stamina, it also becomes easier to exercise. When you exercise, you also form many endorphins that help you feel like exercising. In addition, you get more energy and profit in everyday life. Exercise reduces the risk of many diseases, while at the same time you can quickly feel the good effect of physical activity, Gitte informs.
Train balance
Gitte takes a deep breath and glances at the prosthesis user, who is concentrating on not falling. Statistically, the risk of falling increases dramatically after an amputation.
– For example, many people forget that they lack a leg when they go to the toilet at night. When they fall, they strike not only physically but also mentally which increases the fear of falling again. To secure them, we therefore train a lot of balance training, which eliminates the chance of falling considerably, she says.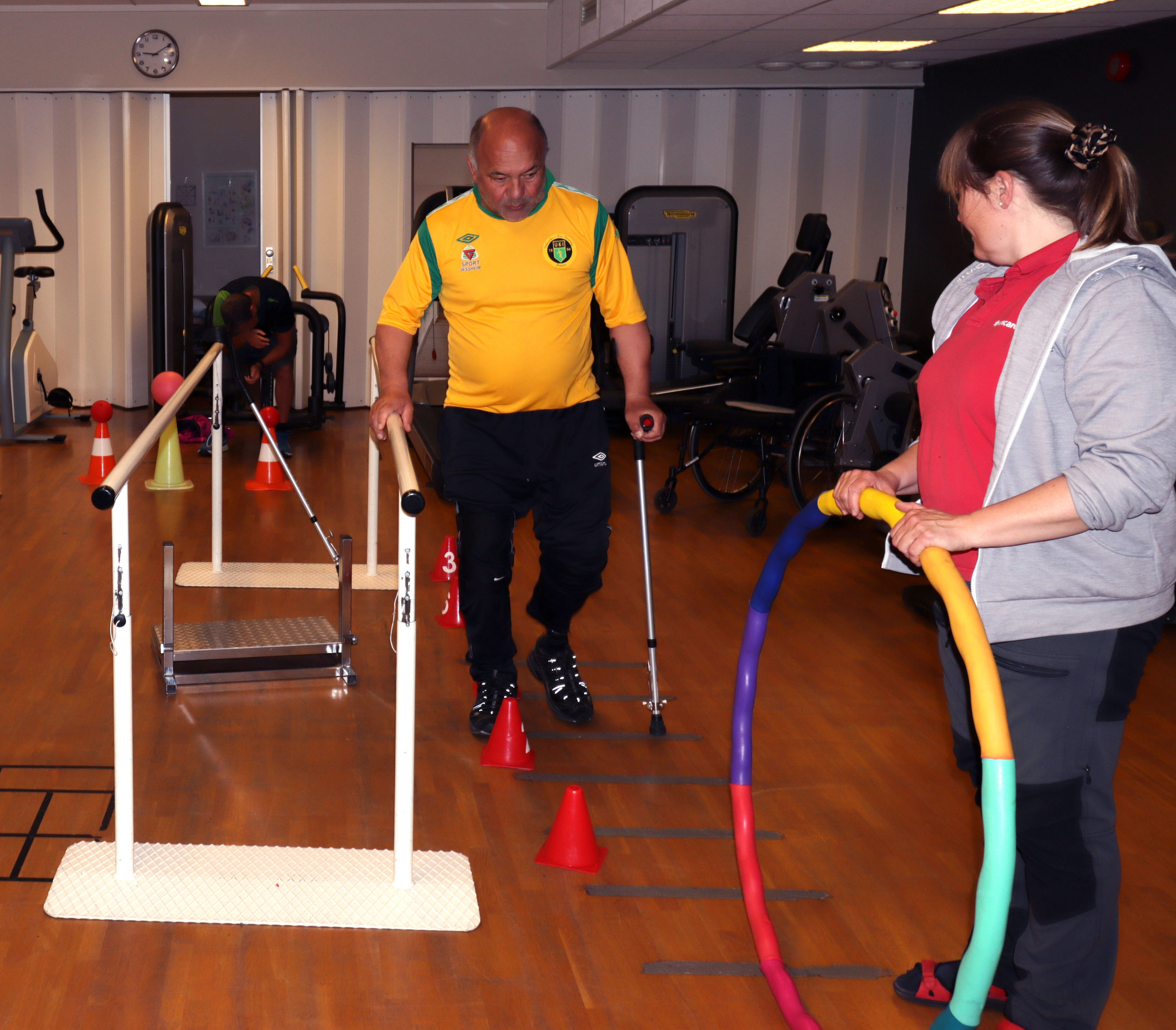 The walking training consists of balance exercises to secure the user as much as possible.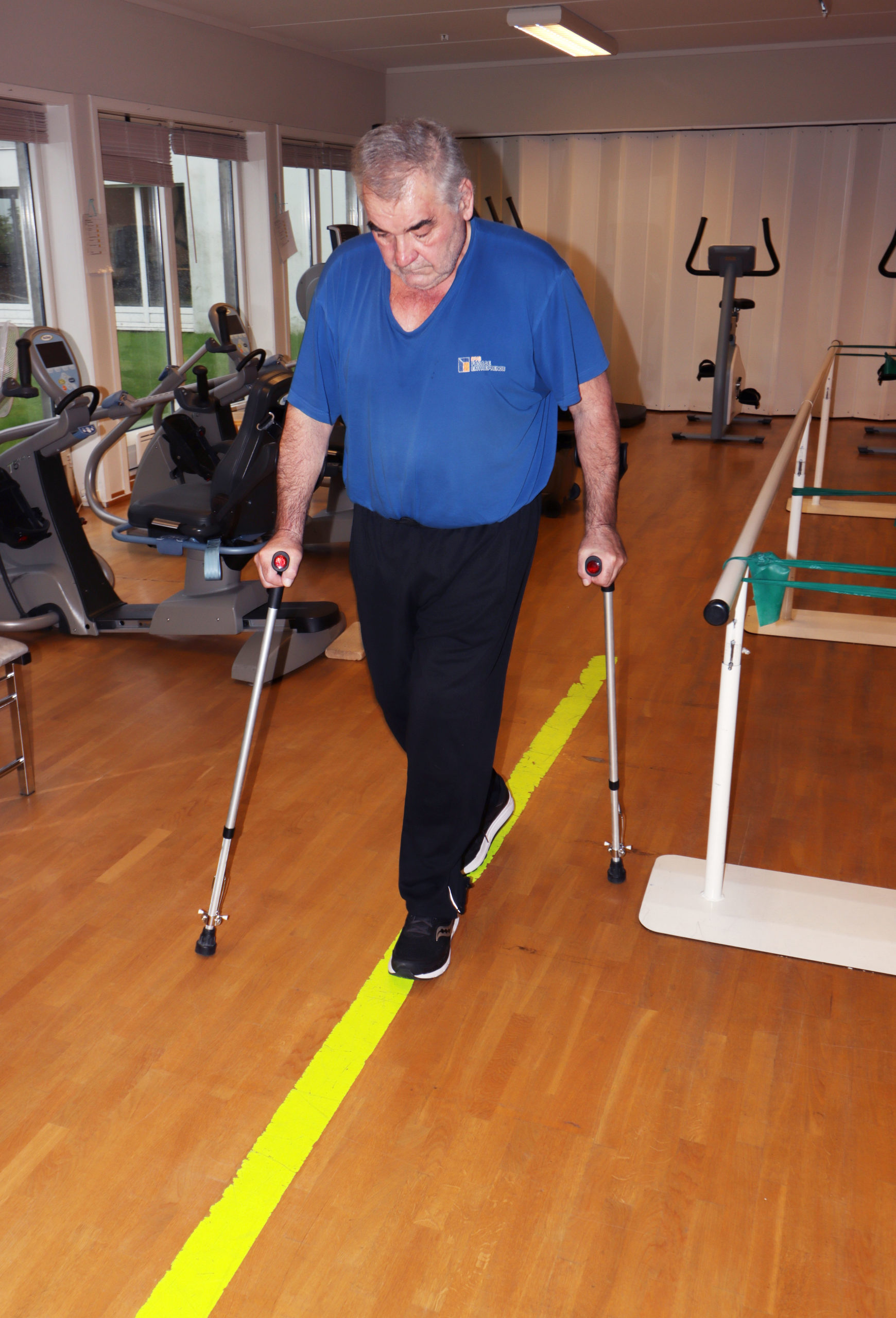 For new prosthesis users, it is important to start carefully with aids. Only when the gait and balance are in the head and body can they throw the crutches.
Lifelong training
– Being amputated also means that it is very important to maintain the level of activity for life. Since the body uses more energy when you walk and move, it is necessary to continue training when you return home from a rehabilitation stay.
– If the training stops, you will eventually not be able to walk with the prosthesis. Therefore, it is important that the training consists of continuous basic training filled with fitness, strength and balance. If you are too comfortable with sofa seating, it is easy to postpone the training.
Depressed and inactivity
– The second you become too satisfied with sitting too much, it is easy to get into a circle consisting of inactivity. The consequences can be that you get sad and depressed, she says.
– In the past, you may have walked 300 meters a day, which has now been reduced to 100 steps a day. The result can quickly be that you end up wandering around your home. The function level drops drastically. Life also does not get as much content as it could have with exercise.
Find the balance in everyday life
Gitte places great demands on her patients, and expects them to arrive on time and attend the training. Also that they eat the meals they are supposed to and that they get to sleep and rest. It is important that they find the balance in life, so that they have enough profit to spend on training.
– It is also important that the patient demands that I stay up to date on what is happening in rehabilitation, prostheses and amputation techniques, she says.
– I experience that patients with great courage tell me that training is their new job, and that they should learn to walk again. In order to succeed with the training, it is necessary to have your own driving force that comes from within, she emphasizes.
Inspired by a feeling of mastery
– At Unicare Bakke, we use a training kitchen where we cook food that we offer the rest of the group. The mastery experience the patients get inspires them to use the prosthesis. Prosthesis use allows them to do everything they liked to do before the amputation, she says.
– Most people in wheelchairs experience that they are treated in a different way when they are up and walking. Meeting people at eye level motivates people to go.
Group dynamics
At Unicare Bakke, they arrange group training for the good group dynamics to occur. The infectious zeal in the hall can confirm that this is completely true.
– When amputees see that others master the training and walking, it inspires more amputees to want to achieve the same progression. At the house, all kinds of age groups train together so that they can share experiences and inspire each other. Since I am not amputated myself and can not share my own experience with training, other amputees become important in this process, she emphasizes.
– With the use of prostheses, it also comes with a lot of individual walking training for the patients. I train them alone two to three times a week. The goal is that when they master walking with an aid, they are ready to participate in frequent group lessons, consisting of walking technique, balance, strength and cardio training. We also focus on relaxation, balance training, wheelchair driving and training in the outdoor environment. We spend a lot of time teaching stump care, gait techniques, grief and taboos, nutrition, sleep and rest.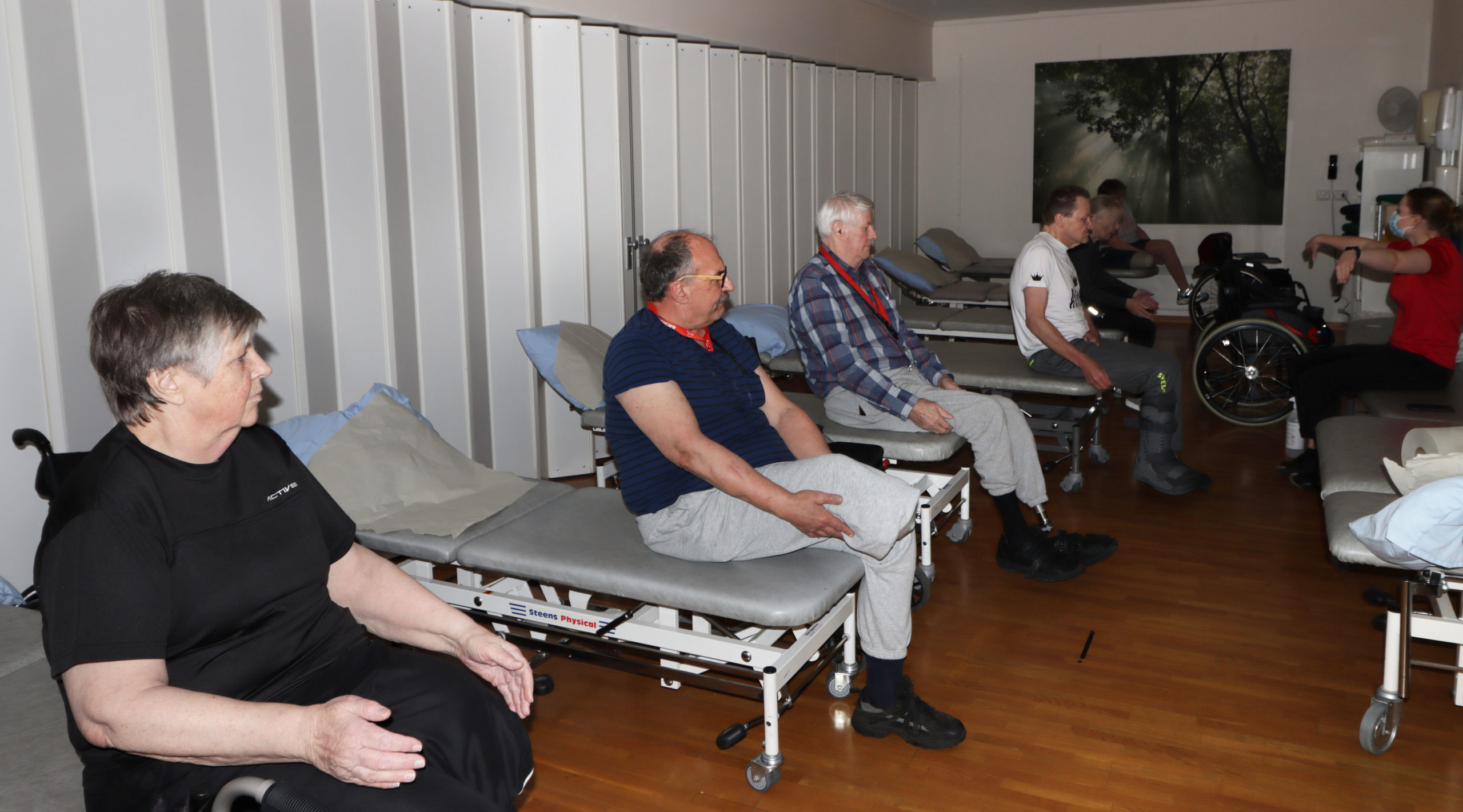 Group training with new amputees is underway with physiotherapist Rikke Gundersen. Her enthusiasm spreads to the users. Key words for the class are mobility and strength.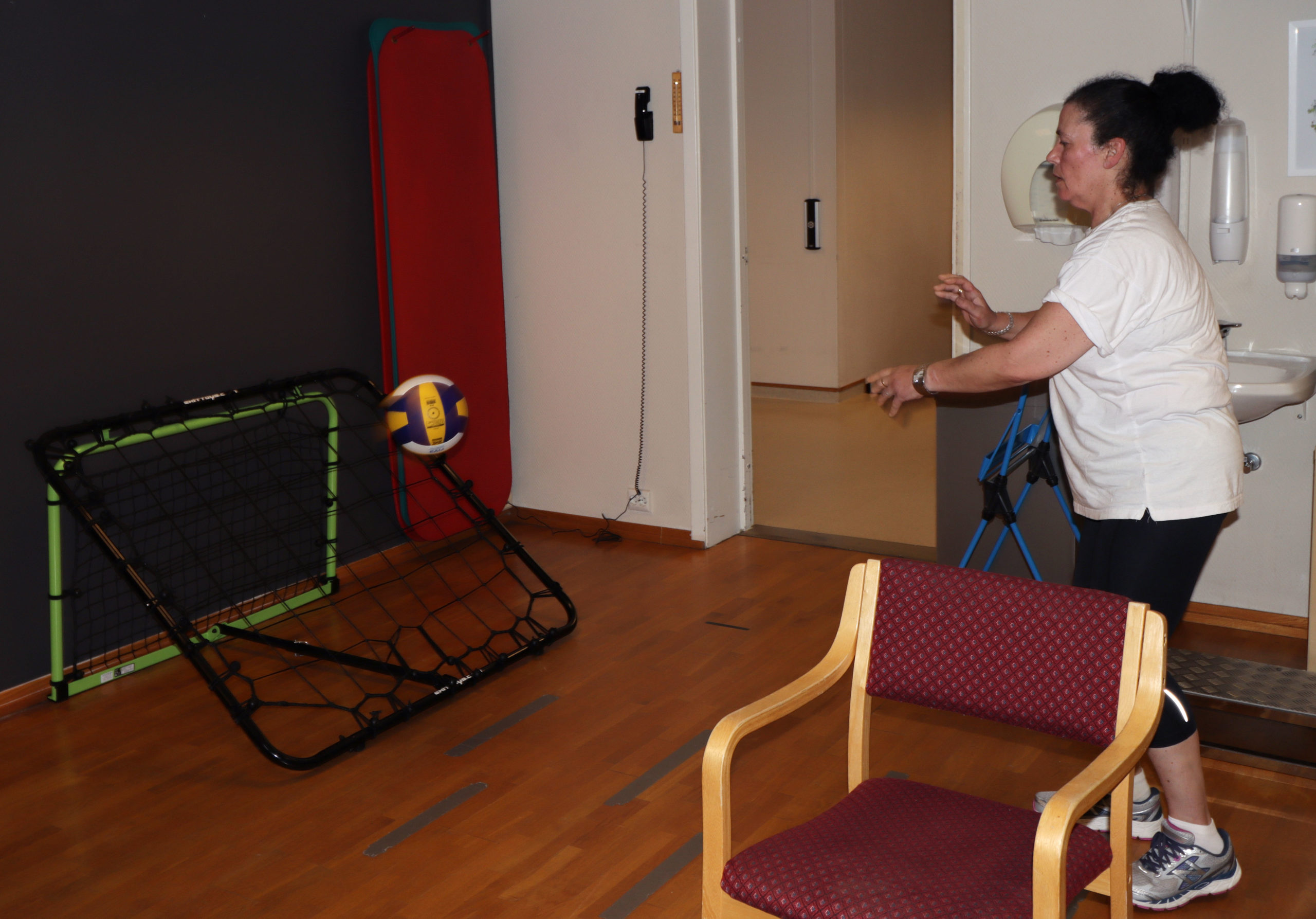 Uses the trainer to receive the ball that comes in all possible directions. This is how you get to train both balance and concentration.
A curing process
– For some patients, rehabilitation is too fast. Many people want to quit crutches as soon as possible. The stump needs to be hardened to withstand the strain of prosthesis use. Therefore, it is important to be restrictive in how much and for how long you have the prosthesis on in the beginning.
– If the stump becomes fiery red and irritated after a lot of prosthesis use, it is a receipt that you have trained too much. Then it is important to reduce the load. For example, running is extremely stressful for many. Cycling can be a good substitute, she says.
Use your eyes
– Many of our patients have diabetes and do not feel pain in the buttocks to the same degree when the exercise load becomes too great. To avoid much of the wound formation, we try to teach them to be observant and follow the stump at regular intervals, she says.
– If you see that the redness subsides after five minutes, you can continue with the activity. If you neglect and do not register the soreness, it often becomes difficult to know why the soreness occurs.
Important to rest
– For prosthesis users, it is important to note that even though activity is the root of all pain, resting is not the same as being inactive. Recovering is just as important as exercising. Likewise, it is an art to find out when enough is enough, she says.
– We sometimes experience that users forget themselves. The world places great demands on you to be able to do everything. If you do not have time to train or take care of yourself, it will be very difficult to have a prosthesis. If the load becomes too great, it is common to get pain in the healthy leg, which can lead to the development of osteoarthritis. As a thigh amputee, there is a 30- 50 percent greater chance of developing this, she informs.
Training that catches
Gitte smiles at eager users who have completed the training class with good courage.
In the treatment, Gitte and the user talk about what they want to achieve before the journey home.
– We work extra to find activities and a sport that they enjoy. It both increases the chance that they succeed with the training, at the same time as it helps to increase the chance that they get out and meet others.
Gitte and her colleagues try to inform about activities and associations where they can sign up for activities and walking schools in the local area.
– If you live too far away from such offers, it is advantageous to train with a physiotherapist when they come home. In the beginning, the training is often too demanding to do it alone.
Read more new reports
Need someone to talk to? – Momentum
– The joy of activity and the feeling of mastery lifts me – Momentum
– Good to exchange experiences and test new solutions – Momentum