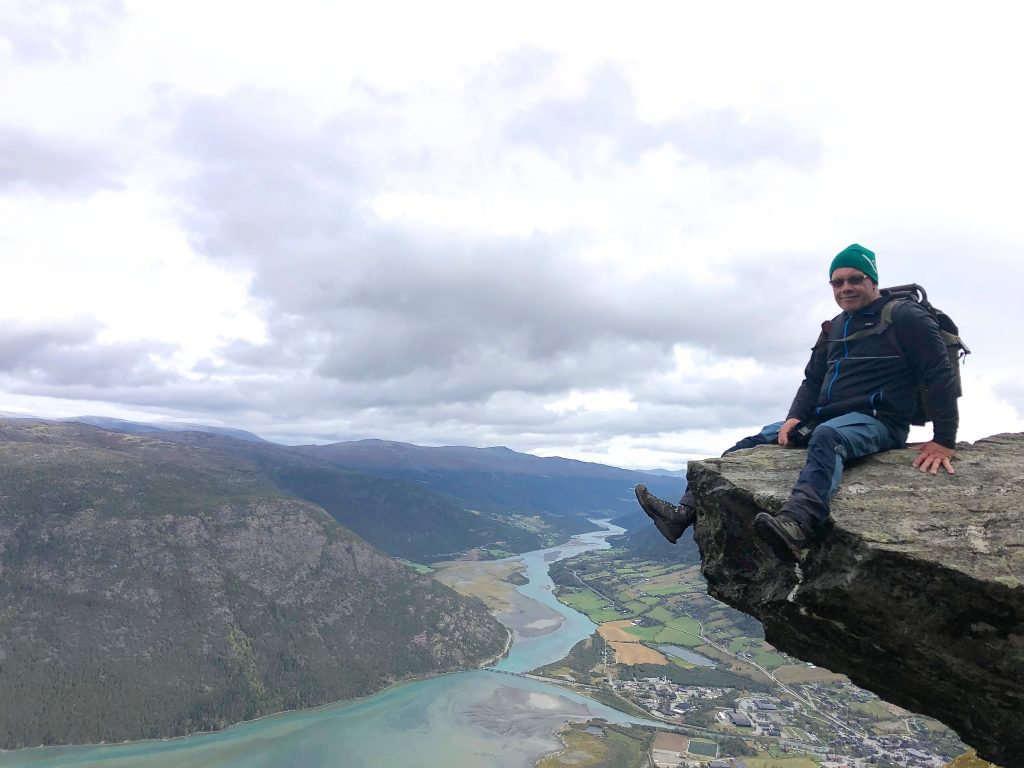 Av Marte Nordahl
–Thanks to a velectric-adapted prosthesis, I have had to frolic in sporting challenges. I feel a huge joy and feeling of mastery of all the activities I have had the opportunity to join, says Jan Ove.
As a ground worker, Jan Ove Sørheim from Ås had a completely ordinary working day in June 2004 in the construction company Mesta. On this hot June day, he laid a new water pipe up to Holmenkollen that had to be transported by a wheeled excavator.
– Suddenly my right foot came too close to the wheel of the excavator and grabbed my trouser leg. The next second I was thrown forward. The excavator operator paid full attention to the intersecting power lines to be passed. Thus, he was unable to stop in time, so he drove further up my leg. A colleague quickly arrived at the accident site and was called for an ambulance, Jan Ove recalls.
Was amputated shortly after the accident
A few hours later, Jan Ove woke up at Ullevål.
– A doctor in a white coat stood by my bed and told me that it was not appropriate to save on the foot. They therefore came to remove it within half an hour. I did not have much more to say. He assumed that I would be up and running within two to three weeks, he says.
Many complications and reamputations
Jan Ove was amputated on June 15, 2004. The time after the operation was challenging with a number of complications and inflammation, including yellow staphylococci. He had to be reamputated seven times before he got his leg stable.
– Since the doctor had tried to preserve my knee, I had a stump that was in the shortest layer compared to the optimal length. This led to me having to undergo several skin transplants, among other things, he says.
Little information about life as an amputee
At the hospital, Jan Ove missed more information related to his new life as a new amputee. He remembers the two summer months he was at Ullevål hospital, only 32 years old as very broken.
After the stay, Jan Ove was transported to the Catosenteret in Son for training. Here he walked for a month on crutches. The doctor believed that the use of prostheses was not compatible when the stump had a lot of wounds after the operation. Therefore, he received no prosthesis at that time.
New prosthesis
After a routine check-up performed at Aker Hospital, Jan Ove came in contact with amputation specialist Per Jørgen Lerud.
– He thought that the sooner I got a prosthesis, the faster the wounds would heal. My blood circulation would increase as soon as I moved more. Lerud got me in touch with Sophie's Minde Ortopedi who made a prosthesis for me. In September 2004, I got the new prosthesis in place.
In retrospect, Jan Ove is grateful to still have his own knee intact. It makes a big difference as a prosthesis user.
Participated in Ridderuka on Beitostølen
Shortly afterwards, Jan Ove attended a walking school run by Aker Hospital during the day for a few weeks. After several weeks of good progression, he managed completely on his own in everyday life.
– In April 2005, I received a phone call from an activity manager at the Catosenteret. They wondered if I would participate in an activity program for new injured at Ridderuka on Beitostølen. The participation made me get in touch with the Norwegian Ski Association, which guided me to start in a pair group in cross-country skiing. I got a lot of pleasure from the offer next year, he says.
Events via Momentum
Jan Ove was on sick leave for six months before he started work at the beginning of January in 2005 as a truck driver. The following year, Jan Ove came across information about Momentum online. He joined Momentum the same year.
– In all zeal, I participated in a ski collection at Beitostølen under the auspices of Momentum. Here I met a leg amputee who inspired me to try alpine skiing for the first time. The weekend also gave me many good tips and a lot of inspiration for what new activities I could try with the prosthesis.
Afterwards, Jan Ove has participated in several ski gatherings on both Venabufjellet and Ridderuka. Before the amputation he was not as athletically active.
– It is inspiring to meet other amputees, and be able to give each other tips and advice that contributes to increased quality of life. There are many amputees with different experiences out there, says Jan Ove.
Active on snowboarding
– During the Knights' Week at Beitostølen in 2016, they carried out demonstrations on snowboards. There I came in contact with Helge Viken in Momentum, who himself had started snowboarding when he was 57 years old. I borrowed a board and took a couple of walks at the bottom of Olaheisen on Beitostølen. There were a lot of ups and downs and good experiences, he recalls.
When Jan Ove left Beitostølen, he decided to set a new goal to reach for. He wanted to participate in the boardercross competition at Beitostølen during Ridderuka the following year in 2017. As a Christmas present the same year, he received a snowboard from his family. He then joined Funki's snowboard club with training at Tryvann twice a week. Jan Ove started training on the children's slope until he broke the code.
Performed at the NM-Norgescup in Kongsberg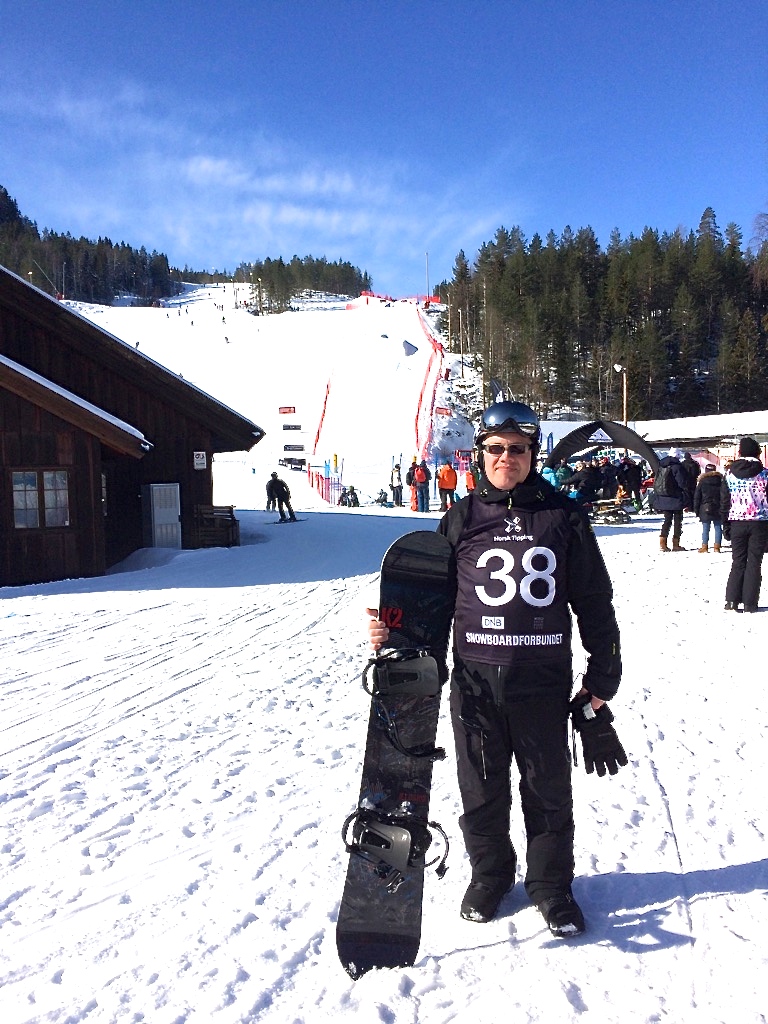 Jan Ove has been actively snowboarding for three winter seasons. In March this year, he competed at the NM-Norgescup in Kongsberg, where he completed the hefty boardercross course with a total of seven jumps. He ended up as number four on Saturday and Wednesday as number five.
– I remember well the guy who stood in the finish area and bragged about my driving. He gave me a tip to get rid of all fear before I set out for the challenging course. I thought I was a little too scared and old to dare to venture into the challenging course consisting of big jumps, he says.
– I have realized that if I am going to participate in the National Championships again next year, I have to practice jumping at high speed. Even though I'm an old "old man", it's cool that I'm instructed and taken care of in the sport by good instructors. I myself am young at heart which makes me forget my own age, he says with a smile.
Left to himself
– Before I got to know Momentum, I was completely left to myself. I felt a lot of insecurity after the amputation. I also had three children aged 4, 6 and 8, in addition to farming to take care of me.
The first thing Jan Ove thought when he was discharged from Ullevål was that he did not have time to lie there any longer. He had to return to all the work on the farm.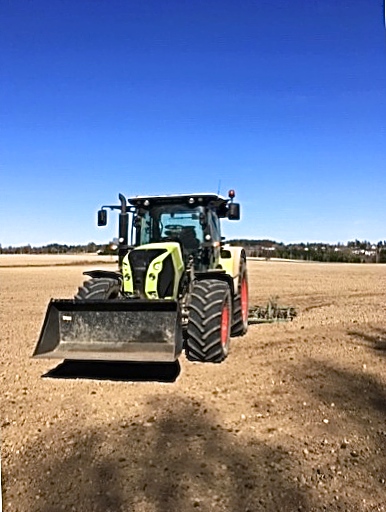 – As soon as I got home, I made myself a chair to be able to put my foot on the combine. Right after that, I drove off with it. When I went back for a check-up at Ullevål the next day, the doctor was terribly wondering what I had been doing since the bandage was so dusty and horrible. I concentrated most on getting a new bandage, so that I could get home as soon as possible. I mobilized a lot to be able to survive at that time, he recalls.
Crucial to getting back to work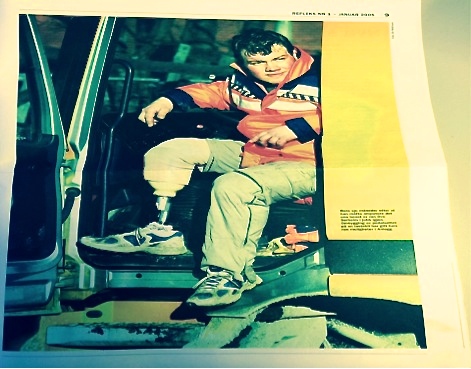 For Jan Ove, it was also crucial for his life situation to return to full-time work early. He is very pleased that he has been able to adapt most of the activities he performed before the amputation, even though it takes more energy.
– I've never looked back. That I have been good at challenging myself and trying new things has kept me on my feet, says Jan Ove, who today works in the Norwegian Public Roads Administration with follow-up of contracts and contractors for road and development projects. Although he may miss the practical work, he gets an outlet for it on the small farm he runs on the side.
Active in the summer
In addition to the activities in the winter, Jan Ove also loves cycling in the summer. Cycling is less stressful as amputated. Jan Ove has previously worked for four seasons as a pilot / support contact for a blind lady on a tandem bicycle. He cycled twice a week throughout the summer season. He has also been an active cyclist and participated in the Border Race seven times, the Birkebeiner Race once and the Vasaloppet four times.
– I enjoy stretching the boundaries. It is very satisfying in that you reach the finish line and have completed a ride. In the beginning, there was a lot of trial and error with different types of prosthetic feet, until I found the most optimal. In the beginning, I had to stop regularly to empty the prosthesis of sweat. Due to all the sweat, the vacuum sleeve often came loose, so that the prosthesis did not fit properly.
Exchange of experience with other amputees
Today, Jan Ove has worked as a peer at Fram Unicare for the past three years, which he enjoys. He happily tells his story that helps people see life a little brighter.
– I had no one to lean on when I was amputated. I also did not receive an offer to talk to anyone about the use of prostheses. Being able to call a peer in Momentum with whom you can exchange experiences is worth its weight in gold, he says.
– In retrospect, I have understood that targeted information is very important. Counseling can help people not look at life as darkly. That the user is also encouraged to train and try new things, seems inspiring to more than me, says Jan Ove satisfied.