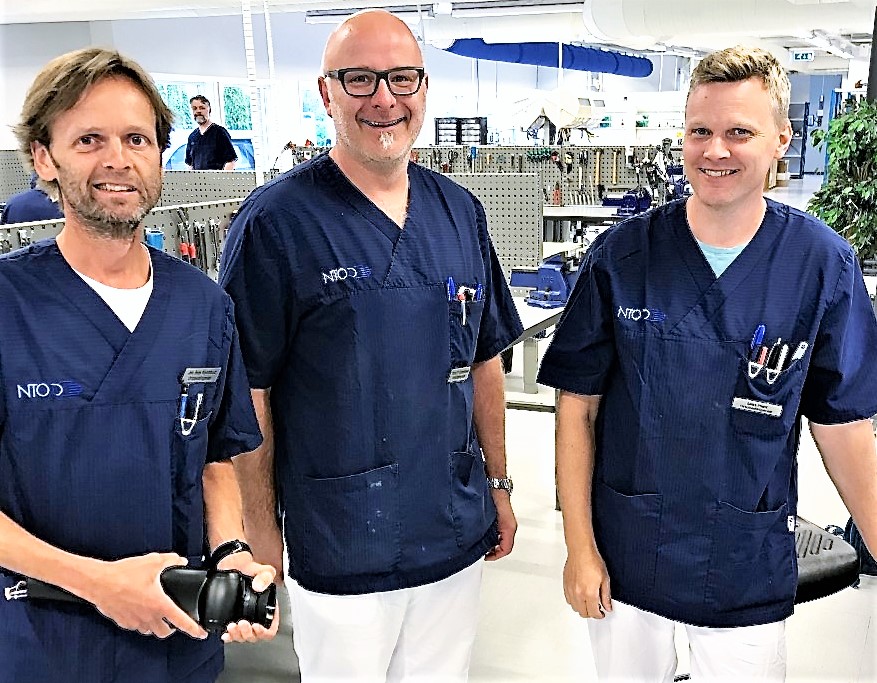 – A well-functioning teamwork and a good relationship with the user optimizes the solutions
The ingenuity and production at the Norwegian Technical Orthopedic NTO in Hamar is high. With the workshop starting up in Hamar in 1989, they have grown big with clinics that cover most areas in the country.
Trond P. Schonhowd from Moelv, has worked as an orthopedic engineer at NTO since 1996. He started working straight away after graduating as an orthopedic engineer in Glasgow.
– The main part of the work we perform is arm prostheses. We also make many different types of grip improvements for hands, for those who have a reduced grip or hand, he says.
Skilled employees
Trond highlights the superb working environment at NTO, with a total of 27 skilled employees spread over three orthopedic engineers. Of these, a total of 21 technicians / auxiliary workers work who produce prostheses and solutions. They have also hired a general manager as well as two who work in the administration. Together with two orthopedic engineers, Trond travels around the clinics throughout the country.
– The good and dynamic collaboration between all employees, results in good solutions within grip improvements, hand and arm prostheses, says Trond.
– We also work closely with the rehabilitation center Innlandet in Ottestad, where we get a number of users with follow-up from an occupational therapist and physiotherapist and doctor. We work with training of the user, in addition to more complicated measurements and preparation of prostheses. It is very important to have everything tested before use.
Prostheses according to different needs
– We get users with many different types of amputation levels. This presents a number of challenges. While some have a partial amputation, others have a forearm or shoulder amputation.
At NTO, they make all kinds of possible prostheses, even the most advanced and electric. Here, they most often construct grip improvement solutions, in addition to a myoelectric prosthesis – a general prosthesis, which can be used for many different tasks. The prosthesis has different opening possibilities and with a force that allows you to hold gently in a cardboard mug or wheelbarrow.
– Even if you have many options with the prosthesis, it is still not good enough to work for some specific tasks. An arm amputee often needs many different types of prostheses depending on the activity level. The assessment is taken together with the user for optimal prosthesis solutions, he informs.
Good follow-up
– Before the user uses the prosthesis for the first time, we give them basic training and instruction in how to use a prosthesis in the best possible way. They also receive training from a physiotherapist and occupational therapist, he says.
– All orthopedic engineers at NTO are careful to follow up the patients on a regular basis. Some people come by to adjust dentures. We get a steady influx of new users. We notice that the production volume increases more or less every year. We evenly create several solutions for each individual user, says Trond.
Facilitates and activates everyday life
– A well-functioning prosthesis will help to activate and facilitate everyday life and make things a little less complicated. Likewise, the use of prostheses will help to reduce the additional load on the healthy side.
– Nevertheless, those who believe that a prosthesis will be able to replace a newly amputated arm, will experience a certain disappointment. In the long run, when the user receives enough information about alternative prostheses and grip improvements, the situation will usually be a little simpler, he adds.
It is important to bring out the needs
– Together with the new user, we try to find out what wishes and needs the person has for their prosthesis. The survey simplifies the work of finding good solutions. It is advantageous to have a well-functioning and close relationship with the user, says Trond.
– We also consult the patient early in the phase. As the patient becomes more aware of their own wants and needs, it becomes easier to create optimal products and prostheses. A good collaboration between user and orthopedic engineer is a prerequisite for the prostheses we make to work as well as possible, and not just as a consolation, he emphasizes.
– It is also important to be aware of the opportunities that can be offered, while you are open to the fact that there are several solutions to the need. This is how we contribute to developing an optimized product that is adapted to the user, he says.
It is crucial to get the prosthesis optimized
Trond highlights the daily challenges they face with hand prostheses. To replace the functions of a hand is currently impossible with only one prosthesis. Likewise, the challenge is also to get good solutions that work well in the user's everyday life.
– Our most prominent task is to get the result as optimized and individually adapted as possible. Since there is no prosthesis that can be used for all kinds of activities, we make many different prostheses with specific functions. Prostheses with several functions are often a bit weak in both construction and strength to be able to function optimally, he says.
Continues ideas
– I myself am very lucky to have two hands. Therefore, I try to be aware of the way I use them. I advantageously transfer the knowledge to the creation of new prostheses. The goal is to recreate the same type of usage pattern by hand. We also take with us the experiences from the various solutions, which are made to the patient's individual needs. That way, we do not have to invent gunpowder every time.
– We are also lucky to have skilled technicians in the team who carry on the engineers' smart ideas. The patient comes with the challenge of what is needed and done. If we meet users with a need for something that does not exist, we are able to find a good solution to it, says Trond.