– Feeling the feeling of mastery increases the quality of life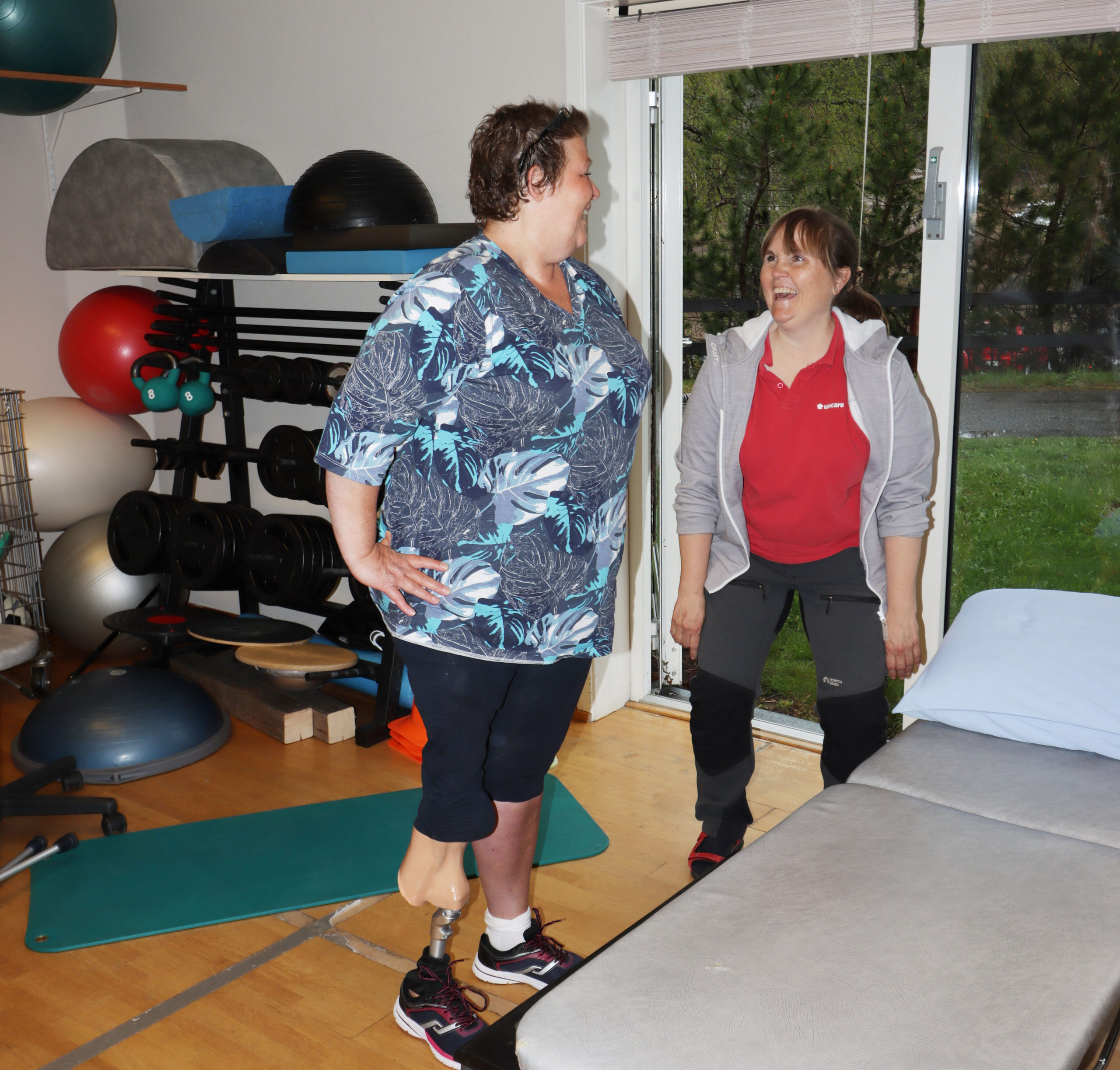 Kristin Hem Olafsen is well underway with the rehabilitation at Unicare Bakke. Gitte Flindt Hilding is responsible for the training. Kristin 's motivation from the training helps to increase the progression for each week.
– The rehabilitation stay has inspired me to continue with all the valuable training when I get home. Exercise in water, aerobics and bocce are suitable activities for me.
Text and photo Marte Nordahl
Kristin Hem Olafsen (58) is well underway with the group training on an early May day at Unicare Bakke. The enthusiasm of the physiotherapists spreads well to the bone prosthesis users, who work intensely with varied strength exercises at the various intervals.
– I have doubled the number of strength repetitions since I came here. The feeling of mastery means a lot to me. Doing things yourself and not being dependent on others also strengthens the mood, she says.
Goal to go
Kristin is treated regularly by physiotherapist Gitte Flindt Hilding, with whom she has had a good relationship. Gitte is satisfied with the good unity among the users, which makes the training far more fun.
– The training stay here at Bakke is absolutely fantastic. The people are very good. They see all of you outside of your illness. To achieve the goal of walking without crutches, only hard training applies. The training is tougher than I had imagined. My goal is to get up every day and join in on all of the activities. I can sit in the chair at home, says Kristin.
She takes a breath on the ground and scouts at Gitte who comes walking towards her.
– Gitte is soft when you need it. She can be both a kitten and a tiger. The employees are very skilled and committed, she emphasizes.
Goal to go. Kristin knows that it is only hard training that applies for her to be able to reach the goal of walking stably on a prosthesis.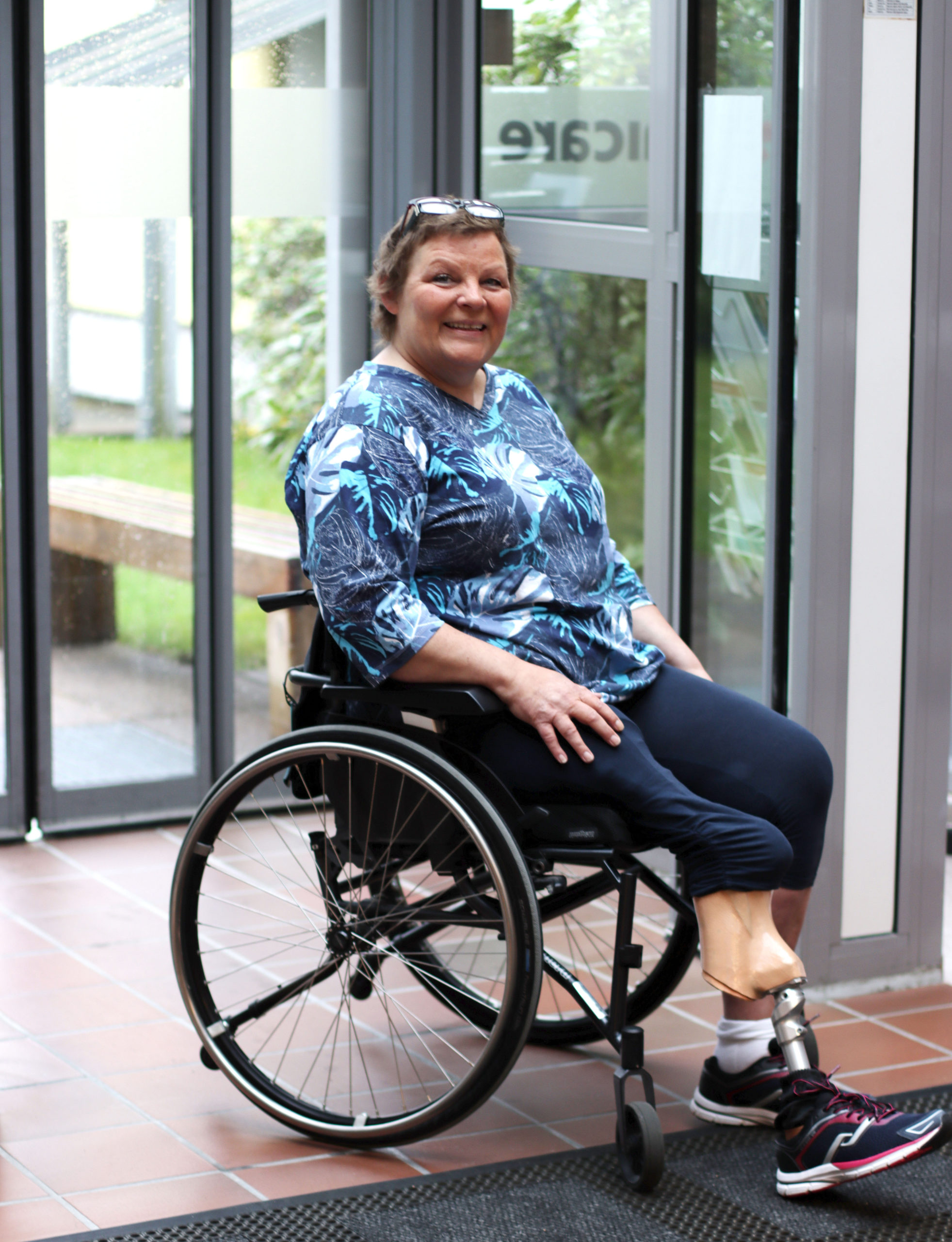 Toughest in the pool
Kristin thrives best with the tough training in the hot water pool.
– It is also fun with interval training with different stations, with exercises that have their special function and usefulness. The activities mean that you have to stretch, receive and grasp, as well as balance.
The workouts last between one to three hours each day, depending on how tough they are. Users take care to take good breaks along the way.
– It happens that I fall asleep in the easy chair an hour after the training session, she says with satisfaction.
Tough interval training. Training consists of a lot of balance training. Kristin stands on and performs to the maximum in each training hour that lasts between one to three hours each day.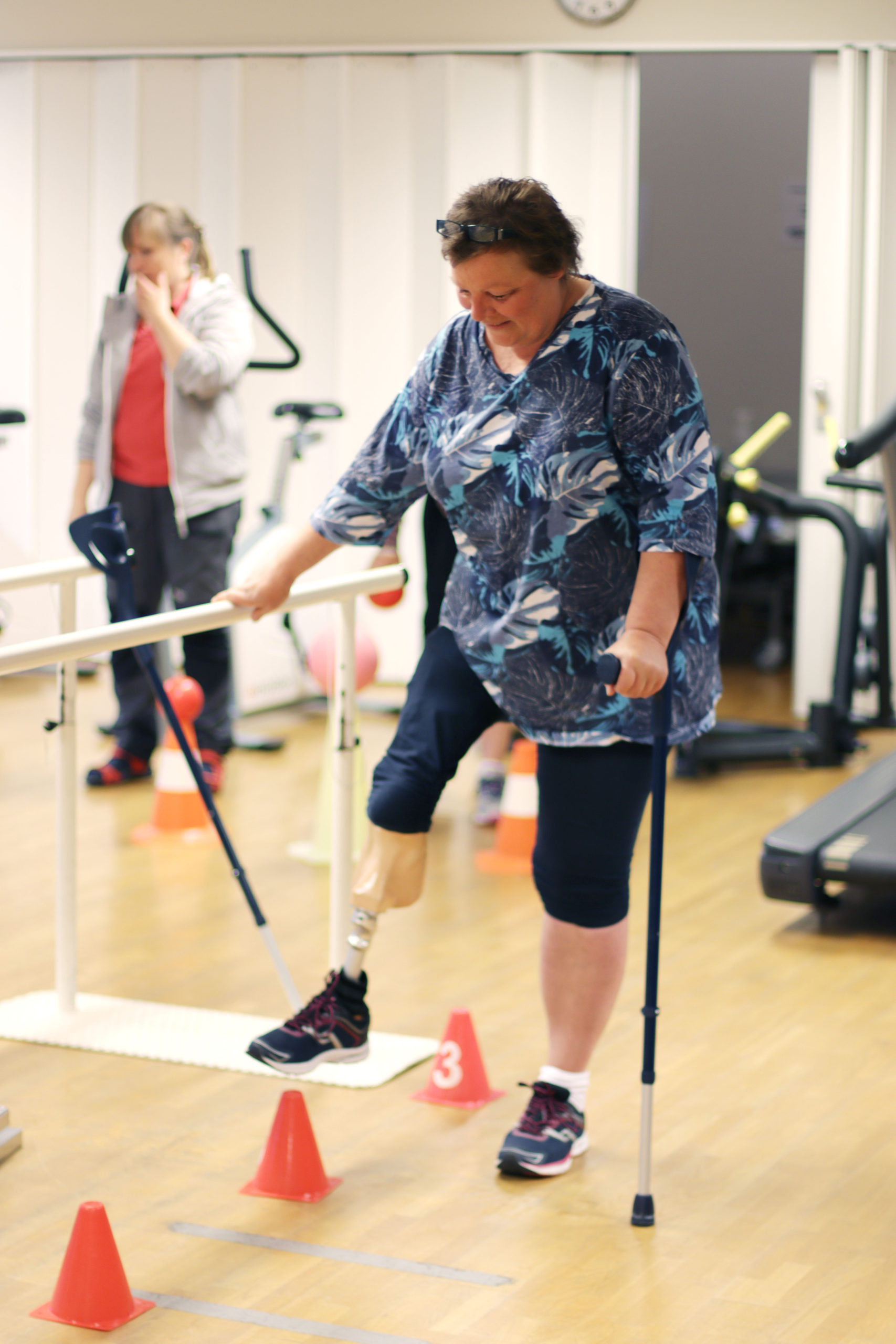 Discovered coal in the thigh
Autumn 2019 discovered Kristin had a lump in her thigh that turned out to be soft tissue sarcoma, a rare type of cancer. She received the message about cancer on Christmas Eve in 2019.
– In January 2020, I started with effective radiation treatment which unfortunately did not bite me. The soft tissue sarcoma had managed to spread to all of the muscles, bones and tissues throughout the thigh. The doctor and the surgeon therefore decided to amputate the thigh, she says.
Rotational amputation
Kristin performed the amputation a year ago at Radiumhospitalet. The surgeon decided to use an old amputation technique, called rotational plastic surgery. They amputated just below the groin and knee. The calf was taken care of and rotated 180 degrees, and was finally sewn on again.
– My thigh is now the rest of my leg, while the heel has become my new knee joint. I have all my toes intact. No nerves have been cut either, which means that I live without phantom pain, she informs.
– I am very satisfied with the conversations with oncologists and surgeons before the operation at Radiumhospitalet. I received clear and direct feedback and information about surgery and treatment.
Prosthesis in February
Kristin received a prosthesis in February this year. Tough chemotherapy regimens throughout last year meant that she did not receive a prosthesis earlier.
Similarly, covid-19 has made hospital stays and rehabilitation time consisting of recreation, training and all chemotherapy treatments lonely and challenging, without a single visit from relatives and friends. It was very strange to wake up after the operation, she says.
Satisfied with the result
Kristin concentrates her gaze on her new prosthesis and smiles gently.
– I am very happy with the amputation, which makes it easier to use the prosthesis with a longer stump and not least a separate knee joint. There are very few adults who have performed a similar rotational plastic surgery.
She emphasizes that an alternative operation would have been a high thigh amputation of six centimeters below the thigh, which had made it very challenging to use a prosthesis.
Continue training at home
Kristin experiences a good effect from the intense strength training she performs weekly.
– To achieve good progression in the training, I have realized that I will need a physiotherapist to train with when I get home.
– I also hope to be able to continue training in water. In addition, there are opportunities to join a bocce club. I will also hear if the municipality has an activity offer during the day, in parallel with active walking training with the prosthesis.
Interested in Momentum
Kristin was awarded the Momentum envelope when she came to Unicare Bakke , which she has greatly enjoyed.
– During the stay, I learned the usefulness of sharing good tips and ideas with other users. It is also good that Momentum offers events and meetings for relatives, who also benefit greatly from talking to others. I really want to join Momentum. Maybe I will meet celebrities again, she says.
– The future only goes up. My first goal is to be able to walk diagonally with crutches. I have many who cheer for me, both friends and large family with a cohabitant, five children and with several grandchildren, she says.