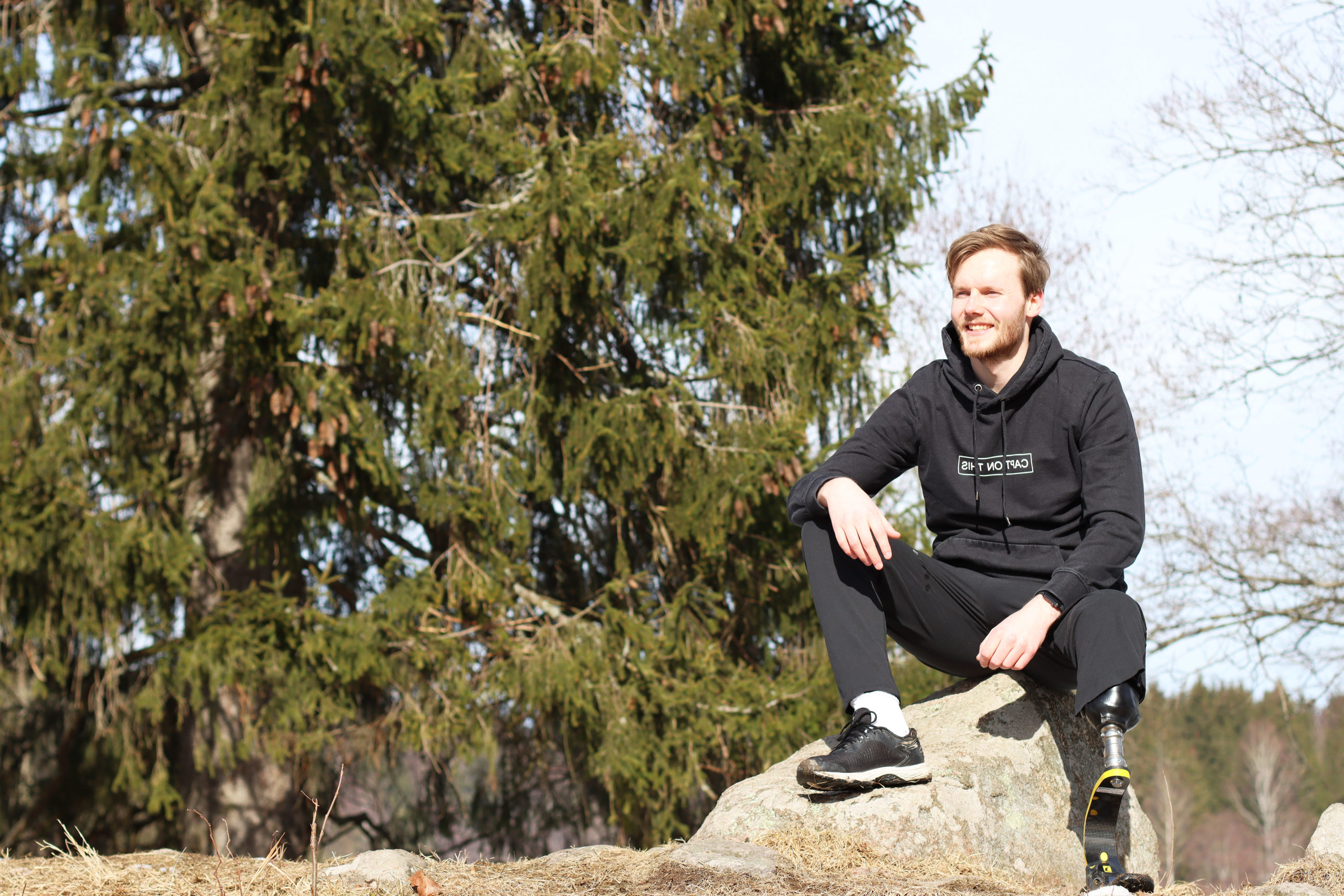 Sander Punishment (23) is in good shape after the amputation. He runs an active sprint and studies the first year of teacher training. He dreams of a teaching career and to compete in sprints. Foto Marte Nordahl
For leg-amputated Sander, it is running and teacher training that goes on during the day. Exercising and staying active gives him increased energy and joy everyday life.
Av Marte Nordahl
Sander Hegni from Stabekk amputated his leg just below the knee 8. February
2019, after a serious fall accident in Bergen.
– After lying in an artificial coma for six days at Haukeland hospital in Bergen, I woke up without the right foot at Ullevål, 13 kilos lighter. My doctor told me that in order to avoid having pain for the rest of my life, an amputation was the best solution, says Sander.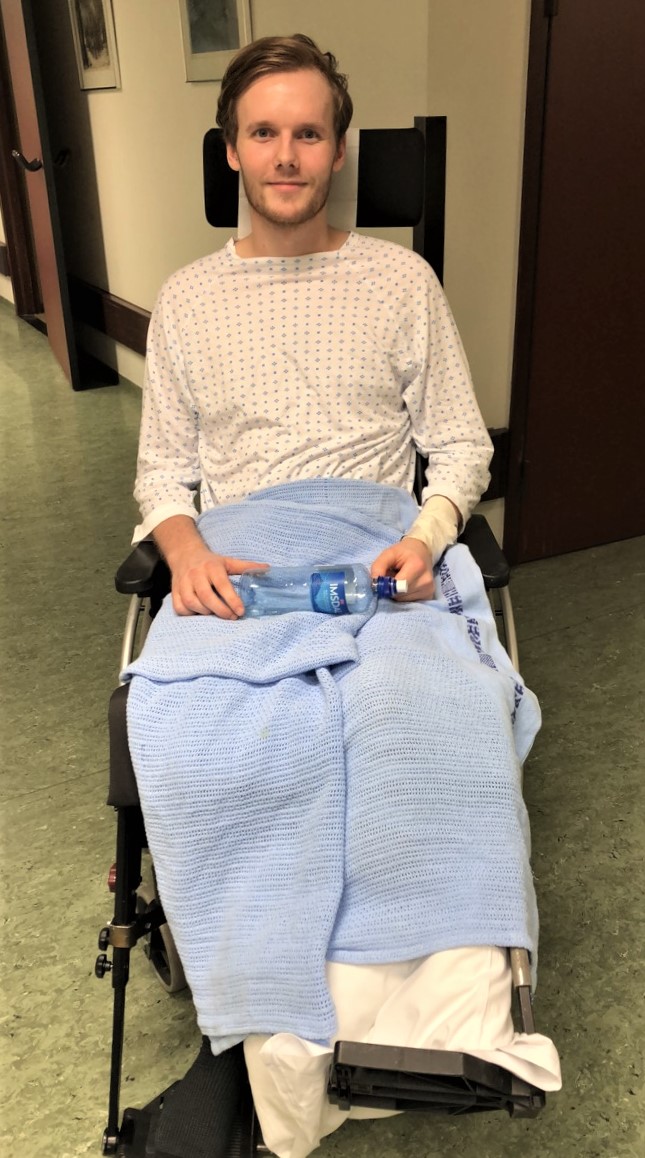 Lots of support
Sander is happy that family, friends and girlfriend supported him after he woke up from an artificial coma at Ullevål hospital.
– That I was visited by friends and family almost every day was more important than talking to a psychologist, he says.
Strong pain
In the fall, Sander broke his pelvis and left thigh. He also broke his left arm, and suffered nerve damage in his right arm.
– I first discovered the amputation three days after the operation. Due to the great pain, I used strong painkillers that drowned out the actual experience of the amputation. I therefore do not remember what I felt and thought the first time. As I gradually regained consciousness, I also became more familiar with the amputation, he says
Many good conversations
Sander is happy for all the pleasant and rewarding conversations he had with the nurses during his hospital stay.
– I remember it was extra nice to talk to one of those who told a little about an injury she had before. I also talked to a peer who informed him about all the practicalities of amputation. The peer may have arrived a little too soon after the amputation. I had forgotten everything when I needed the advice. Fortunately, I got an answer to everything I needed at Sunnaas.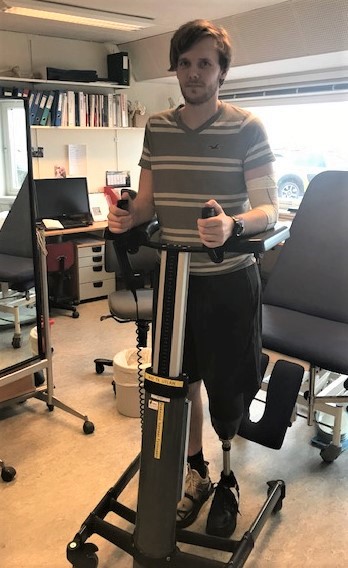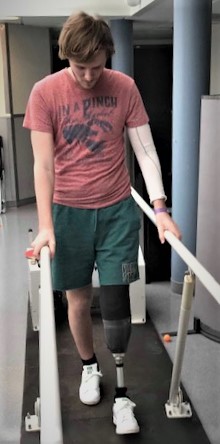 During the rehabilitation period at Sunnaas, Sander trained as much as possible to be able to get back on your feet. Everyday life consisted of daily strength and swimming sessions.
Due to broken and broken bones in the body that had to heal, Sander received his first prosthesis only two months after the amputation.
Rehabilitation stay at Sunnaas
After a hospital stay at Ullevål followed by Bærum hospital, he received a longer rehabilitation stay at Sunnaas. Here he had a whole interdisciplinary team around him consisting of psychologist, physiotherapist, occupational therapist and sociologist. He received guidance and help in dealing with all needs. Sander went on to a year of study in sports in Bergen before the accident. The most important thing was that he could continue to be active after the accident.
– I was very impatient to get up on my feet. Due to the broken pelvis, I was not allowed to sit upright or be active for over a month, says Sander.
Trained fine motor skills
In the fall, Sander suffered nerve damage in his arms that caused him to lose parts of his motor skills.
– My occupational therapist gave me a ball I squeezed to train the strength in my arms, which I also threw to practice fine motor skills.
Varied training
The rehabilitation time at Sunnaas consisted of daily strength sessions and swimming every morning. The training started calmly, but gradually increased in scope by two to three sessions each day.
Only after two months did he get his first prosthesis. In the beginning, he stood on the prosthesis with a weight of 30 kilos, which they increased by ten kilos the next day.
– The walking training consisted of obstacle courses where I went up on boxes and trained the balance. In the beginning, I walked a lot on a walkway while relying on two railings. It was both reassuring and fun to have a coach around me at all times. The doctors were also concerned that I should take it easy so that the fracture would not loosen. The training was very painful. Towards the end of my stay in April, I limped for a hundred meters. It was very fun to start walking again, he says.
Feeling of mastery
– My most important motivation for the frequent training was mastery. I felt that I was learning something new every day and that I was getting better at it.
– The most challenging thing was to make time to go and be active. Therefore, I trained around three times a day and watched a lot of football on TV, so the hours went faster. I avoided all the dead time that led to worries, he says.
Read how to find the motivation for the training with physiotherapist Gitte Flindt Hilding.
https://www.momentum.nu/indre-motivasjon-gjor-at-du-lykkes-med-treningen/
Inspirational sports days
Sander thinks the sports day that was arranged at Sunnaas with many different sports was great. He tested paragolf, wheelchair rugby and wheelchair tennis.
– I concentrated most on being able to get up on my feet. Therefore, I thought that sprinting could be a challenging sport to try. On the sports day, I got the number of many different parainstants in Oslo, Runar Steinstad in Norwegian Paralympics was one of them, he says.
More rehabilitation
After he was discharged from Sunnaas in June 2019, he spent his time training strength with a physiotherapist two to three times a week. In addition, he trained extra strength training at home twice a week.
About four weeks after he returned home from Sunnaas, he also had a rehabilitation stay at the Cato Center as a multi-trauma patient.
– The stay consisted of intensive training. We also played ball games and went for walks in nature. I really enjoyed such training places, he says.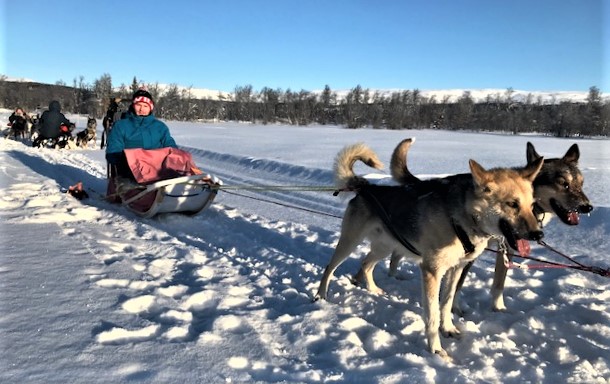 Dog sledding on Beitostølen was also popular.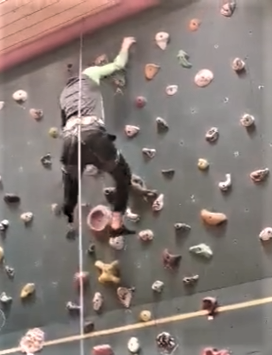 Sander also tried climbing, running and cycling during a three-week training stay at Beitostølen in summer and winter in 2020.
Continue the training
Sander was also on a training stay at Beitostølen for three weeks in both summer and winter in 2020. The training consisted of, among other things, climbing, running and cycling. In the winter he went downhill skiing and cross-country skiing.
– We learned a lot about motivation and how I should be able to continue the training when I got home. The stays were great and I experienced great progress in the progression, he says.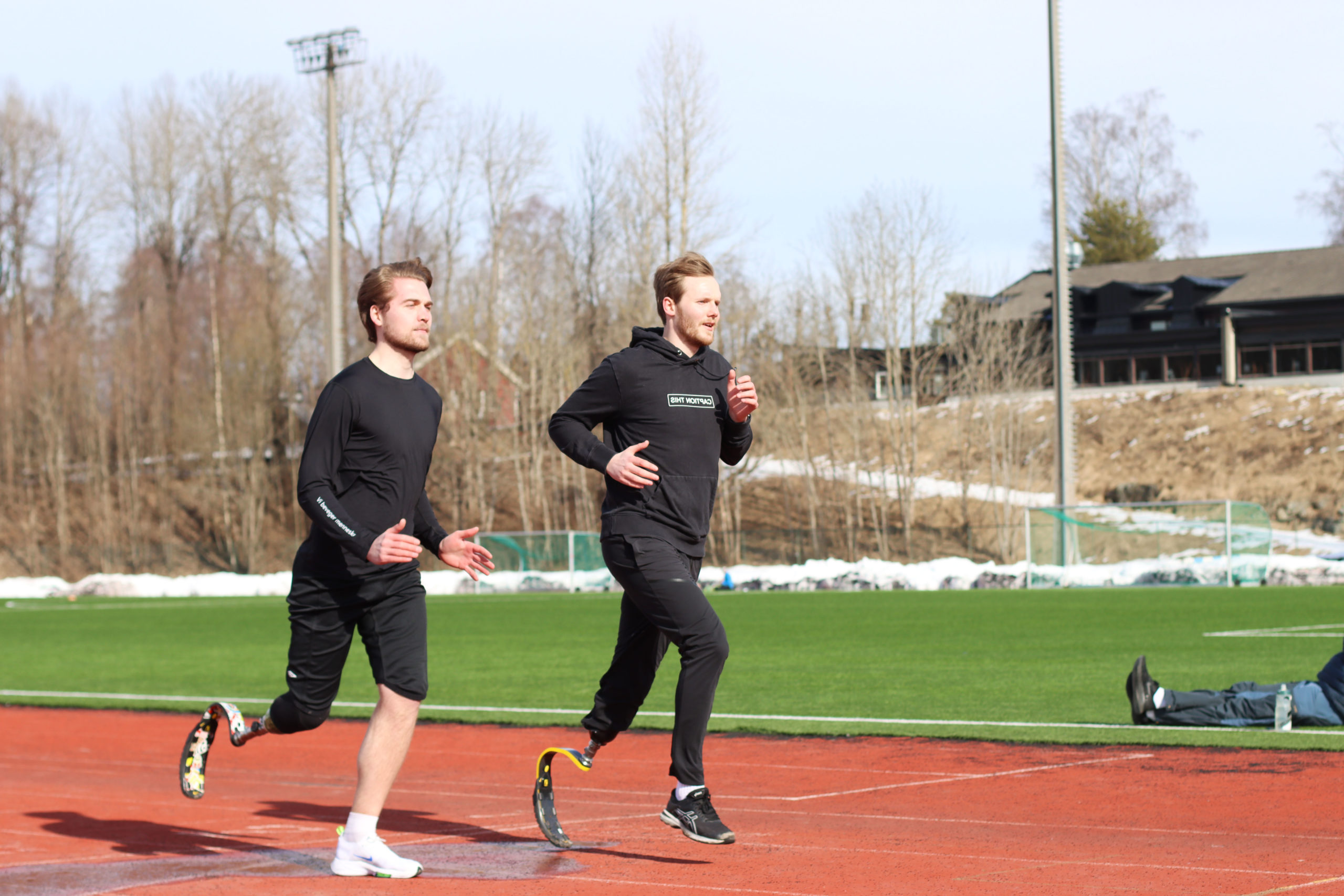 Covid-19 has made that Sander and Kenneth have been mostly with each other in training over the past year. Foto Marte Nordahl
Contact with the parade court
– When I came home from the training stay, I really wanted to start with a sport. I contacted Steinstad in Norwegian ParaFriidrett, who wanted to gather more amputees who could run together. When I learned that leg amputee Kenneth Heggdal had signed up, it strengthened my motivation to start running.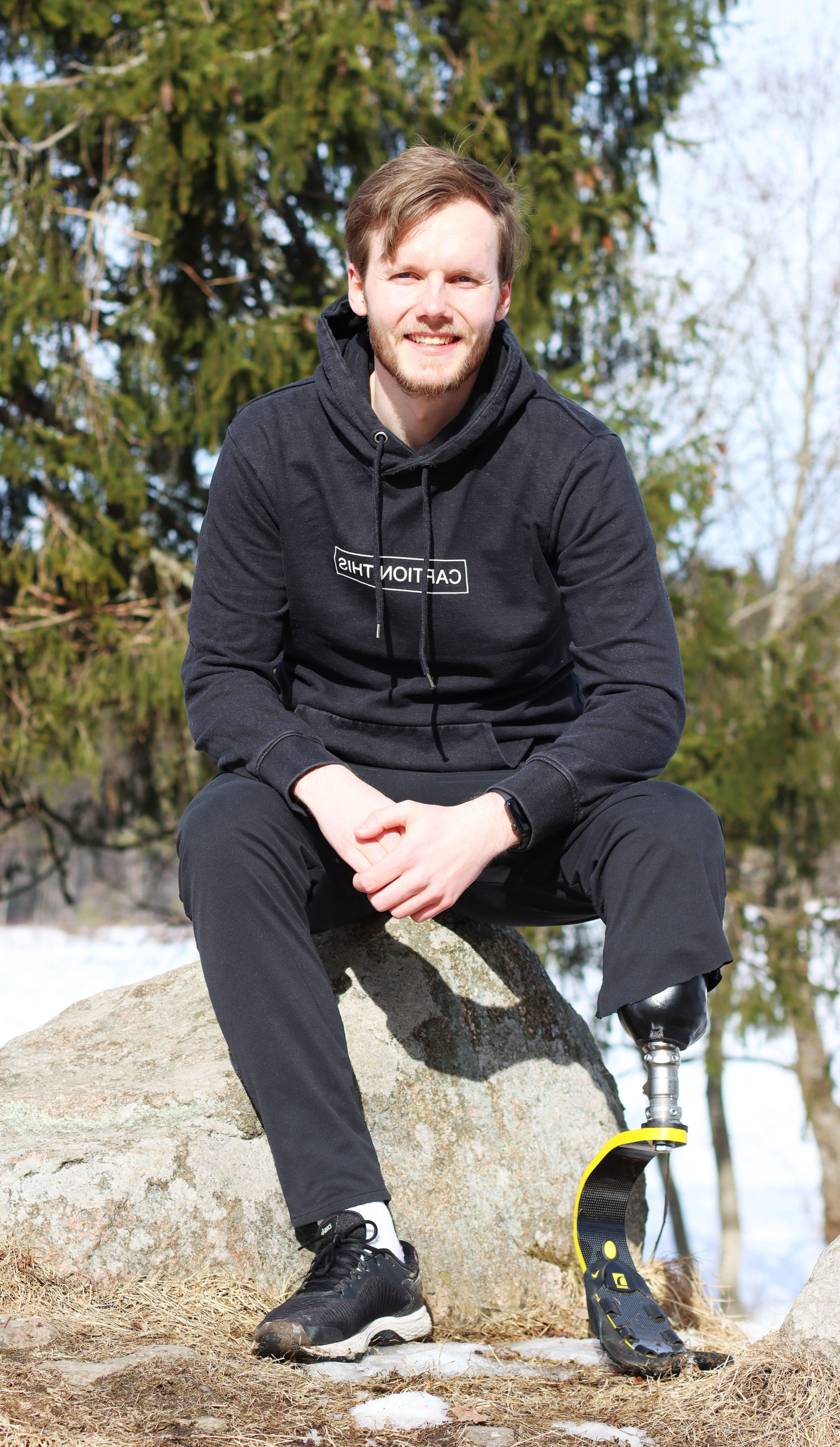 Sander trains sprint several times a week together with running partner Kenneth Heggdal and Norsk Paraidrett. Foto Marte Nordahl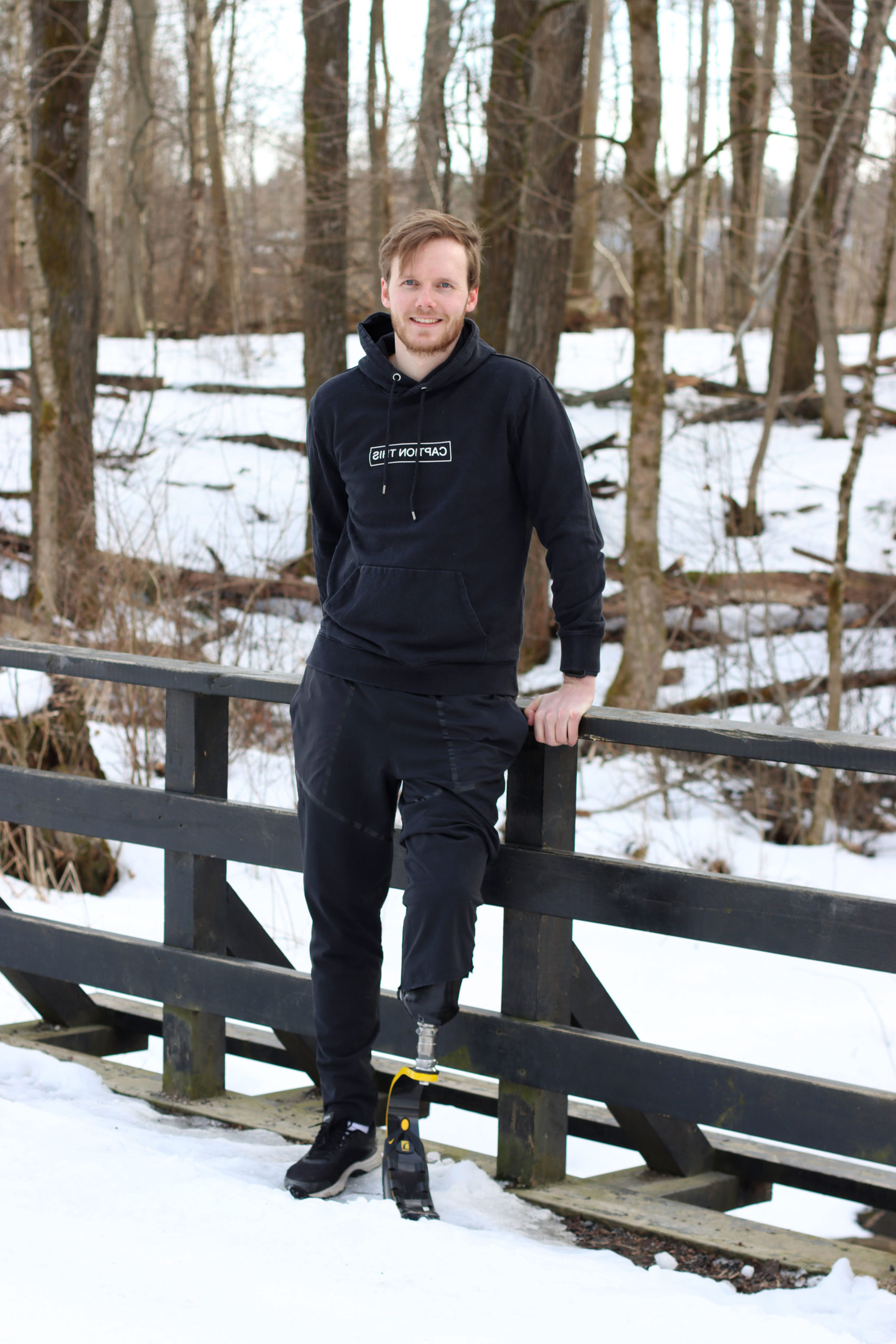 Sander
hope to compete in the sprint when the opportunities open up for it. Photo by Marte Nordahl
Started running together
Sander started sprinting when he received his running prosthesis in June 2020. Due to the corona, it took a little longer before he got the prosthesis and started training.
– Already in November last year, we started running with coach Line Kloster. We now train together four times a week at Bislett with running in addition to some home training. I think it's great to be able to train with others.
Aim to compete
– The motivation with sprint is first and foremost to have fun competing and be as good as possible. That I also run faster and faster from month to month, makes training fun. It is also nice to train with peers, he says.
– The training also gives me much more energy in everyday life, in addition to the fact that I am happier to be able to perform activities.
No restrictions
For Sander, it has been important to stay active and not see restrictions on new activities.
– Today there is very little I can not do with a prosthesis that I could before. If you want to achieve something new, you can achieve most things. The most important thing for me now is to participate in trips, try something new and be active. It would have been fun with a weekend trip on alpine. It's nice to get new tips from other young prosthesis users, he points out.
Little pain
Sander currently uses several different prostheses. He has a regular prosthesis, running prosthesis and slalom prosthesis, in addition to a bathing prosthesis that must be replaced by the summer.
– Since the stump shrinks a lot, I often have to change the prosthesis. I hope this will happen eventually. Today I have no injuries other than the amputation. If I sit in the car or at school for a long time, I need breaks along the way. My back is also getting better and better as I train and stay active, Sander informs.
Teacher studies
Sander is currently a student and is in his first year of teacher training. He dreams of a teaching career.
– It is running and the teacher training that goes on during the day. It's extra nice to be able to practice sprint next to the digital teaching. The only people I meet in everyday life are Kenneth and my roommate. It would have been a lot of fun to compete in the sprint as it opens up, he says.