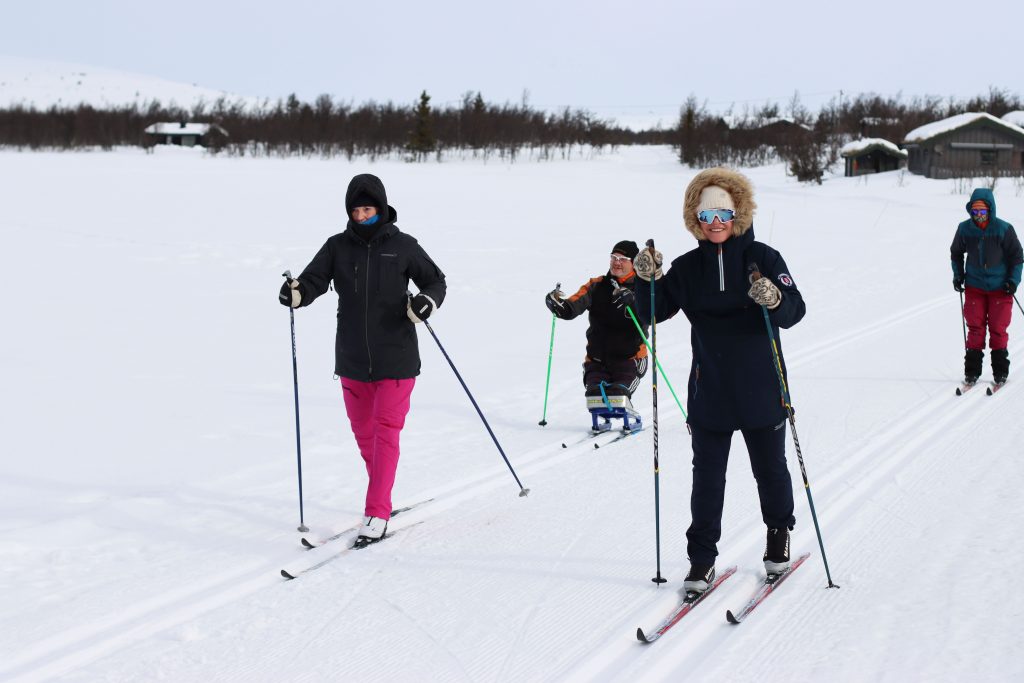 Cool winter weather with north winds did not prevent the hikers from frolicking in outdoor activities such as cross-country skiing, dog sledding and sleigh rides.
Text and photo by Marte Nordahl
Ski enthusiast Åge Andresen from Oppegård whizzes along the cross-country track on a shared ski. He has already covered two trips totaling 30 miles, and there will be more.
– I am terribly happy to go cross-country skiing. Today it has been a bit windy, but incredibly good conditions and fantastic good glide. I went a few laps up to Spidsbergseter and down towards Lundes Handel, says Åge.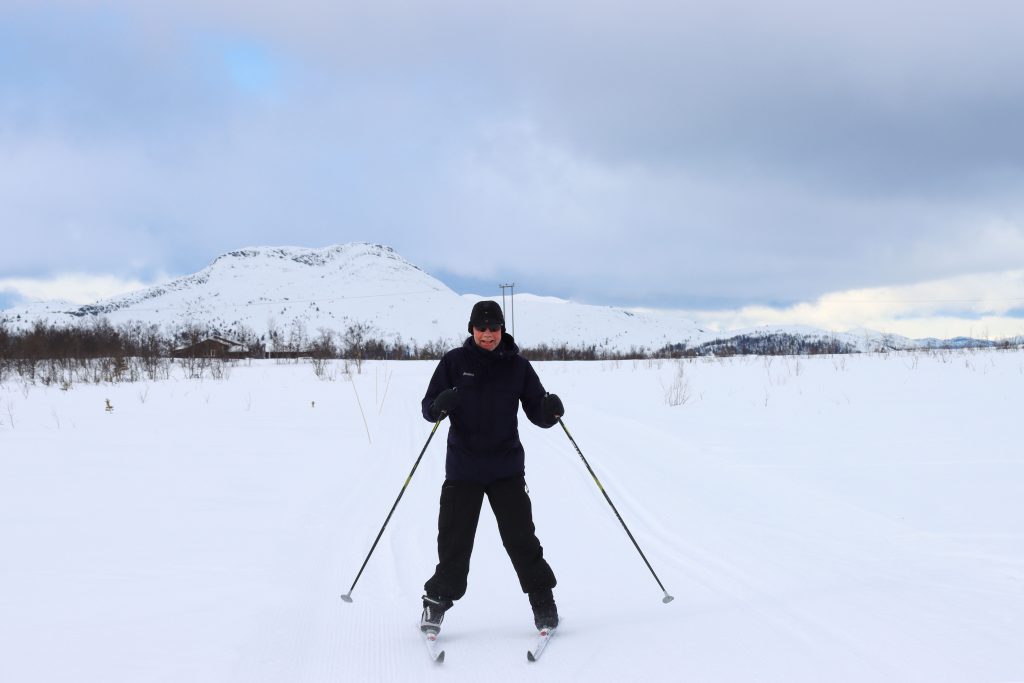 Very active
A total of eleven participants participated in the activity weekend organized by Momentum and Funkibator. Åge is a regular participant in the cross-country trip to Venabu and enjoys events consisting of as much activity as possible.
– I use an active Blade prosthesis for all kinds of activities, both for cycling, skiing and hiking in the mountains in summer. Since I have not traveled any places since last autumn, it was very positive to get away, he says.
– For me, the experience of being part of a community is extra valuable. In addition, I appreciate that several are in the same boat. Even though we do not sit far into the night, we have nice meals together, says Åge
Inspirational trip
Anne Mork enjoys the afternoon sun on the terrace at Venabu Fjellhotell, after participating with great enthusiasm in all the activities.
– I think it is inspiring to travel with other prosthesis users. I especially enjoyed going cross-country skiing. The terrain up here on Venabu is excellent for me as a prosthesis user, she says.
Inspired for more activity
Anne is usually an outdoor person and has been weekly on several trips since December last year.
– I think it is great to participate in events via Momentum. The organized tours have given me more taste and inspire me to participate in several private tours. It is also inspiring to get to know new people with whom I can share new challenges, says Anne.
Adapted for all levels
Geir Arne Hageland is responsible for the event through Funkibator. Now he comes walking with the coffee cup in his hand. He is very happy with a successful and active weekend with a good variety of activities.
– At the Momentum gatherings, people with different activity levels participate. Some have been amputated for a long time and have already had several activities tested. Others have just started activities after the amputation. The inspirational effect that arises between the participants is valuable, he says.
– Nevertheless, it is important with patience and to see what the user is interested in. It is healthy not to take them too far and give them too high expectations, says Geir-Arne.
Dog sledding and sleigh rides
Anne also thinks it was cool to drive the dog sled herself rather than ride.
– It was cool to get the braking itself. It was a good experience, she says.
Benedicte Finnema also participated in the trip with great enthusiasm.
– The weekend has been fantastic. I have brought with me the best of three worlds. A ski trip followed by dog sledding, and a wonderful end with sleigh rides. Both the dogs, the horses and the insanely nice gang. The trip was absolutely brilliant with a good atmosphere, says Benedicte.
Got "pushed" himself
Benedicte went cross-country skiing for the first time after the amputation a year and a half ago.
– Since I injured myself on skis, the experience was a horror-mixed joy. But still, skiing is still in the spinal cord. Anne walked in front of the cross-country track so I could see how she was doing, until I cracked the code myself. I am happy to walk a total of 2.5 kilometers. Now I am inspired to continue with ski training again until next year. To be able to ski again and to "push" boundaries is absolutely great. Seeing others master a sport inspires and challenges me to achieve the same, she says.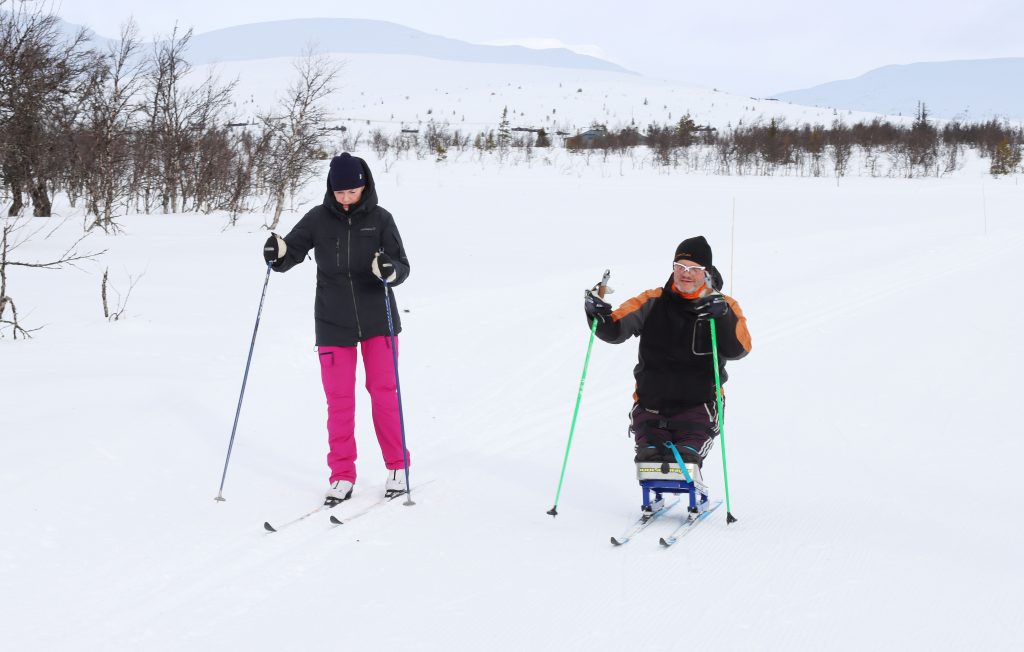 Traditional activity weekend
Tatjana is looking forward to traveling with Geir Arne at Momentum events. On the trips, she adapts to the needs of the group. She is very happy with an activity weekend filled with a lot of energy and fun.
– It was time for us to complete this traditional cross-country weekend at Venabu. It is a pleasure to see people in activity. All the outdoor activity benefits both physically and mentally, says Tatjana.
An active gang
– Before I met Geir Arne, I did not know anyone who was in a wheelchair or missing an arm or leg. I well remember the very first activity weekend I participated in, at Venabu under the auspices of Momentum and Funkibator. The meeting with prosthesis users was a steep learning curve, says Tatjana.
– Despite the wind, the weather eventually also became very good. More have participated in more activities than they signed up for. When they see that other participants try and get new activities, the threshold for others to participate also becomes lower, says Geir-Arne.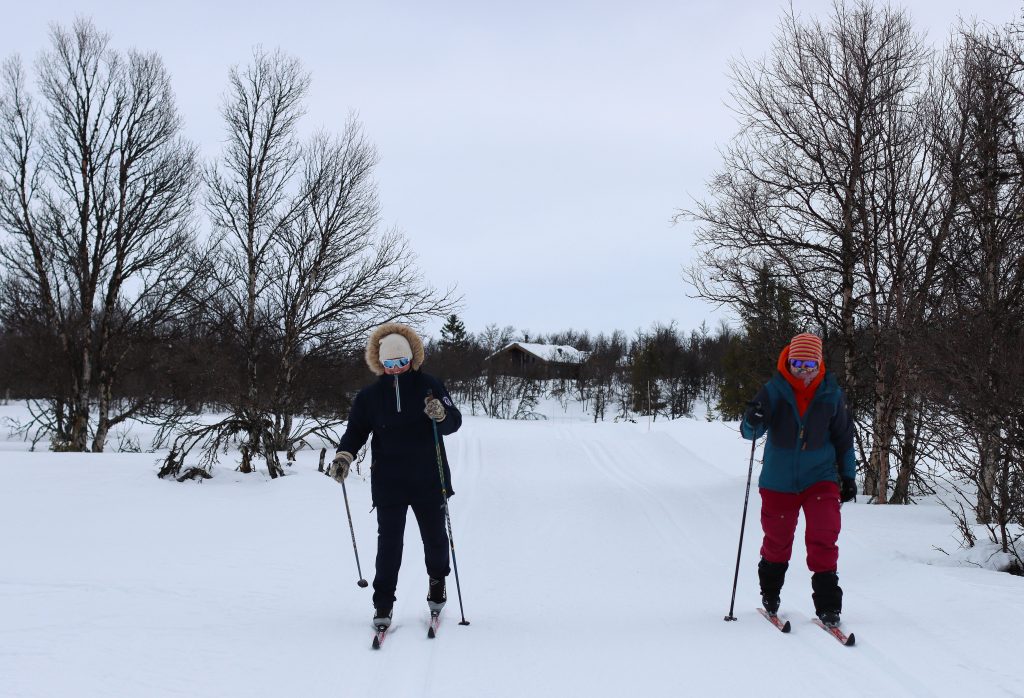 Security and challenges
Geir-Arne emphasizes the importance of facilitation. It is also crucial that the participants get enough challenges that they dare to try the activities elsewhere as well.
– Security and challenge is a balancing act. If we do too much for the participants that they only feel that this is the only safe place, the transferability will not have the same effect. It is important to be at an appropriate level so that they get started. As they experience progress, it is more natural to "push" them a little more, he says.
Mastery of snowshoes
Anne and Benedicte also tested snowshoes with spikes. Both were surprised at how good a training effect snows give.
– After we tested snowshoeing, we have both been completely hooked. It was a lot of fun. We are pleased with the introduction we received from the professional actor Hans-Ole Homelien, says Anne and Benedicte.
– With snowshoes, you are forced to think about how to walk and lift your legs in order to get an effective walk. This gives you a better training effect. You can use your hip flexor, Geir-Arne informs.
Mastery
– Snowshoes have aroused interest among the participants, because it is seen as an effective tool for going for a walk. I have experienced that for those who do not feel ready to go cross-country skiing, snowshoes have made them get started with the activity faster and dare more. It's nice to get a feeling of walking on snow, which can give you a sense of security on smoother surfaces, says Geir-Arne.
– A disability can be about how you master the situation you end up in. A healthy person can feel more disabled than me on skis. How you manage to use the situation is most crucial, he says.