Ole Kristian thinks it was great to be able to participate in Momentum's 25th anniversary. Hearing other people's stories is interesting and rewarding. In addition, he has learned a lot from the lectures and become aware of new prosthesis solutions from various suppliers.
Photo: Marte Nordahl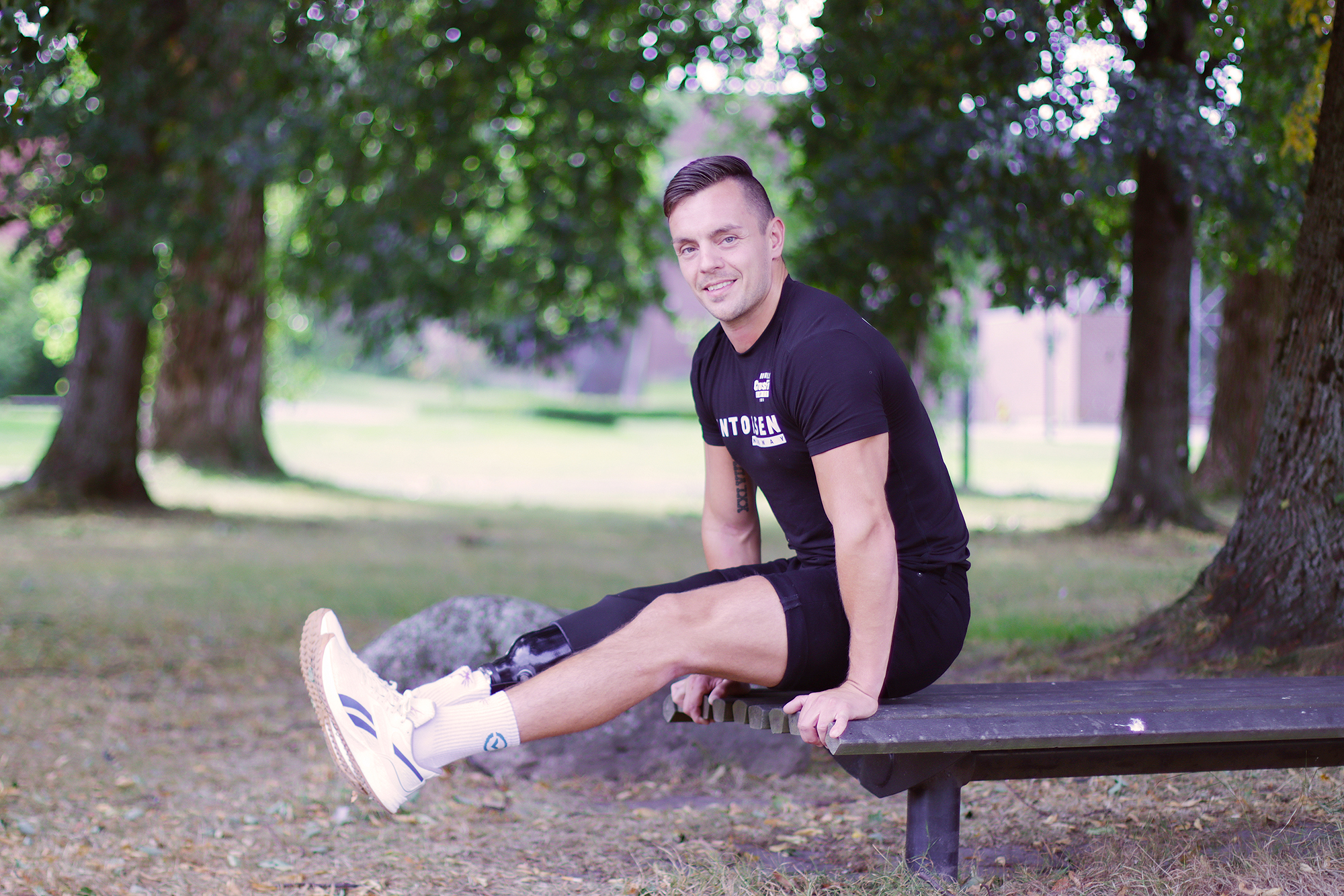 Written by Marthe Nordahl
Published 10.01.2022
Ole Kristian (30) amputated his right leg seven years ago. The feeling of mastery he feels from reaching the sub-goals in CrossFit, makes all the training towards the championships both inspiring and fun.
Leg amputee Ole Kristian Antonsen (30) from Kristiansand, thinks it was both exciting and interesting to participate in Momentum's 25th anniversary in Sandefjord, 26-29 August.
– It was very fun to meet so many positive people who are in the same situation as me, in addition to hearing stories about what they have experienced in life and how they handle everyday life, he says.
Valuable and interesting products
Ole Kristian also thinks it was fun to look at the exhibitions, and what the various suppliers showed of products on the market.
– Although I have finally found an equipment that works well for me and has a good collaboration with an orthopedic engineer, it is interesting to look at new and good solutions. I became curious about Lindhe Xtend's foot, among other things, which you can easily turn on and off without having to change the sleeve, he says.
Accident at work seven years ago
Ole Kristian amputated his leg after a work accident seven years ago. He remembers well the actual course of events.
– I studied to become a teacher in Kristiansand. In addition to my studies, I had a summer job in Farsund at a car telephony factory that casts car parts. My job was to keep control of liquid metal that has a temperature of 750 degrees, he recalls.
One summer evening he was at work, he accidentally stepped through a plate, which caused the bone to end up on the metal.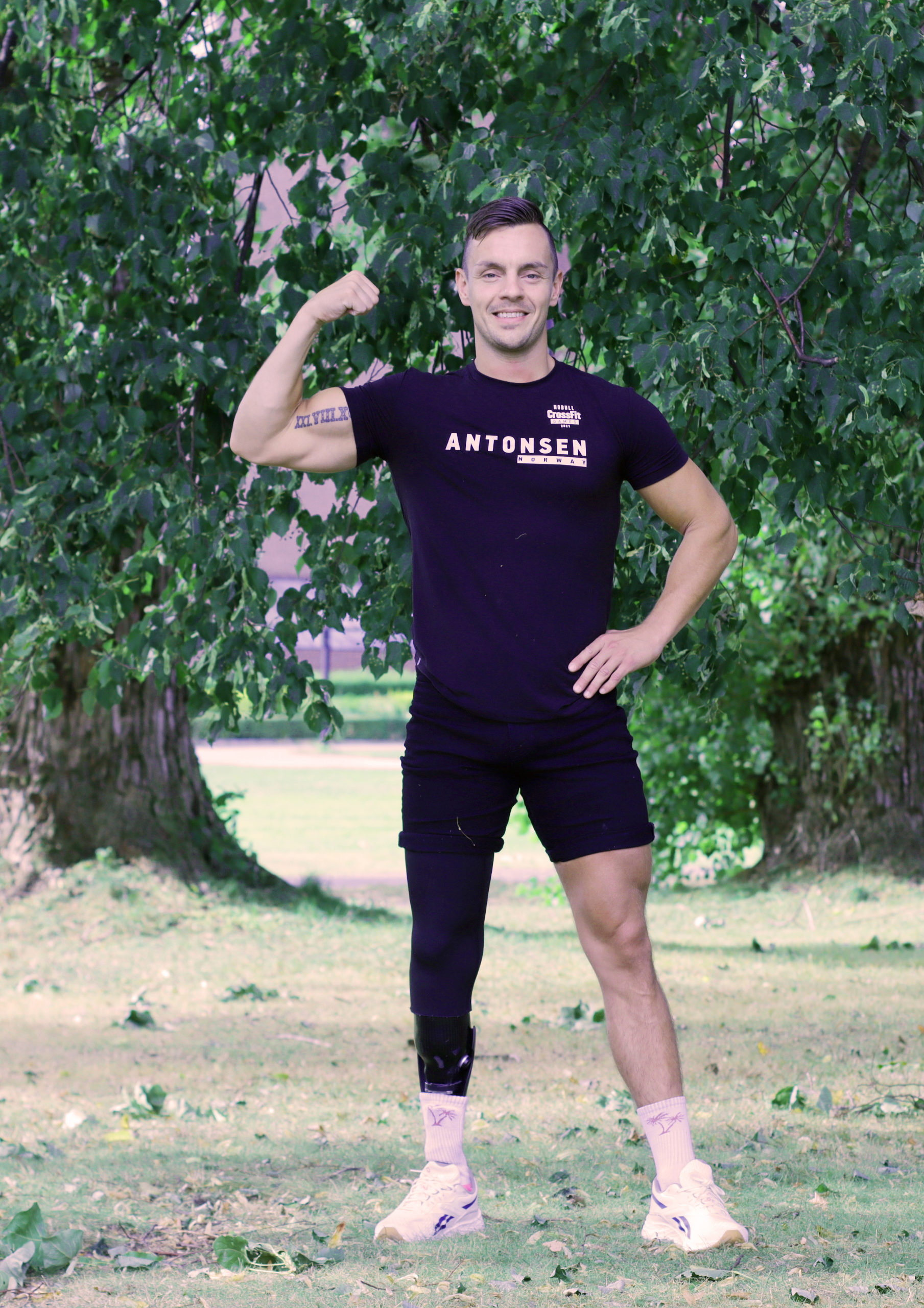 Ole Kristian Antonsen (30) from Kristiansand amputated his right leg seven years ago after a work accident. Since 2018, he has trained CrossFit at competition level, and has won gold medals in both Canada (2019) and the USA. (2021)
Photo: Marte Nordahl
Flew to Haukeland University Hospital
Colleagues, he quickly went to an emergency shower. Here he lay down to the helicopter and flew to Haukeland University Hospital.
– Even though I was conscious during the entire accident process, my body has displaced the intense pain I experienced. I remember lying and screaming and in insane pain, without remembering the pain as well, he says.
Amputated leg
Ole Kristian had to amputate his leg the day after the accident. The amputation itself went very well. Only four days after the operation, he was engaged in physical activity. He thinks that it went very well both physically and mentally after the accident.
– For me, it was important to get started quickly with training and activities, which had been a big part of my life before the accident. I therefore started with physical activity four days after the amputation. I did a lot of upper body training in a wheelchair, in addition to pull-ups with the wheelchair, he informs.
Burns on the amputation stump
– Since the stump was so burnt, it took a long time before I had to start with a prosthesis. At that time, I was ready to get up to go. Wheelchair time was very challenging.
The first part of his hospital stay he was in great pain, for which he was medicated. He was also given sleeping pills to help him sleep better.
– I also remember the wound changes as the worst from the hospital stay. Because I had such severe burns, they had to change their bandages every day. It was very painful to have the wounds torn up again day after day, he recalls.
Ole Kristian decided to cut the sedative immediately as soon as he got up on the prosthesis. The body gradually waits for the pain.
Happy prosthesis user
After two months, they started the process of adapting the prosthesis.
– I well remember the insanely good feeling of getting up on both legs again. I quickly realized that I would be able to perform the similar activities as before.
Ole Kristian is somewhat bothered by phantom pain, which he does not feel when he wears a prosthesis and performs everyday activities, such as work and training.
– On the other hand, it's just like the brain becomes aware of the pain when I lie straight out to relax. Therefore, I am grateful that I have a busy everyday life consisting of work at school and training for championships, he says.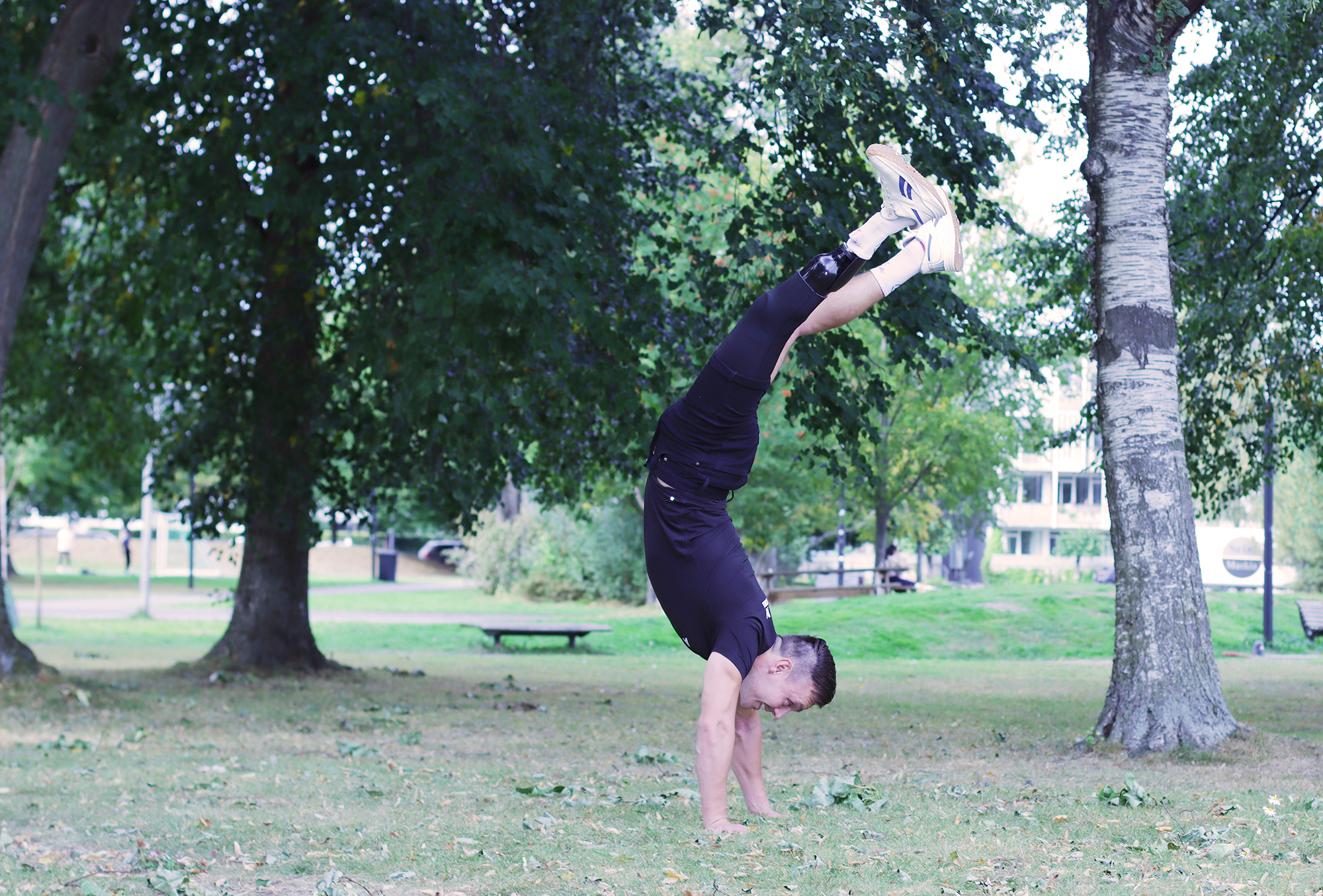 To achieve the best possible results in CrossFit, he spends a lot of time on his own weaknesses in sports. This has made him a solid competitor.
Photo: Marte Nordahl
Tested various sports
Ole Kristian has always been above average fond of physical activity and all kinds of exercise. Before the accident, he played football at an active level and trained a lot of strength.
– I found out that I did not enjoy football as much, since I could not play at the level I did before the accident. Therefore, I wanted to find another form of sport.
– I also tried cycling, and set myself a goal of cycling Kristiansand-Hovden at 210 kilometers. I completed the cycling race eight months after I received a prosthesis. I remember well how much my leg was cut up when I reached the finish line, which made me almost unable to walk for two weeks afterwards. Still, it was worth it.
Invited to CrossFit
– In 2018, a friend of mine invited me to CrossFit training. Since I had lost one leg, I immediately thought that sport was not for me. Throwing oneself into a new sport, on the other hand, was very positive. It turned out to be a sport I both liked and mastered, he says.
After discovering CrossFit, he switched to focusing entirely on sports.
Train on the weaknesses
With up to eight to nine workouts a week in recent years, he is well equipped for challenging CrossFit workouts.
– I have spent a lot of time training on my own weaknesses in sports, as well as exercises I am not very good at, so that I can get better. I try to be so versatile and good in all the elements found in CrossFit, he says.
– The most challenging thing about the sport is all the Olympic promises that require extremely much leg strength, stability and balance. I have worked extra hard to master this, he says.
Feeling of mastery and joy of inspiration
Ole Kristian has participated in a total of two world championships. One in 2019 in Canada, and the last 2021 in the United States. He took the gold medal both times. The championship in 2020 was canceled due to the corona, for which he won the qualification for the World Cup.
– I make sure to set small sub-goals along the way that I work to achieve. Achieving goals that I have trained on for a long time gives me an enormous feeling of mastery and inspires me to continue with all the training. In order to experience a feeling of mastery, I think it is important to set goals that you are able to achieve elsewhere in life. It gives you a good feeling, he says.
Makes high demands
– When I continuously set high expectations for myself and push myself hard in training, it is extra fun to meet the requirements for a first place.
– It is also nice to get to know other amputated athletes, as well as to see how they train and do so well. Even though we are competitors, we are also a close-knit gang that I have contact with today, he says.
Uses various sleeves
Ole Kristian uses sleeves and components from Blatchford. He also uses the foot- Össur pro-flex XC.
In the beginning, he used the same foot both for training and in everyday life, which caused wounds on the stump.
– I have spent a long time finding a good solution. After a long and good collaboration with an orthopedic engineer, I have found that it works best with a separate sleeve for work and everyday activities. For training, I use a separate sleeve and prosthesis that is both tighter and fits better. I deliberately avoid using this in everyday life since it gives light pressure ulcers, he informs.
Training – extremely important
For Ole Kristian, it has been extremely important to return to physical activity, both for his physical and mental health.
– All the training is one of the reasons why I feel that it has gone so well. The health benefits are good no matter what level you are at, especially when you have amputated a body part. It's a lot about getting to know your own body, and getting good body control, he informs.
Overloaded left leg
– When I started training again, I felt that I overloaded my left and better side. All the training and sports I do bring good habits into everyday life. As a result, today I completely trust the right prosthetic leg, and feel that it is a part of my body. Likewise, I have minimal wear and tear and work one hundred percent like a normal person, he says.
He emphasizes that no matter what level you are at, it is important to be active every day. Whether you choose to take a walk or a little workout.
Whether you choose to use your own body weight or perform advanced exercises in the studio is up to you. I strongly believe that being in motion helps with both physical and mental health.