Text: Marte Nordahl
– It is a privilege to start a new clinic in Arendal, says physiotherapist and General Manager Bjarne Lindebø.
– Finally, the eastern part of Agder and Telemark has a full-fledged orthopedic clinic. The reception from the customers has been impeccable. We are now looking forward to gaining a clearer foothold. In mid-October last year, we moved into newly renovated premises. One year later, almost everything is "in place". We are a clinic that wants to stay up to date on all important activities and purposes that take place in the industry, he says excitedly.
Blatchford Orthopedics department Arendal is idyllically located right next to the exit on the E18 to Arendal center, in the neighboring building of the Norwegian Public Roads Administration.
Six clinics
Bjarne highlights Blatchford Orthopedics as a group with as many as six clinics spread around the country. Here, there is an alternation between competence and experience across the clinics. Blatchford Orthopedics in Kristiansand is their mother clinic with which they work closely on both subjects and production.
– Our clinic in Arendal consists of a shoe store and a workshop that is ready for full production. We are a good combination of young employees and employees with a long career. Together, we are all both curious about our own development and eager to provide the best customer experience, he says.
Physiotherapist for 16 years
Bjarne has worked at Blatchford in Kristiansand since 2016. In the last year he has worked with the establishment of Blatchford Arendal. Bjarne has been a physiotherapist throughout his adult career for a total of 16 years. He has primarily worked with patients at Volvat Medical Center.
– Here I worked with orthopedics and top sports. I have seen most of the orthopedic disorders, and participated in countless orthopedic procedures, he says.
750 square meters
Previously, Bjarne and the rest of the staff lived in a small and old basement room of 45 square meters at Sørlandet Hospital in Arendal.
– When we started the construction process of a clinic of 750 square meters, the criterion was that we should not lose the "collegial intimacy" we worked under before. After one year, we can say that the "collegial intimacy" is still present and we enjoy work, he says.
Handles most patient categories
Bjarne emphasizes that opening a large clinic has given them a unique opportunity to put together a customized team.
– We started with four employees and support from Kristiansand. Today we have grown to ten employees in Arendal, and are assisted by six people from Kristiansand. Overall, the team has rich experience with all kinds of orthopedic aids. There are two orthopedic engineers who work with prostheses, where all five actually have rich and varied experience in prosthesis. Our technician is also an excellent prosthetic technician with many years of experience.
– Blatchford Arendal is well equipped to handle all customer inquiries and to receive new prosthetic seconds. We welcome the digitalisation of the industry at the same time as we stick to previous roots, he says.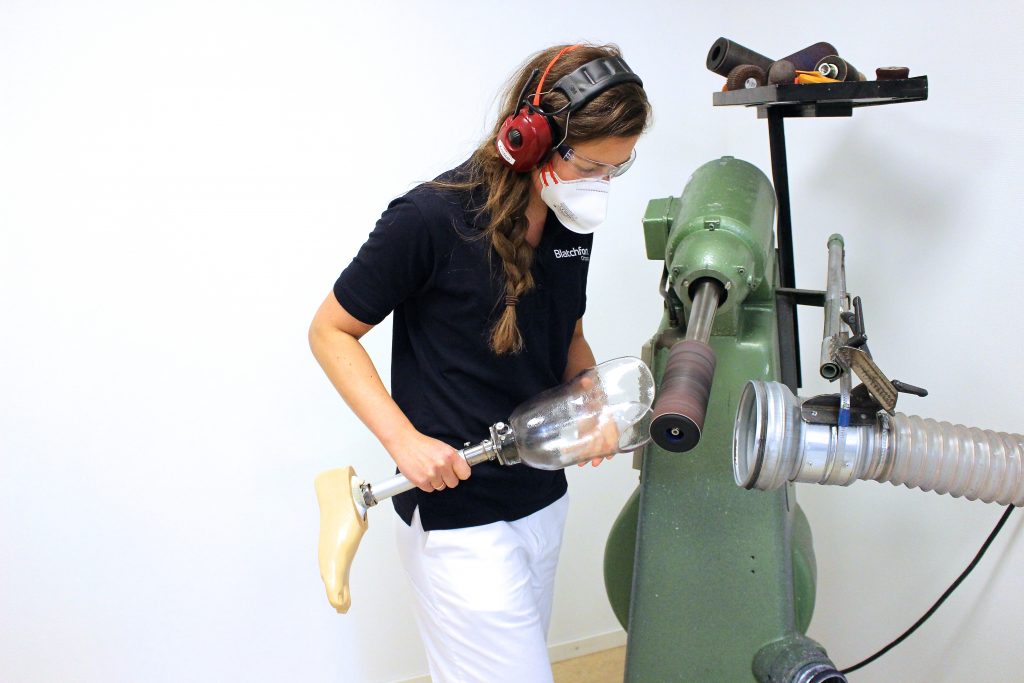 Greater visibility in Health Norway
Bjarne wants the "man in the street" to know what an orthopedic workshop is. Today, very few people have any knowledge of the industry.
– As a physiotherapist, the orthopedic engineering industry was an area in the health sector that I had no knowledge of. After I entered this industry, I see to what extent orthopedic engineers can also complement the treatment with the rest of Health Norway. We are a great supplement to other therapists, he informs.
Interdisciplinarity is the key
– From my perspective, it has been exclusively very positive and educational to enter this industry. Blatchford in Kristiansand and Arendal has orthopedic engineers, physiotherapists, chiropractors and podiatrists. We undoubtedly have a lot to learn from each other, he says.
– Even we gain this knowledge in between if the "man in the street", therapists and requisitioners around us know us. An important factor in this work, I believe, is through interdisciplinarity.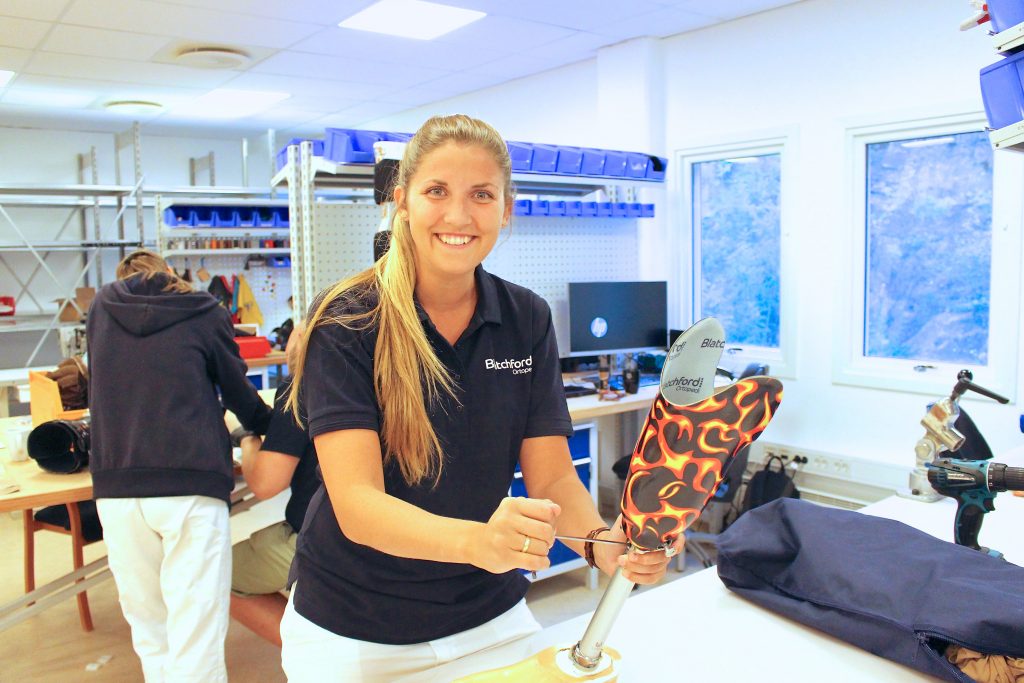 Research and development
– I'm concerned with vision. This means that we draw on knowledge from other disciplines and exchange expertise. As a leader, I am also concerned about not getting stuck in the "school teaching". That is why we are looking ahead to research and development. We must, of course, remember "the path we have walked", while also showing curiosity and reflection on our own practice. Interdisciplinary orientation automatically brings with it a boost in competence if one is open to impulses and change, he says.
– We value our quality and brand to give our customers a safe experience with us. Blatchford audits its clinics through ISO 9001. October this year we will have the first internal audit in Arendal, and in the new year we will have an external audit.
Establishes good trust and dialogue
– In order to establish a good user experience, it is first and foremost important to have a good dialogue, and that the user is also involved in the process. Awareness raising towards the user is also essential to be able to maintain a good dialogue. Secondly, it is important that we train users in all crafts and work that we perform, he says.
– In order to meet our customers in an inclusive way, it is also important to have fun at work. The unique collaboration between orthopedic engineer, technician and physiotherapist increases well-being internally and indirectly creates security for our customers, which at the same time results in innovation and new thinking.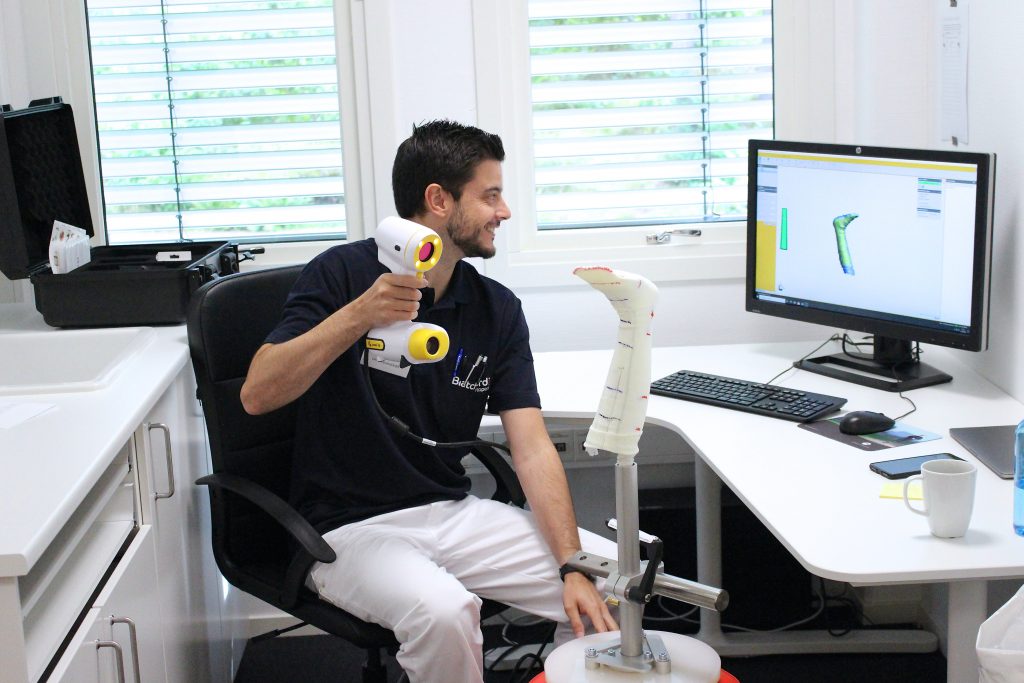 Awareness counts
Bjarne points out that how much the user uses the aid, uses exercises or implements what he has learned in everyday life, is very much about raising awareness. The user achieves the best result when awareness of both the aid and its use is in focus.
– Mariana Neto, our new orthopedic engineer from Portugal, says it so nicely: "The key to success comes through compassion and trust in the therapist-user relationship".
Safe patients
Bjarne emphasizes that raising awareness is also about creating good trust in the work that has been done for the user.
– We emphasize that the user should feel confident in using the prosthesis. At the same time, we want the user to be able to utilize his and the prosthesis' potential. Here, it is a great resource that the orthopedic engineer can work with the physiotherapist to fine-tune the prosthesis and give users guidance in relation to walking.
– We are also working these days to make an outdoor test track. As a physiotherapist, I think it is effective to have a test track outside the room, which consists of gravel, uphill and downhill, asphalt and shingle, to name a few. This is how the user gets tested on how the prosthesis actually works in real life. For temperature reasons, we will complete the project no earlier than autumn or no later than spring 2021, says Bjarne.
Solid cooperation
Bjarne highlights Sørlandet Hospital as their largest and most important partner. At the hospital in Arendal, they also have an office in the orthopedic department where they primarily assist diabetic patients with wound relief. They also work closely with Habilitation for Children and Adolescents (HABU), where we make aids for children with many different needs.
– Outside the hospital, we help several schools, institutions and nursing homes. In addition, we have a good relationship with physical clinics and doctors in the immediate area, as well as Sørlandet Hospital AFR (Kongsgård Hospital), he informs.
Many special areas
– We already have the capacity to receive the very first prosthetic seconds. These are customers who have previously traveled south to Kristiansand or east to Porsgrunn. We know, of course, that many already have good relationships with their respective orthopedic engineers elsewhere. If customers still need help locally in Arendal, they are welcome to contact us, says Bjarne.