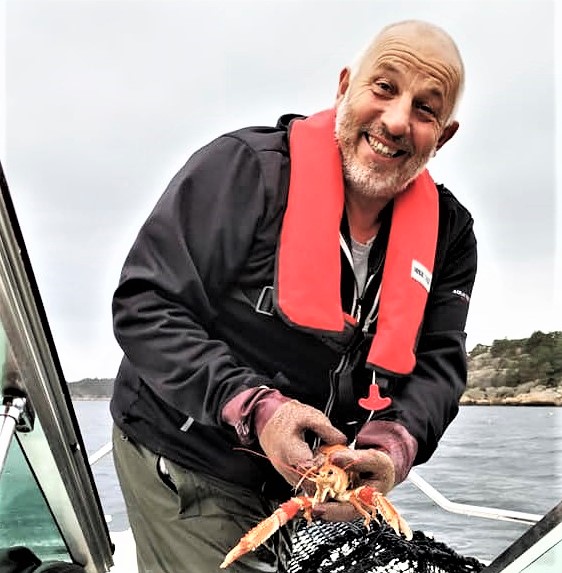 Passionate about peer work. Roar works as a peer coordinator in the Inland. He works actively to make the hospitals in the area aware of Momentum's valuable peer work. He likes to make calls at hospitals and rehabilitation centers as often as possible. In the picture, he is lobster fishing on Hvaler October 2020.
– The peer work is extra rewarding when people open up and ask me questions, says peer coordinator in the Inland, Roar Olafsen from Roa on Hadeland.
After the amputation, Roar has managed to work as an equal for a year and a half. He conducts interviews at the rehabilitation centers at Ottestad and Landåsen. Here he works regularly once a month.
– I myself had my head full of questions that I did not get answers to when I was in the hospital. Therefore, it is extra nice to be able to help others get a better start right after an amputation. If the person wants to talk several times, they may call me. I receive questions over the phone on weekends and in the evenings, he says.
Mountain biking and the Birkebeinerrennet
The first question Roar asked himself after the amputation was whether he could be active again on a mountain bike. Just before the amputation he had bought a new bicycle. He is also a traveler on cross-country skiing and dreamed of going Birkebeinerrennet several times.
– With support and advice from people in Momentum, I know that this is entirely possible again. My body only needs time to harden after the amputation. This winter, I look forward to cross-country skiing on flat ground, he says.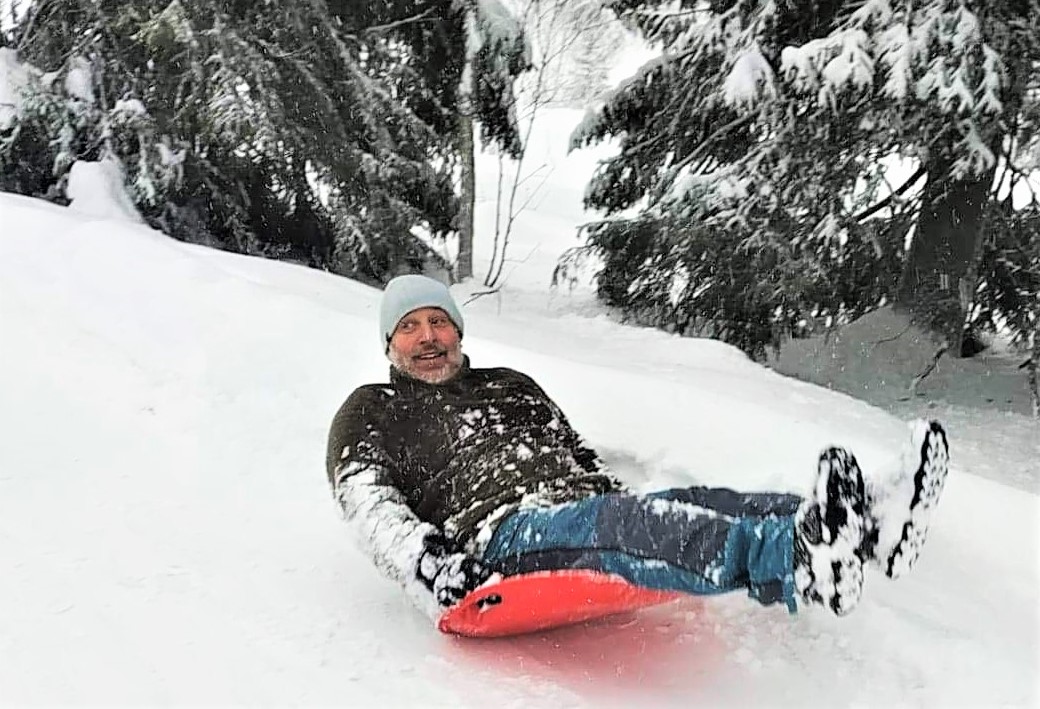 Roar Olafsen amputated the leg 3 1/2 years ago. He has always been very active and tries to go for long walks with a prosthesis. The hope is to be able to ride a mountain bike again in addition to walking the Birkebeinrennet
Rewarding to help others
– Even though peer work is unpaid, I get a lot back from users who are happy to get answers to questions and ease their thoughts. When I meet someone who is very thoughtful and quiet, I often take the initiative to ask them what they want to talk about. When they first open up, they want to know about everything.
– Most often they have questions about fitting prostheses and what will happen next. I am carefully investigating whether they have called an occupational therapist and social worker. I listen and try to make them understand that there are many supportive people out there who want to help them up and down.
Amputated after a fall accident
Roar himself amputated his leg in the middle of his leg three years ago after a fall from the roof. In the fall, he landed on both legs before receiving with his wrists. The existing hip prosthesis after a diving accident as a 30-year-old, caused him to break his right leg in the fall. He also damaged both wrists, which makes it difficult to grasp things.
Missed important information
After the accident, Roar woke up at the hospital in Gjøvik where he had his leg stabilized with bolts and steel wire. Due to an uneven heartbeat, he was sent straight to Ullevål hospital.
– It was only when I was sent from the hospital in Gjøvik to Ullevål that I got to talk to a sociologist and physiotherapist. They informed that a cold sore had developed in the leg. Due to the high medication, I did not understand what an amputation meant, he says.
Joined Momentum
Only when Roar arrived at the rehabilitation at Bakke Unicare did he come into contact with the leader and peer contact for Momentum Øst, Steinar Hansen.
– Steinar asked me if I wanted to join Momentum. He also wondered if I would become a peer, and offered me a peer course over a weekend at the Comfort Hotel at Flesland in Bergen. I think this sounded very exciting, he says.
Offers at the hospitals
Roar currently drives long distances by car to bring about new collaborations with various hospitals.
– I myself have plans to get an offer early in 2021, both at the hospitals in Gjøvik, Lillehammer and Elverum. I work as an equal in rehabilitation. From experience, it is useful to have a peer in the hospitals. In Momentum, we are as many as 15 peers who are ready to talk to new amputees. The plan is to carry out a new course for these, so that they can be placed in the various hospitals. The idea is that the amputee can talk to a peer with a similar amputation who can share good advice and experiences, says Roar.
Used a total of 34 prostheses
During his three years as amputated, Roar has already used 34 different prostheses. The number is not very high compared to other prosthesis users he talks to.
– If I walk too far, the leg disappears into the prosthesis so that I have to quickly change the prosthesis. I have enough experience that I feel on my leg when I have to change. Today I use four different prostheses a day, with different adaptations to the leg. First and foremost, I want the prosthesis to function adequately as a proper bone.
– Thanks to the peer work and all the people I have talked to, my negative thoughts have also disappeared, Roar says happily.